We all indeed have an emotional relationship with our hair and most of us often spend worthy minutes brushing and styling them. It may be a course of this daily routine when you may notice changes in the thickness and appearance of your hair. Some factors such as poor nutrition, stress, excessive styling and heat treatments can make your crowning glory unruly and lifeless. But, don't worry! Biotin is one such supplement that can come to your rescue as a friend when it comes to nourishing your locks. Today, we will be reviewing Biotin's ability to breathe life into your dull and lifeless hair.
What is Biotin?
Biotin is a type of water-soluble, B vitamin that regulates vital metabolic processes in the human body. Besides regulating fat-metabolism and converting food into energy, biotin tablets plays a crucial role in maintaining the overall health of hair, skin and nails as well. Most of us get a required dose of this organic nutrient through the food we eat; it needs to be replaced every day as the kidneys excrete out this water-soluble compound through urine. Although biotin deficiency is rare, when you don't get enough of this vitamin, it may result in hair loss and numerous scalp- related problems.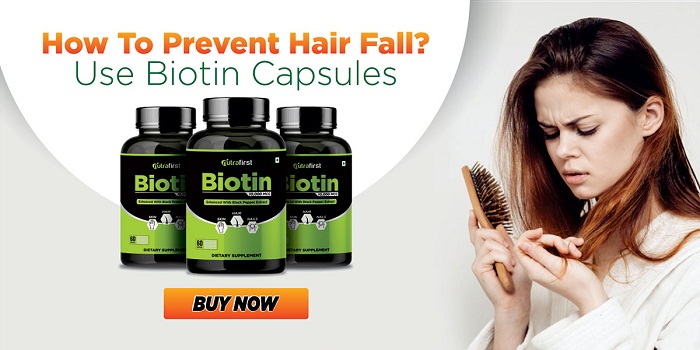 Biotin vs. hair health-
Well, we know that you are super excited to know if taking Biotin capsules can help you flaunt long, thick, shiny and voluminous hair? The sweet answer is- why not! This ayurvedic medicine aids in the production of keratin, a type of scleroproteins, which makes an infrastructural component of our hair, skin and nails. This biological lift in keratin level adds bulk to the hair strand and makes them appear thick and voluminous. Also, the keratin protein fills porous spots in the hair and improves texture. However; deeper research is required to explore the positive effects of biotin for improving hair health.
How long until you see results?
Another obvious question that might be banging your head is- how much time will it take for the results to be visible? Well, you must know that depending on the nature of the hair growth cycle, your hair grows only half-an-inch a month. Thus, you would need to wait at least 3 months to get visible results.
How much Biotin do I need every day?
Since biotin deficiencies are rare, there is no recommended dietary intake of this water-soluble vitamin. The RDA may vary depending on numerous factors such as age, sex, and health conditions of each individual. However; many reputed medical associations recommend taking biotin supplement as per below-mentioned dosage-
Anyone aged 10 or older -30 and 100 mg per day
Birth to 3 years: 10 to 20 micrograms (mcg)
Ages 4 to 6 years: 25 mcg
Ages 7 to 10 years: 30 mcg
Woman during pregnancy-30 mg per day
Woman during lactation- 35 mg per day
Buy best Biotin capsules for men and women in India at the best price and avail free shipping and your home with best deals.