Getting in shape all over again is a herculean task especially when you have a little or no time for the diets and workouts. At present, a large number of populations are affected by unexplained weight gain due to a variety of lifestyle, and medical factors. It is no surprise that eating right and exercising regularly makes incredible weight loss solution but in recent times, most men and women find it difficult to spare a few extra hours to pay attention to their diet and workout regimes, Indeed, they want to discover an easiest and convenient remedy that can help them drop a size naturally.
In such cases, natural fat burning supplements such as Garcinia Cambogia capsules come into the picture. Garcinia Cambogia, also known as Malabar tamarind, brindle berry, or kadampuli has become immensely popular amongst fitness experts for its weight loss benefits. Traditionally, it is being used as a flavoring agent for authentic curries in South India. But, during the last few years, it has emerged as a powerful and best fat-burner because it comes packed with potent bioactive compounds that are effective in instigating fat-burning processes in the body. Before we start unrolling interesting information on its weight loss effects, let's first know about it in detail.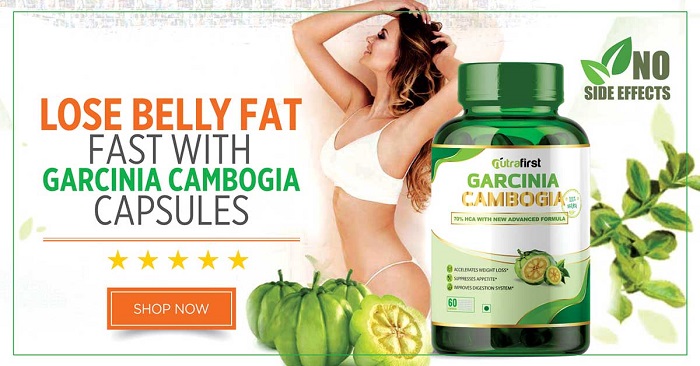 What is Garcinia Cambogia?
Garcinia Cambogia is a tropical fruit that resembles a cross between a pumpkin and a tomato. This greenish-yellow fleshy fruit is widely grown in the tropical regions of India and other Asian countries. Since ancient times, it is being used to impart tartness to curries and chutneys. In the later years, researchers identified and brought the fat-burning properties of this sour-tasting fruit into the limelight. At present, many pharmaceutical or nutraceutical companies are selling the extract of Garcinia Cambogia extract in the form of capsules as a potent weight-loss supplement. In the recent past, it was hyped as 'the holy grail of weight loss' and become a hot topic of discussion in the fitness world.
What makes it a wonderful fat-burner?
While many fitness experts tout Garcinia Cambogia as an excellent fat burner, it is obvious for you to think what makes this herb an effective weight loss solution? Well, its fat-burn potential can be credited to the high concentration of Hydroxy citric acid (HCA) found in its peel. This bioactive compound is known to inhibit the action of citrate lyase enzyme, which is responsible for converting sugar or carbohydrates into body fats. Besides, it calms the mind by uplifting the level of the brain chemical 'Serotonin' which is also known as the happy hormone for a reason. This rise in the hormone calms your mind and enables you to fend off unwanted hunger pangs under emotional or stressful conditions.
Do I need to make lifestyle changes to reap the best benefits of Garcinia cambogia capsules?
Off course! Although Garcinia Cambogia is looked upon as an effective weight loss remedy, you should know that no dietary supplement works without making healthy modifications in your lifestyle. Therefore, you need to team this weight loss supplement with a healthy diet and regular workouts. To achieve optimal weight loss results from the supplement, it is often the best to keep a check on your diet and increase your physical activities while using it. 
How to take Garcinia Cambogia capsules?
Using Garcinia Cambogia capsules is super-easy and convenient. To get the maximum benefits, you are required to take one capsule, two times a day with a glass of lukewarm water. One capsule can be taken 30 minutes before breakfast, and the other can be taken before dinner.
Who can use Garcinia Cambogia supplement?
Anyone who is affected by unwanted weight gain can use this dietary supplement. This ayurvedic medicine is generally considered safe for most men and women who are non-allergic to any of the ingredients present in it.
How do Garcinia Cambogia pills benefit general health?
Primarily, Garcinia Cambogia supplement is used as a fat-burner; however, it can benefit your health in more than one way.  Some of its other health benefits include-
Better digestive health
Enhanced energy levels
Improved immunity
Lower stress
Reduced appetite
Detoxifies body
Word of caution-
You should seek medical advice before starting any health supplement. Besides, these dietary pills are not intended for use by people who are-
Pregnant or lactating
Taking medicines
Receiving treatment for an underlying medical condition
Experiencing hormonal imbalances
Allergic to any ingredient