Do you recently notice that your hair looks thinner than ever? Well, hair fall and hair thinning are the two most common problems that have affected millions of men and women across the globe. The causes for such issues are many such as vitamin deficiencies, over-styling, stress, exposure to the harsh environment, and many others. Also, note that a little hair fall as a part of the daily routine is just fine but any extremity may be an attenuation of a greater problem. In such cases, you may want to discover the best yet natural remedy that can help you combat the issue. Fortunately, certain herbal hair restorative supplements such as Hair regain oil can come to your rescue and enable you to cherish the joys of having long, thick, and lustrous hair.
Hair regain oil for men and women-
Regain hair oil (fast Hair growth Oil) is an herbal hair restorative supplement that comes packed with the goodness of powerful Himalayan herbs such as Bhringraj, Ashwagandha, Tulsi, Neem, Olives, Coconut, and Lajwanti. These medical-grade botanicals are most revered in Ayurveda for their excellent abilities to curb annoying hair-related problems such as falling, thinning hairs, and dandruff. Here are some amazing ways it can benefit your unruly and lifeless hair-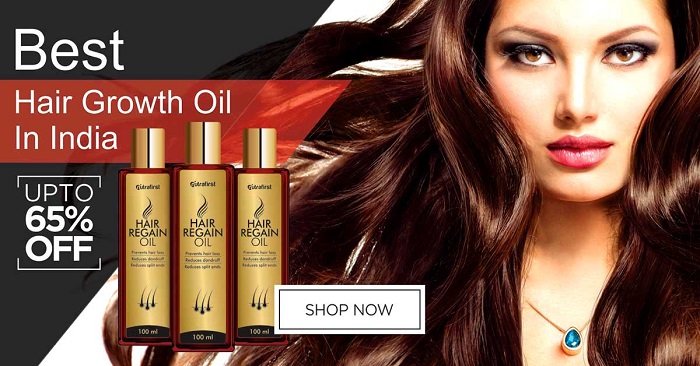 1. Prevents hair fall-
Hair fall is one such problem that has left several men and women in distress. It is because; your crowning glory makes an important part of your look and sets the overall tone of your appearance. For such reasons, losing more hair with each passing day can be bothersome for you and may even make you fear going bald. But, don't worry hair regain oil (Best hair growth oil For Men & women) is formulated by the industry experts after years of extensive research and can help you reach your beauty goals in no time. The excellent ingredients such as Bhringraj and Ashwagandha diligently work to nourish the hair follicles with essential micronutrients such as vitamins, minerals, and enzymes. Besides, the stress-relieving action of this herbal concoction enhances the flow of oxygen-rich blood in the scalp, strengthening hair follicles and preventing them from falling out.
2. Prevents dandruff-
Are you one of those who often spend long hours surfing the internet to find the perfect remedy to curb dandruff? If so, you have landed at the right place! Dandruff or seborrheic dermatitis as defined in medical terms is a condition that is characterized by the formation of white flakes or peeling of scalp skin. This condition not only leaves you in social embarrassment but can indicate an infection or bigger problem as well. Hair regrowth oil contains olive and coconut oil that seeps inside the scalp and keeps it well-moisturized. Also, the neem oil present in this concoction is known for its anti-microbial action and protects the scalp from a range of infections and diseases. Besides, other valuable components such as neem oil help fight off several microbial infections on the scalp, and vitamins and minerals present in these ingredients diligently work to reverse the cellular damage done harsh chemicals and heat treatments have done to your hair.
3. Makes hair smooth and shiny-
Each one of us wants our hairs to look smooth, silky, and glossy. Tulsi and Lajwanti extracts make a few powerful herbs are known for their hydrating properties and play a crucial role in imparting a glossy sheen to hair and improving texture.
How to use hair regain oil?
Using hair gain oil is simple and easy. To reap the best benefits, take a coin size of the oil on your hand and rub both palms together to spread evenly. Now massage it onto the scalp in a circular motion, using your fingers. Leave in at least for an hour or preferably overnight. Wash off the next morning or after a few hours using regular shampoo.
Where can I buy hair regain oil at the best price in India?
Buy best hair regrowth oil in India for men and women at the lowest price and grab free home delivery services with cash on delivery services.