It feels great to bask in the sun and support your vitamin D supply. But do you know the UV rays coming out of sun can damage your scalp? Besides this, the unending dust and pollution around also affects your hair. And what about styling? The experiments you do with your hairstyle has a long-term impact on its health. So, you might be facing (or soon face) hair fall. But don't worry! This problem has a simple yet highly effective solution and that's regular oiling. Gently applying hair growth oil helps increase blood flow to your scalp and nourishes the roots. It not just encourages hair growth but also relaxes your body, relieves you from headache, and induces a sound sleep. But why not use a normal hair oil? It is because using a hair growth oil is known to offer added benefits and reverses hair damage.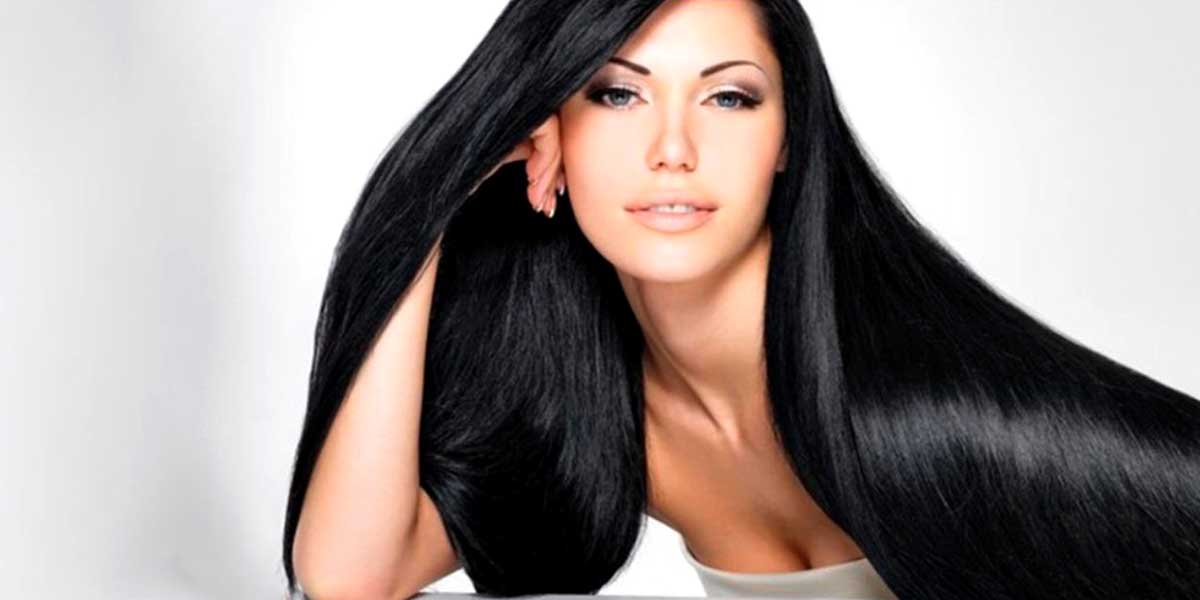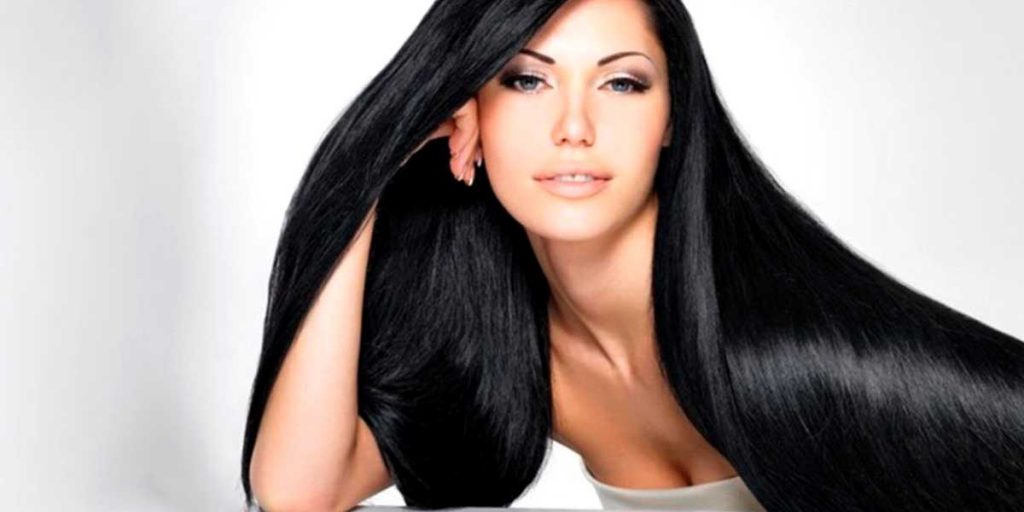 Benefits of Using Hair Growth Oil-
• Applying hair growth supplements promotes blood flow in the scalp and nourishes hair follicles. Nourished follicles result in rapid hair growth.
• Hair growth oil seamlessly diffuses into the scalp and gets absorbed into roots. It provides essential nutrients to the tissues and strands.
• Massaging your scalp with the best oil for hair growth promotes thickness. It also enhances the nutrient and oxygen supply to hair cells.
• Daily massaging with a hair fall control oil reduces the chances of hair loss by treating dandruff. The oil's anti-inflammatory and antimicrobial properties help fight the dandruff-causing bacteria.
• Regular massaging averts split ends and dryness, leading to stronger as well as a silky mane.
• Applying hair growth oil adds a shielding sheath, which prevents the UV rays' harmful effects.
• A hair massage also straightens the hair shaft by making a layer. This averts split ends and stops hair from breaking.

Well, we have noted the benefits of using a hair growth oil. But are there any specific ingredients that you should look for? Yes! Here are 5 best ayurvedic ingredients of hair growth oils and how they benefit your hair health:
• Coconut Oil- Coconut oil is a famous treatment for hair fall. Lauric acid present in the oil prevents hair loss and nourishes the scalp. A high antioxidant percentage also aids hair growth.
• Bhringraj Oil- Bhringraj oil is a natural solution to hair problems like hair fall, irritated scalp, and premature greying. With higher pollution levels and stress in the modern lifestyle, one needs the right health supplements and vitamins for hair loss. Here, Bhringraj oil's scalp cleaning and mind-calming effects help reverse hair damage.
• Neem Oil- Neem oil is probably the best hair fall control oil because of the high fatty acid constituency. It is a great cleanser that unclogs the scalp pores and cleans it to encourage hair growth. It makes the hair shinier and voluminous.
• Almond Oil- Almond oil is effective in preventing breakage and eliminating split ends. This oil is high in linoleic acid and oleic acid content. These acids condition hair, encourage resilience and make them healthier and stronger. Moreover, the presence of vitamin E improves hair texture as well.
• Argan Oil- Argan oil effectively repairs damaged and dull hair and promotes hair growth with high antioxidant presence. The oil deeply nourishes the scalp and follicles, stimulating the thickness and health of strands.
Thus, choosing the right hair growth oil promotes hair volume, provides strength to the tissues, encourages hair growth, treats dandruff, and adds luster. For 100% natural restoration, Nutrafirst brings Hair Regain Oil equipped with Ayurvedic ingredients like Bhringraj, Ashwagandha, Tulsi, Neem Oil, Coconut Milk, Carrot Seed Oil, and more. For a more effective solution, you can also check out Nutrafirst Hair Regain Capsules to add health, thickness, and length to your strands.
Do you recently notice that your hair looks thinner than ever? Well, hair fall and hair thinning are the two most common problems that have affected millions of men and women across the globe. The causes for such issues are many such as vitamin deficiencies, over-styling, stress, exposure to the harsh environment, and many others. Also, note that a little hair fall as a part of the daily routine is just fine but any extremity may be an attenuation of a greater problem. In such cases, you may want to discover the best yet natural remedy that can help you combat the issue. Fortunately, certain herbal hair restorative supplements such as Hair regain oil can come to your rescue and enable you to cherish the joys of having long, thick, and lustrous hair.
Hair regain oil for men and women-
Regain hair oil (fast Hair growth Oil) is an herbal hair restorative supplement that comes packed with the goodness of powerful Himalayan herbs such as Bhringraj, Ashwagandha, Tulsi, Neem, Olives, Coconut, and Lajwanti. These medical-grade botanicals are most revered in Ayurveda for their excellent abilities to curb annoying hair-related problems such as falling, thinning hairs, and dandruff. Here are some amazing ways it can benefit your unruly and lifeless hair-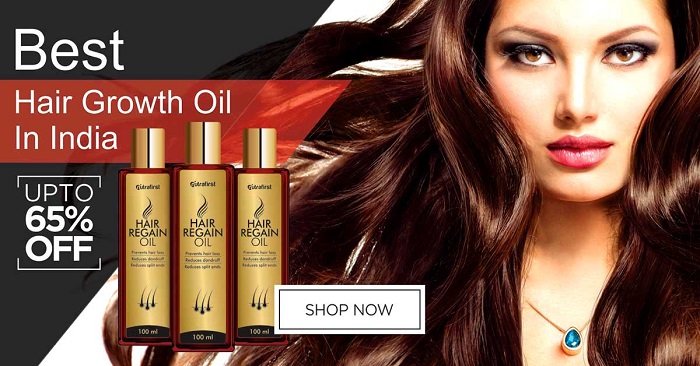 1. Prevents hair fall-
Hair fall is one such problem that has left several men and women in distress. It is because; your crowning glory makes an important part of your look and sets the overall tone of your appearance. For such reasons, losing more hair with each passing day can be bothersome for you and may even make you fear going bald. But, don't worry hair regain oil (Best hair growth oil For Men & women) is formulated by the industry experts after years of extensive research and can help you reach your beauty goals in no time. The excellent ingredients such as Bhringraj and Ashwagandha diligently work to nourish the hair follicles with essential micronutrients such as vitamins, minerals, and enzymes. Besides, the stress-relieving action of this herbal concoction enhances the flow of oxygen-rich blood in the scalp, strengthening hair follicles and preventing them from falling out.
2. Prevents dandruff-
Are you one of those who often spend long hours surfing the internet to find the perfect remedy to curb dandruff? If so, you have landed at the right place! Dandruff or seborrheic dermatitis as defined in medical terms is a condition that is characterized by the formation of white flakes or peeling of scalp skin. This condition not only leaves you in social embarrassment but can indicate an infection or bigger problem as well. Hair regrowth oil contains olive and coconut oil that seeps inside the scalp and keeps it well-moisturized. Also, the neem oil present in this concoction is known for its anti-microbial action and protects the scalp from a range of infections and diseases. Besides, other valuable components such as neem oil help fight off several microbial infections on the scalp, and vitamins and minerals present in these ingredients diligently work to reverse the cellular damage done harsh chemicals and heat treatments have done to your hair.
3. Makes hair smooth and shiny-
Each one of us wants our hairs to look smooth, silky, and glossy. Tulsi and Lajwanti extracts make a few powerful herbs are known for their hydrating properties and play a crucial role in imparting a glossy sheen to hair and improving texture.
How to use hair regain oil?
Using hair gain oil is simple and easy. To reap the best benefits, take a coin size of the oil on your hand and rub both palms together to spread evenly. Now massage it onto the scalp in a circular motion, using your fingers. Leave in at least for an hour or preferably overnight. Wash off the next morning or after a few hours using regular shampoo.
Where can I buy hair regain oil at the best price in India?
Buy best hair regrowth oil in India for men and women at the lowest price and grab free home delivery services with cash on delivery services.
Do you think that it is the oiling only that makes your hair look great? Probably not! Oiling for sure is the underlying part of good hair but the combination of shampooing, conditioning and oiling together brings out the best results. These three are considered to be the stepping-stone of hair care. But always remember that it all starts with oiling.
If you are in turmoil with a problem of excess hair fall, you must have tried so far the most prominent brands that have carved their niche. However, the invigorating of hair roots can become better by adopting these primary steps. Hair hygiene is not a one-time task; it needs regularity with meticulous care.
Wrong practices can soon turn out to be a disaster for the condition of your hair. Ensure that washing, combing, oiling, and dying your hair needs proper attention and treatment. Otherwise, the quantity of fallen strands can surprise you as a return gift of your negligence in the form of complete baldness.
Being attentive towards these primary steps can reduce the quantity of hair fall and can keep your towel and hair accessories free from fallen hair. Most people go to the length of using what they find suitable to keep their hair in good condition such as packs, gels, and serums. Instead of oiling the hair, they try to bring a change by using these fancy things.
No matter how many changes you make to improve the condition of your hair, they won't make a good impression until they are nourished with natural oil. The different hair and scalp condition requires different sorts of oiling. You can't skip the oiling part, without oiling you can't expect to have good hair growth. It should be embedded in your routine.
Oiling being a part of regular hair care nourishes and hydrates your hair roots & scalp and sustains the efficacy of hair growth. Each step taken towards the health of your hair is a part of hair care that surely serves the purpose in the long-run.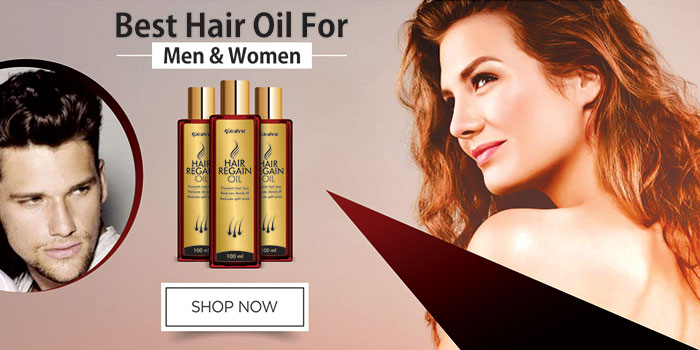 Why hair regain oil is essential?
The optimal condition of the hair depends on the regular oiling when the requirement of the scalp is fulfilled. Even oil massage to a great extent contributes to good hair growth by stimulating your hair follicles and speeding up the blood circulation to the scalp. The process gets faster when you choose to make hair regain oil a part of your daily life. This breakthrough hair oil is endowed with ingredients known as the ancient remedy for uprooting hair problems.
These ingredients are also known to increase the tensile strength of the hair, slow down falling of hair, reduce frizziness, and make them manageable. Putting oil on the scalp daily is an essential part to enhance the lubrication that helps prevent hair breakage. The oil contains fatty acids to treat the lost lipids in your hair.
Loss of Lipid is largely responsible for the occurrence of hair loss. Lipids play a prominent role in keeping the condition of the hair at its best, influencing the hair growth, and fortifying the strength of the roots. Multiple factors can be attributed to the loss of hair including internal and external both.
Pollution, UV exposure, chemical treatments, and frequent heat styling collectively contribute to making your hair weaker. Natural hair oil continues to supply nutrition and combat hair concerns.
The consistent hair oiling protects the hair from getting damaged. With hair regain oil, the gap between the cuticles is reduced followed by preventing the penetration of noxious substances such as surfactants that get deeper into the roots and affect the growth of follicles. Hair regain oil is the best hair oil that performs necessary actions by sealing the cuticles. It is the sealant that supports hair growth and renders hair by bringing back its softness and shininess.
Ingredients make the hair oil reliable
Ingredients act as contributors to make the product desirable in the eyes of users. Many natural oils that are performing well in the market are backed by the ingredients that give consumers a reputable place in their hearts. The same is the case with regain hair oil. Its powerful ingredients amplify the process of hair growth by eliminating the noxious elements, causing damage to your hair.
Bhringraj
Ashwagandha
Tulsi
Neem oil
Olives
Coconut
Chamomile
Lajwanti
These ingredients collectively help to grow hair by controlling the damage and making them bouncy, shinier, and dense. The lists of benefits you can get by oiling regain hair oil are.   
Nourishes your hair and keeps it in good condition
Moisturizes scalp and hair
Improves the condition of dry scalp
Helps to stop hair fall
Reduces the risk of scalp infection
Restores the lost luster
Fastens the hair growth by strengthening hair follicles
Protects your hair from UV exposure
Fixes split ends
Keeps your scalp cool
Improves blood supply and stimulates hair growth
Removes dandruff
Treats lice and nits
Increases hair volume
Stops premature greying of hair
Your hair can be vulnerable to damages once they are in contact with anything that contains something harmful. Their tenderness can easily be affected by anything filled with chemicals. So, ensure you have best hair regrowth oil with you like Nutrafirst Hair Regain Oil that can minimize the risk of hair damage plus gives optimum hair growth.
Stopping hair loss is a challenging task, and to prevent the strands from falling out, we use numerous hair care products. But, many of these products may come loaded with chemicals that may affect the health of your hairs negatively. However; hair care experts conclude using herbal restorative supplements as one of the best ways to achieve healthy, long and strong hair. Today, we will be reviewing one herbal hair oil for men and women that is admired and trusted by reputed hair care experts for its effectiveness. Read on!
Nutrafirst hair regain oil-
Nutrafirst hair regain oil is a herbal supplement that comes enriched with powerful ingredients such as Bhringraj, Ashwagandha, Lajwanti, Coconut milk, Tulsi extract, Carrot seed oil and many others. These medical-grade botanical extracts make a wonderful source of essential micronutrients that nourish the follicles from deep within and stimulate healthy hair growth. Also, the multivitamin complex in this formula works at the cellular level to boost the appearance, texture and overall health of your locks. Here is a list of benefits you can get by using this organic hair oil regularly-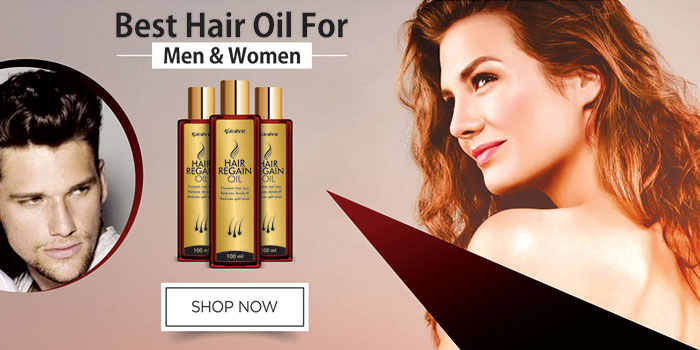 1. Prevent hair fall-
Nowadays, men and women of all ages are affected by hair fall and thinning tresses along with other problems. Hair care experts conclude stress as one of the major causes of hair fall amongst most people. This restorative treatment contains natural adaptogens such as Ashwagandha and that soothes the mind and boosts the supply of oxygen-rich blood in the scalp. This increase in pure blood in the scalp strengthens the follicles from within and prevents the strands from falling out.
2. Curb dandruff and stimulate hair growth-
Dandruff often occurs as a result of a lack of moisture or microbial growth on the scalp. Hair regain oil contains rich sources of vitamins and minerals that seep deep into the scalp to provide much-needed hydration and curb dandruff and dry and flaky scalp. Also, these micro-nutrients wake up dormant follicles and promote quick and faster hair growth.
3. Makes hair smooth and shiny-
Thinning hairs take a toll on your outer appearance as well as self-confidence. Pure herbal extracts of Ashwagandha, Coconut milk and Bhringraj that make an age-old remedy to make the tresses smooth, voluminous and glossy. The active phytochemicals present in these extracts fill the grooves in the hair strands and improve its texture. Also, these herbs diligently work to prevent premature greying and helps keep hair black and healthy.
How to use hair regain oil?
Using hair gain oil is just a walk in the park. To reap its best benefits, you can take a generous amount of oil on your palm. Rub both hands together to spread it evenly. Thereafter, massage the scalp in a circular motion using the fingertips. Leave preferably overnight and wash off next morning using regular shampoo.
Where can I buy best hair oil in India?
You can buy hair regain oil at the best price online. Avail free shipping, best discounts and easy convenient method of payment at your home.
Importance Of Oiling For Quick And Healthy Hair Growth
Neena is a hard-working corporate work bee plus a mother of a notorious two-year-old son, Aarav. Her friends always admired her for her dedication to work as well as family. Moreover, most of them would envy her for having thick, long and lustrous hair. But, one day while looking into the mirror, she noticed her hair went thin, fragile and looked unhealthy. And like most of us, she took it as a result of pregnancy or stress, both of which appeared true to some extent. Soon after, she realized that it had been months since she last pampered her tresses with essential oils.
Just like Neena, many of us often forget to pay attention to our crowning glory for one reason or another. In modern times of unhealthy eating habits, stressful work routine, harsh climatic conditions and chemical treatments, our hair gets accustomed to a great deal of damage every day. In such cases, you may rely on expensive beauty products, which are not only harsh on the tresses but the pocket as well. Contrary to that, massaging the scalp with essential oils makes an age-old formula to make your hair strong, smooth, and silky from inside out.
Why is it important to massage your hair with essential oils?
While we tout oiling the hair as the best ways to promote hair health, you may wonder what makes it so important. Do you remember how long, black, thick and shiny hair your grandma used to have? All thanks to the handfuls of essential oils she used to douse her locks every day. Oiling the tresses hosts a multitude of hair benefits. Let's take a glance at some of them.
It relaxes muscles-While you massage your scalp, it activates the vital points in your body. Also, it instigates relaxation of muscles, calms the mind and relieves stress. This lowering of stress works wonders when it comes to improving hair health.
It improves blood circulation– A head massage improves blood circulation in your scalp, which, in turn, results in a better supply of oxygen to the follicles and strengthens them. Also, oxygen-rich blood energizes dormant hair follicles and stimulates quick growth.
It rejuvenates hair– Oiling is a must for all those who love to repair and straighten their locks a lot. Coating your hair with natural oils help repair the damage done by chemical treatments and restores the moisture in the strands. Also, it helps soothe irritated scalp and repairs split ends as well.
It stimulates quick hair growth– When you provide your tresses with much-needed nutrients; it results in faster hair growth. Oiling is one of the best ways to feed your hair with essential micronutrients they require for healthy hair growth.
It improves hair texture– Shine is the most attractive feature of hair. While you massage your hair with essential oils, the hair strand locks in the moisture and make them appear shiny. Also, it helps make the tresses smooth and improves texture.
Which is the best herbal hair oil brand available in India?
At present, you may find a variety of herbal oils available in different brands. But, what can be better than treating your hair with not just one but a blend of essential oils? Nutrafirst hair regain oil is a natural hair restorative supplement that makes a cocktail of rare Himalayan herbs such as Shankhapushpi, Bhringraj, Ashwagandha, Tulsi, Neem oil, Olive oil, Coconut and many others. It is formulated after years of extensive research and is highly effective in treating a range of hair-related problems. Also, this hair oil is 100 % natural and free from synthetic chemicals. To order online, CLICK HERE.
Understand the worth of your hair as damaged hair cannot be easily controlled by so-called natural hair oil supplements until it is infused with Ayurvedic ingredients. Your identity is recognized by your hair and face value. A beautiful face with brittle hair makes no good impression.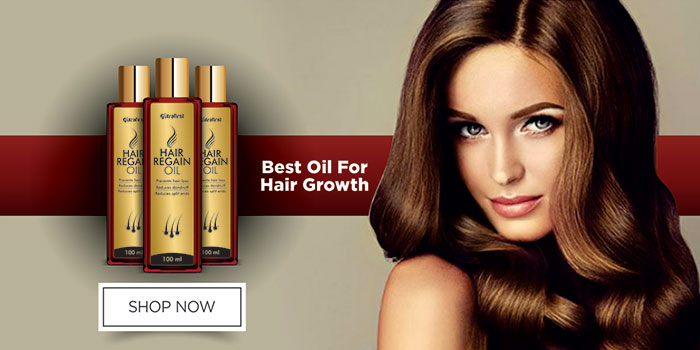 Countless people pay attention to the beauty of the face but tend to overlook pampering their hair with the same zeal that they have for the face. We imbibe every little thing from our favorite celebrities, from emulating their style, stealing their looks to using cosmetics as they do.
However, hair is one part that goes unnoticed especially for the ones that are going through the loss of hair strands per day. They have no other option but to accept the reality that they are getting bald. It is not as if that you will have bountiful and voluminous hairs at all stages of life but maintaining them is in your hand. Caring of hair can extend the time period of falling of hair and controls it to some extent.
Some folks are naturally blessed with good hair follicles and leave no stone unturned in flaunting their fluffy hair. But what about those who are compelled to live the life that they seem to be losing interest for? The reason is nothing but excess hair fall or baldness that spoils everything.
If you are tired of using a number of hair oil supplements to prevent hair fall and always end up spoiling your mood then, stop doing it. Think for a while what you are putting your money into, is it worth it? One right choice may unfurl your every day with pleasant surprises. It is needless to say that we are surrounded by noxious air pollution which is not hair friendly. So, choose wisely whatever hair oil you are picking up.
To retain the radiance of lustrous locks, powerful Ayurvedic herbal hair oil should be preferred choice to remove dryness and dandruff. Taking the right steps to protect the hair from falling should be the priority as the overall personality depends on the condition of hair. Nourish your hair with the best hair oil to rapidly grow the hair.
Nutrafirst Hair regain oil, ingredients like Lajwanti, Chamomile, Coconut, Tulsi, Neem, Bhringraj, and Ashwagandha have been used to give hair the amazing hair volume. This best hair oil for men and women curbs premature grey hair, hair fall, and dandruff. Devote some little time to the health of your hair and go carefree for the rest of your life.
The blend of above-mentioned ingredients brings shine and density in no time. Bhringraj widely known for many other health benefits boost the blood circulation to the scalp and helps in triggering hair growth. When the blood is boosted, it gives your hair follicles the nourishment it requires. Almost all the ingredients have the same potential as Bhringraj does and surely proves to be a good tool in terms of curing hair loss.
The top benefits of using natural hair oil are:-
This oil improves the health of your hair and brings massive improvement in luster, strength, and density. The natural herbal hair oil contains vitamins that act as a source of nourishment to the hair.
Ensure to give your hair a thorough massage with such herbal hair oil that goes into the root of your scalp and boost the blood circulation to improve the hair growth.
Make a routine to use the oil regularly to ward off premature grey hair.
Our natural hair oil fortifies hair tissues with the presence of herbal ingredients. No other products like shampoo and conditioner have this much efficacy to nourish hair so deeply the way this oil does.
Hairs are vulnerable to damages as they are exposed to all noxious air and natural elements, so to prevent tames frizzy hair and excess hair loss. They need meticulous care with good herbal hair oil that can feed nutrients to the hair.
For stronger, longer, and lustrous hair, use our natural hair oil as they contain the fatty acids for the improvement of hair.
No other remedy proves to be successful if it is not endowed with good ingredients. Hair growth is possible only with natural hair oil that is loaded with pure and herbal ingredients. Make sure you are choosing products like we have as they have essential ingredients mixed in the oil for good hair growth.
Hair loss is a formidable situation and end number of men and women is facing it nowadays. What makes hair fall worrisome is the plethora of adulterated hair products, causing the hair to fall out more than usual. It is an illusion to get diverted to bewitching product labels that fail to give any base for the prevention of hair fall.
A number of chemicals are blended to make hair loss supplements look convincing for the buyers. However, when you come across noticing the results till then, it is too late. Even remaining hairs are not enough that you can think of giving treatment to. When it comes to pampering your hair, just by consuming supplements won't give you the results that you are expecting.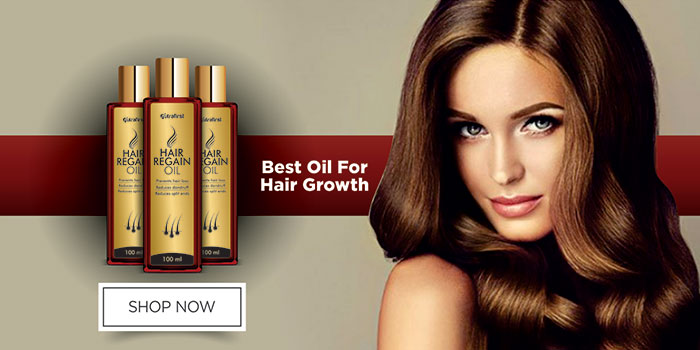 Give your hair something that it deserves. A natural remedy along with quality-filled oil which is brimming with essential nutrients, minerals, and proteins makes hair shinier, longer, and stronger. Choose our natural hair oil (hair regain oil) which is the best way to get long, thick, and healthy hair as its high-quality ingredients promote healthy hair growth. Hair needs proper nourishment before you think of splurging on good hair.
Let alone bouncy and stronger hair, the wrong choice in oil may end up giving you nothing but flat bald scalp that will do nothing but shine in the scorching heat. Before you lose your confidence and anyone makes you feel embarrassed, try out our best remedy for hair fall. Get natural growth for hair and use a natural oil to revitalize hair tissues, remove dandruff from the scalp, fight excessive hair fall, and tames frizz.
Nutrafirst hair regain oil effectively boosts the growth of the hair while giving it ultimate smoothness. Along with natural hair oil, you have to keep an eye on your eating plans and food items for the continuous supply of nutrition in the body.
The voluminous hair accentuates your personality and style, it doesn't matter if you are dressed well, wearing scuffed or grimy shoes but good hair makes it all. So, ponder a lot before deciding a product for hair growth. Spending too much on redundant hair fall supplements or oils can be cumbersome on the financial front with no close result of hair growth.
The excessive hair loss can be troublesome in various ways, from dealing with embarrassment, losing confidence, building depression, to affecting health. Hair fall comes with a plethora of problems, causing a decline in the pace of your life.
The problem is formidable especially for women; it is their long curls that make them look beautiful and attractive. There are certain remedies to control hair fall which can be helpful if diagnosed on time.
The natural and effective tips to control hair fall-
Rinse hair with shampoo- It is not that the shampoo that your friend is using is suitable for your scalp also; you need to understand the requirement of your scalp and then choose the right shampoo. Rinse your scalp with shampoo that creates lather and removes dirt and dandruff while reducing the excess hair fall. Some shampoos quality is not good and brimming with chemicals that lead to excessive hair fall. In addition to this, over washing also damages the quality of the hair and speed up the process of hair fall.
Always make sure that the shampoo is free from fillers and chemicals that include silicone, sodium chloride, synthetic fragrances, parabens, formaldehyde, and dimethicone. The mixture of chemicals in the shampoo can be attributed to the brittle hair that makes hair prone to breakage.
Diet and exercise- Nutrition is vital for good hair. If your body fails to get nutrients, your hairs will never get the proper nourishment they need. The bountiful of iron and protein is essential for the consistent growth of hair that you will get by eating a balanced diet in conjunction with regular exercises.
Conditioner- Choosing a good conditioner is essential for your hair locks that often get detangled. The conditioner seals the cuticles and repairs the damaged hair. It is effective in locking nutrients in and vanishes pollutants stuck in the hair. This strengthens the hair shaft and curbs split ends, breakage, and excessive hair loss.
Regular oiling- Oiling being the underlying part of the hair health promotes better blood circulation while fighting against the tissue. Nutrafirst hair regain oil nourishes hair roots and facilitates blood flow and lymphatic.
Regular massage on the scalp makes the hair treatment more effective and worth putting your money into. This is the most important part that shouldn't be shrugged off and needs to be paid attention to. Apply Nutrafirst hair regain oil on the scalp, remove dandruff and stop dandruff from forming.
All these tips are natural and effective to control hair from falling and keep the condition of your hair good if your daily routine entails all these steps.
Hair plays a vital role in defining the tone of your overall appearance. However, the cool waves of frosty winters can take a toll on the overall health of your crowning glory. The changes in weather not only make the hair dry and brittle but can give rise to dandruff and massive hair fall as well. In such cases, you may strive to find the best natural remedy to keep the hair strong, smooth and silky. Haircare experts conclude oiling the locks with essential (herbal) oils as the ultimate remedy. Today, we're here with a list of oils that can help men and women keep their hair healthy and strong. Let's start!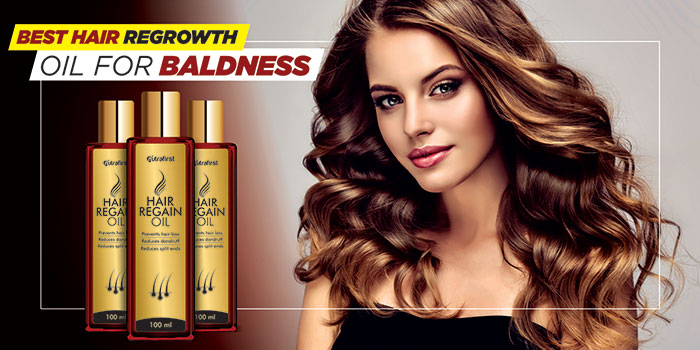 Bhringraj Oil-
Bhringraj or commonly known as 'false daisy oil' is being used as a herbal hair care remedy, since ancient times. It is admired by the hair experts for its exceptional ability to nourish the follicles from within and improve texture. Also, this organic potion contains anti-microbial agents that help prevent dry scalp and prevent infections as well.
Almond oil-
Let it be your favourite dessert or beauty regimes, almonds find a special place everywhere for all good reasons. These light-brown kernels form a rich source of essential nutrients such as Vitamin A, E and C that benefits your locks in numerous ways. Vitamin E in this natural elixir contains a range of antioxidants that neutralize the problematic free-radicals. Besides, it provides the much-needed hydration to the follicles as well as hair strands, thus leaving them soft, smooth and silky.
Coconut oil–
Coconut oil is often called a miracle oil for all the good it can do to your hair as well as skin. Hair fall is an annoying problem that occurs as a result of protein deficiency. Coconut oil, on the other hand, replenishes the hair with essential proteins and prevents hair loss. Besides, it helps prevent premature greying and curbs the problem of split ends as well.
Neem oil-
Neem oil contains regenerative properties that accelerate cell division in the hair strands for fast hair growth. Besides, the anti-microbial and anti-inflammatory agents in this oil prevent the growth of bacteria or fungus on the scalp, which, in turn, aids in faster hair growth. Also, it adds bulk to the strands and makes them appear smooth and thick.
Chamomile oil-
Chamomile, a flower from the family of daisy makes a wonderful potion for hairs. This soothing oil contains anti-inflammatory agents that help treat numerous conditions such as flaky scalp, dandruff and eczema. Also, it strengthens the hair roots and effectively curbs hair fall.
These are some herbal hair oils that can help you achieve thick, strong and glossy hairs naturally. Try any of them and feel the difference.
Where can I buy essential oils for hair growth?
You can Buy Best Hair Oil For Men and Women in India @ NutraFirst.in