Vitamin C-based skincare products are something that has gained tremendous popularity amongst most men and women. In recent times, vitamin C serums are a new rave in the beauty industry because of their amazing skincare benefits and their thinner consistency. Today, we are here to review the best skincare benefits of vitamin C serum.
About vitamin C serum-
Vitamin C serum is a natural skin supplement that comes fortified with the power of Hyaluronic acid and natural extracts such as Bihidana, Sunflower Oil, Almond Oil, Khameer, Dudhal, and Halon to provide your skin with a radiant and flawless shine. This natural potion is a cocktail of essential micronutrients such as Vitamin C and Vitamin E that rejuvenates the skin cells from within and delays the signs of premature ageing. Besides, this hydrating serum is highly effective in treating dry skin conditions and leaves your skin soft, supple, and shiny.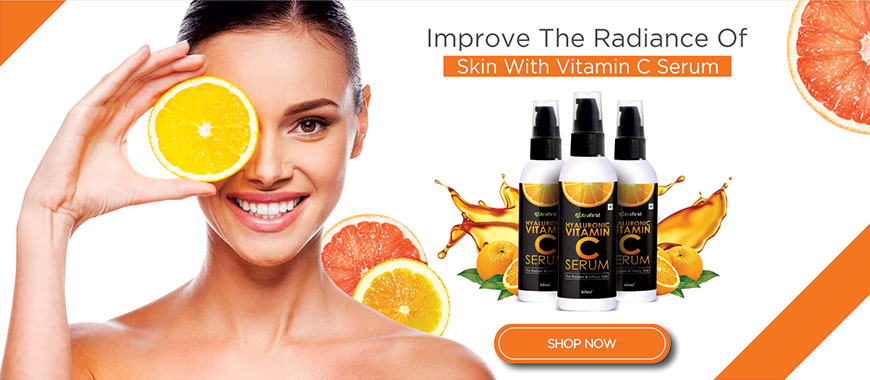 Skincare benefits of vitamin C serum-
Here are a few was this amazing supplement can benefit your skin-
Moisturizes the skin-
Dry and flaky skin is discomforting as well as ruins your appearance. This organic vitamin C serum with added Hyaluronic acid penetrates the deeper layer of the skin and provides much-needed hydration to the skin and rejuvenates them from within. Besides, this lubricating agent helps treat dry and flaky skin, which, in turn, improves skin texture and leaves it soft& supple.
Prevents premature skin aging-
Loss of moisture often results in the onset of premature skin aging. This herbal formulation comes brimming with natural ingredients such as hyaluronic acid and essential oils (sunflower, olive, and groundnut) that are known for amazing action when it comes to nourish skin cells from within and help maintain the elasticity of the skin. Also, these organic compounds work wonder when it comes to improving the appearance of wrinkles fine lines and dark spots, thus providing you with young and clear skin.
Brightens complexion-
The emollient properties of olive oil and nutmeg in this ayurvedic formulation that pose natural bleaching action on the skin and help improve complexion. Besides, the dandelion extract present in this herbal product forms a rich source of antioxidants that fight against sun-damage, oxidative stress to revive skin radiance. Also, vitamin C speeds up your body's natural healing process helps reduce the appearance of scars on the skin.
How to use vitamin C serum for the best skincare benefits?
Rinse the face with water and pat dry. Now, make small dots all over your face using fingertips (avoid eyes and lips). Now, spread evenly on the face using your fingers and get ready to discover a refreshed skin.
Where can I buy Vitamin C serum at the best price in India?
You can buy best Vitamin C serum online at the best price in India @ Nutrafirst.in and avail best discounts, free shipping and cash on delivery services.