Are you one of those beauty enthusiasts who often crave for smooth, supple, and youthful skin like that of your favourite celebrity? If so, there is a truth bomb for you- vitamin C serum is what you need to discover the best version of your skin. Here, we are going to present you with a piece of interesting information on the excellent ways vitamin C serum can benefit your skin. But, before we start rolling the list, let's first know about it in details.
About Vitamin C serum-
Vitamin C serum is a clear liquid that comes fortified with an appreciable amount of vitamin C along with other valuable constituents. It has created a rave in the market for an array of associated health benefits and is admired by most beauty experts for its effectiveness. Nowadays, most vitamin C serums for skin you find in the department stores, beauty stores, and some drug stores come power-packed with organic or herbal constituents that are best known to do wonders when it comes to improving your skin inside out.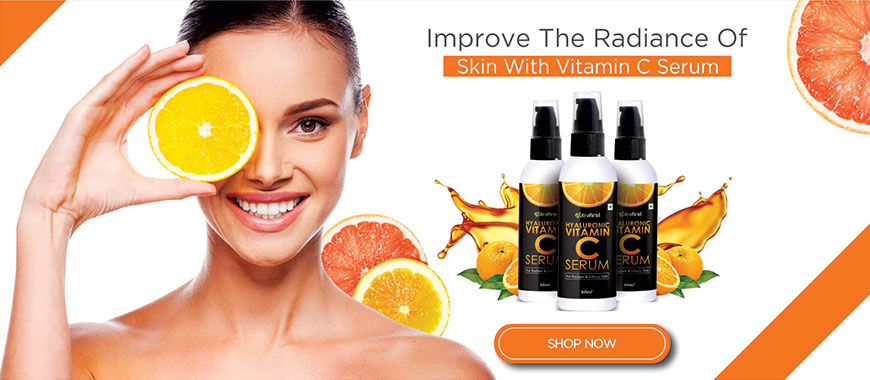 Skincare benefits of using vitamin C serum-
Moisturizes skin- Who would want to have a flaky, dull, and uneven skin texture? Lifeless skin not only takes a toll on your outer appearance but can also leave you in great discomfort. Most vitamin C serums for skin whitening contain hyaluronic acid and ascorbic as active ingredients. Ascorbic acid in these formulations helps prevent trans-epidermal water loss.
Prevents wrinkles and photo damage- Oxidative damage to proteins in the skin cells occurs as a result of both photo damage (photo-aging) and intrinsic aging. These problems often contribute to changes in skin structure and may ruin your outer appearance. Vitamin C serum comes fortified with powerful antioxidants that safeguard skin cells against oxidative stress. Besides, vitamin C in topical face serum boosts the production of collagen in the body. The role of vitamin C in the hydroxylation of collagen molecules is well characterized. This hydroxylation of collagen plays a vital role in promoting skin firmness and preventing wrinkle formation.
Lightens skin tone- Every day, our skin comes in contact with a variety of agents that cause skin tanning or dark spots. Topical Vitamin C serums are also known to limit the production of skin pigment, melanin by interfering with tyrosinase activity in the body. This is how vitamin C helps in skin brightening and fading of dark spots. Additionally, best hyaluronic acid serum helps combat hyperpigmentation caused due to melasma, sun spots, and age spots.
How much vitamin C is good for your skin?
The allowed concentration of vitamin C in serum lies between 10-25%. However, dermatologists recommend that people with sensitive skin should pick a milder serum with 5% vitamin C.
Where can I buy the best vitamin C serum?
You can buy best vitamin C serum online in India @ Nutrafirst and get free home delivery with best discounts on skin care products.
Vitamin C-based skincare products are something that has gained tremendous popularity amongst most men and women. In recent times, vitamin C serums are a new rave in the beauty industry because of their amazing skincare benefits and their thinner consistency. Today, we are here to review the best skincare benefits of vitamin C serum.
About vitamin C serum-
Vitamin C serum is a natural skin supplement that comes fortified with the power of Hyaluronic acid and natural extracts such as Bihidana, Sunflower Oil, Almond Oil, Khameer, Dudhal, and Halon to provide your skin with a radiant and flawless shine. This natural potion is a cocktail of essential micronutrients such as Vitamin C and Vitamin E that rejuvenates the skin cells from within and delays the signs of premature ageing. Besides, this hydrating serum is highly effective in treating dry skin conditions and leaves your skin soft, supple, and shiny.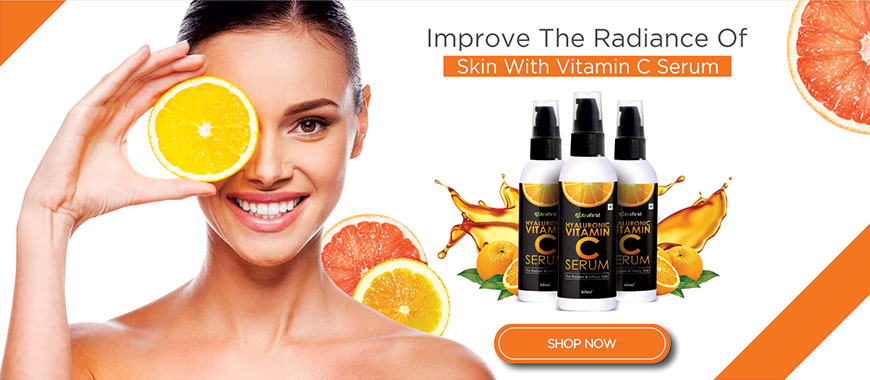 Skincare benefits of vitamin C serum-
Here are a few was this amazing supplement can benefit your skin-
Moisturizes the skin-
Dry and flaky skin is discomforting as well as ruins your appearance. This organic vitamin C serum with added Hyaluronic acid penetrates the deeper layer of the skin and provides much-needed hydration to the skin and rejuvenates them from within. Besides, this lubricating agent helps treat dry and flaky skin, which, in turn, improves skin texture and leaves it soft& supple.
Prevents premature skin aging-
Loss of moisture often results in the onset of premature skin aging. This herbal formulation comes brimming with natural ingredients such as hyaluronic acid and essential oils (sunflower, olive, and groundnut) that are known for amazing action when it comes to nourish skin cells from within and help maintain the elasticity of the skin. Also, these organic compounds work wonder when it comes to improving the appearance of wrinkles fine lines and dark spots, thus providing you with young and clear skin.
Brightens complexion-
The emollient properties of olive oil and nutmeg in this ayurvedic formulation that pose natural bleaching action on the skin and help improve complexion. Besides, the dandelion extract present in this herbal product forms a rich source of antioxidants that fight against sun-damage, oxidative stress to revive skin radiance. Also, vitamin C speeds up your body's natural healing process helps reduce the appearance of scars on the skin.
How to use vitamin C serum for the best skincare benefits?
Rinse the face with water and pat dry. Now, make small dots all over your face using fingertips (avoid eyes and lips). Now, spread evenly on the face using your fingers and get ready to discover a refreshed skin.
Where can I buy Vitamin C serum at the best price in India?
You can buy best Vitamin C serum online at the best price in India @ Nutrafirst.in and avail best discounts, free shipping and cash on delivery services.
If you are one of those who always have your head in the skincare game, you may have come across vitamin C serums. Indeed, these potions have gained tremendous popularity amongst beauty experts for all the good things it can do to your skin. Although you might be including a lot of citrus fruits in your diet; chances are there that your skin is not getting enough of this wonderful nutrient. In such cases, Nutrafirst Hyaluronic acid vitamin C serum can help you achieve healthy, clear and shiny skin.
Hyaluronic acid serum for face-
Hyaluronic acid serum is a natural skin tonic that contains a generous amount of Vitamin C and E to make your skin smooth, supple and glossy. This natural elixir provides them much-needed nourishment to your skin cells and rejuvenates them. Also, the hyaluronic acid in this face serum hydrates the skin naturally and provides anti-ageing benefits as well. Some amazing ingredients of vitamin C serum are- Bihidana, Halon, Lepidium, Sativum (Cress), Jaiphal (Nutmeg), Badam (Almond), Surajmukhi (Sunflower), Khamir, Doodhal, and Groundnut oil (peanut oil).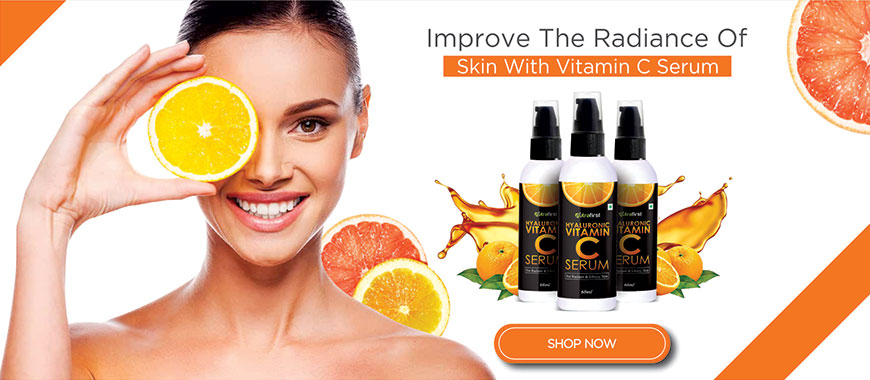 Skincare benefits of Nutrafirst vitamin C serum-
1. Moisturizes the skin-
Dull, dry and patchy skin is not only discomforting but ruins your appearance as well. Since you forget to drink enough water throughout the day, your skin is more likely to become dry. Nutrafirst vitamin C serum contains hyaluronic acid, which makes a natural humectant and prevents transepidermal water loss and helps your skin retain natural moisture, thus providing your skin with a smooth texture and a dewy finish.
2. Lightens skin complexion-
Interestingly; vitamin C makes natural bleach for your skin and do wonders when it comes to lightening the skin tone. Regular application of this clear liquid on the face not only helps remove tan but fades away dark spots and freckles as well, thus imparting your skin a clear and bright look.
3. Prevents acne and breakouts-
The organic ingredients in this vitamin C serum boast a wide range of anti-inflammatory agents that fights against inflammation, clear up acne and reduce the redness associated with it. Also, the pro-collagen and pro-elastin effects of vitamin C clear up any scars due to acne and breakouts.
4. Even out skin tone-
Acne, pimples, and inflammation can make your skin tone uneven. Vitamin C is known to reduce inflammation, which, in turn, makes your skin to appear even.
5. Promotes collagen production-
One of the most impressive properties of vitamin C is its ability to boost collagen production. Collagen is a naturally occurring protein that our skin loses over time. It is no surprise that lower level of collagen results in the production of fine lines, wrinkles and saggy skin. Regular application of this topical face serum boosts collagen production and helps prevent premature ageing.
How to use vitamin C serum?
To discover a natural glow, rinse the face with water and pat dry. Now, make small dots all over your face using fingertips (avoid eyes and lips). Now, spread evenly on the face using your fingers.
Where can I buy Vitamin C serum?
You can buy best Vitamin C Serum (hyaluronic acid) online in India With Best Price @ Nutrafirst. Get free shipping, best payment method and COD facilities on skincare products.