Do you remember the famous adage- an apple a day keeps the doctor away? Similarly, apple cider vinegar has become tremendously popular for all its health benefits. At present, many nutrition and fitness experts suggest taking this clear liquid to ensure overall wellbeing. Today, we will be reviewing some surprising health benefits of apple cider vinegar. But, before we start rolling out the list, let's first know more about it.
What is apple cider vinegar?
Apple cider vinegar is a sour-tasting liquid that is obtained by fermenting apple with yeast and good bacteria. This amber-coloured elixir contains a wide of vitamins, minerals and antioxidants that holds immense potential to benefit overall health in more than one ways. Also, note that fitness and nutrition experts suggest using unfiltered ACV with the mother to reap its maximum health benefits. 'Mother' here is referred to as the cluster of good bacteria and yeast produced during the manufacturing process.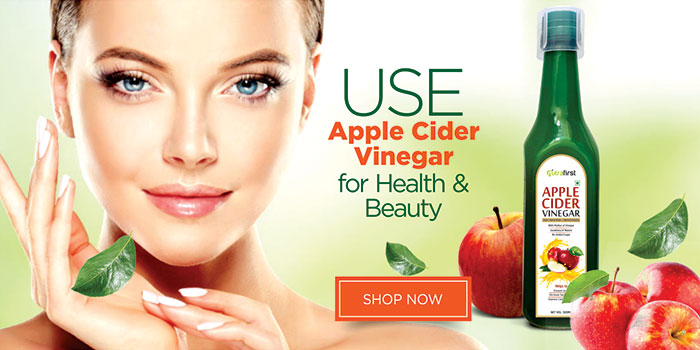 Health benefits of using apple cider vinegar-
It aids in weight management-
Nutrition and fitness experts recommend taking 15-20 ml of diluted apple cider vinegar every day to all those people who want to shed a few extra pounds. It is because; ACV in its pure form contains a high concentration of acetic acid that works as a metabolism booster and helps speed up your body's fat-burning abilities. Also, the soluble fibres in this golden-yellowish liquid impart you a fuller feeling for long and help suppress hunger pangs.
It improves digestive health-
Apple cider vinegar (ACV) works wonder when it comes to improving digestive health. The probiotic agents present in it are extremely beneficial to the healthy bacteria present in the gut. These microorganisms monitor your digestive system and help maintain optimal health. Also, drinking diluted ACV on an empty stomach helps regulate acids in the stomach, which, in turn, ensures easier digestion.
It helps regulate blood sugar-
Best Apple cider vinegar is believed to boost the efficacy of insulin to breakdown glucose present in the blood. As per a research published in the Journal of Evidence-Based Integrative Medicine, consuming a generous dose of ACV can help lower average blood sugar level and prevent insulin resistance as well.
It boosts cardiac health-
If you are looking to find one of the best natural remedies to improve heart health; apple cider vinegar makes an answer. This clear vinegar comes power-packed with organic compounds such as bioflavonoids that help lower triglycerides. Also, the pectin fibres present in both apple and vinegar helps neutralize LDL and prevents the arteries from any blockage.
It helps fight infections-
ACV comes loaded with powerful anti-microbial properties. As per the medical experts, this sour-tasting wine helps fight against harmful fungus and bacteria that may go into the intestine through the food. Also, it helps maintain a healthy pH of the stomach as well as of the gut to protect it against inflammation and other potential maladies.
For Acne treatment-
Drinking of apple cider vinegar is beneficial for the skin as it effectively helps in treating acne or pimples and makes your skin smoother, healthier, mark-free, spot free and also helps in treating sunburn. Due to anti-fungal properties, it helps in preventing dryness of the scalp and dandruff. Make your hair longer, healthier, and shinier by using Organic apple cider vinegar.
These are a few surprising ways apple cider vinegar can help you keep in good health. If you too are looking for natural remedies to improve physical well-being, buy apple cider vinegar online and feel the difference.