Fish oil capsules as the name indicates originate from the tissues of various fish types. Add it to your regular diet plan or use it as a dietary supplement to consume Omega-3 fatty acids. You might be thinking, why should I eat these capsules? That's because our body cannot create Omega-3 fatty acids and its production depends on external sources. According to various researches, EPA a type of Omega 3 fatty acid helps the body control inflammation by synthesizing chemicals involved in blood clotting. Besides, there are many more advantages of fish oil-based Omega 3 capsules. We have enlisted the top 7 ways fish oil capsules can benefit our health: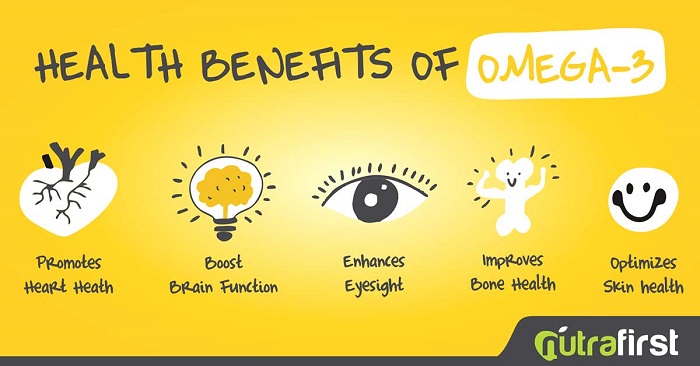 Prevent the Risk of Heart Diseases- Omega-3 stabilizes the negative effect of Omega-6 fatty acids from food products such as poultry, cereals, and eggs. The latter is known to cause heart diseases by promoting clot formation. Here, consuming the best fish oil capsules provides a sufficient amount of Omega-3 to control the clotting and manage the fatty acid imbalance.
Control Anxiety & Depression– Levels of Omega 3 decline in the bloodstream of people suffering from anxiety and depression. Thus, increasing the intake of Omega-3 fatty acids helps get through such problems without extensive discomfort. Besides, Omega-3 fatty acids also improve the efficacy of anti-depressants that are given to people dealing with depression.
Control Asthma– Airways of asthma patients stay inflamed and narrow. This causes difficulty in breathing and also triggers wheezing, coughing, and shortness of breath. This problem can be short-term for some, while others have to face severe conditions like a dangerous asthma attack. Omega 3 works wonders for the asthamese, reducing their possibilities of getting an asthma attack. That's why experts recommend the best Omega 3 capsules to asthma patients or a diet rich in those fatty acids.
Fish Oil Capsules are Suitable for ADHD– Short attention spans and concentration difficulties are common among kids suffering from ADHD (Attention Deficit Hyperactivity Disorder). Omega 3 capsules might not treat ADHD, however, they help by promoting brain development and functioning.
Control Arthritis Pain– Rheumatoid arthritis is a painful medical problem, and the best salmon fish capsules can help here too. A fish oil-rich diet can help control the pain and stiffness and improve anti-inflammatory drugs' effectiveness.
Beneficial for Hair– With their anti-inflammatory properties, fish oil capsules help improving hair growth by opening up the follicles. While their regular consumption reduces hair loss, being a healthy fat, Omega 3 also prevents the scalp from going dry and flaky.
Fish Oil Capsules Improve Vision– While age-related vision degeneration is natural, adding this essential fatty acid to your diet can prevent that. Fish oil capsules improve eye vision by strengthening the eyes' small blood vessels and making them healthier. Particularly for those suffering from dry eye situations, consuming fish oil supplement is the right choice.
Thus, in today's time of stressful living and fast-paced lifestyle, a healthy diet plan becomes more than essential. And that's incomplete without these essential Omega 3 fatty acids that the body doesn't produce naturally. Nutrafirst brings the best salmon fish oil capsules loaded with both DHA (Docosahexaenoic Acid) and EPA (Eicosapentaenoic Acid). Adding these to your diet supports heart health, strengthens bones, improves vision, and enhances inflammatory response and cognitive health. Get your dose of this essential health supplement today!