We all are aware of the famous proverb that says you are what you eat. This is indeed true. Nowadays, men and women on the go have little time for themselves and most of them often rely on processed or fast-to-cook meals. Results? Nutritional deficiencies and an array of health problems! And with quick access to medical information and shopping at the ease of a few clicks, most people supplement with multivitamins to bridge nutritional gaps. However, many of these products may not contain omega-3 fatty acids – an essential component for health. Salmon fish oil capsules can fulfil this inadequacy, helping you get enough of essential omega-3 fats for overall wellness. Let's explore how this dietary supplement can help your body.
About Salmon Fish Oil
Salmon fish oil is golden-yellow oil derived from tissues of salmon fatty fish. Though Salmon fish is considered the best source of essential omega-3 fatty acids such as EPA and DHA, some substitutes include sardines, mackerel, and tuna. Apart from its high Omega-3 content, the natural elixir is rich in vitamins, minerals, and proteins required by the human body to work well. Let's take a look at the key health benefits of salmon fish oil.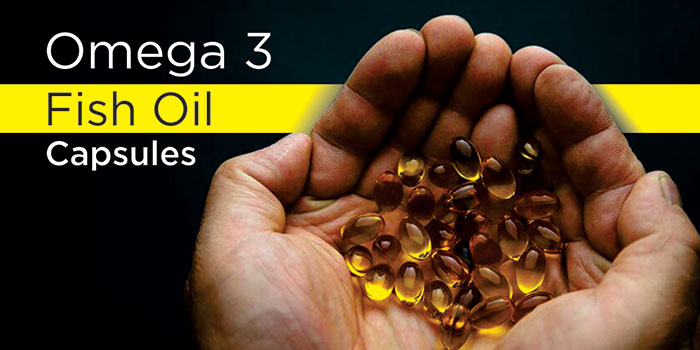 Health benefits of Salmon Fish Oil capsules:
Help Manage Arthritis: Salmon fish oil is best known for its anti-inflammatory agents that make it a natural remedy for people suffering from arthritis (including rheumatoid arthritis, ankylosing spondylitis, and psoriatic arthritis). Additionally, organic compounds in salmon fish oil help relieve muscle stiffness and soreness, thus ensuring pain-free muscle and joint movements. Clinical trials reveal that the effect is similar to non-steroid anti-inflammatory drugs and supplementing with omega-3 fatty acid capsules can help some people with arthritis to reduce drug intake.
Promote Healthy Heart: Many fitness freaks in the world eat salmon fish or supplement with fish oil capsules to ensure a healthy heart. Valuable nutrients in fatty fishes help reduce bad cholesterol in the heart and lower triglyceride levels by 15-30 percent. Besides, anti-inflammatory compounds in the organic fish oil prevent the formation of hardening plaque in the arteries, thus lowering the risk of hypertension and serious maladies such as stroke or heart attack.
Enhance Cognitive Functions: Health experts conclude that people with mental disorders like depression, anxiety, age-related mental decline may have low levels of DHA and EPA omega-3 fats in their bodies. Salmon fish oil, however, makes a rich, naturalsource of these fats, and people who eat fatty fishes or take omega-3 supplements are found to have better cognitive functions as compared to non-users.
Strengthen Bones & Teeth: Fish oil makes an excellent way to strengthen bones and teeth. All thanks to its vitamin D content that aids calcium absorption in the body for optimal bone density. Fish oil capsules indeed make a natural remedy for people suffering from osteoporosis, and muscle pain due to osteoporosis.
Regulate Blood Sugar: Triglycerides are a kind of fat in the bloodstream. When their levels are extremely high, it puts you at a greater risk of developing metabolic problems, including diabetes. Regular supplementation with salmon fish oil capsules helps regulate blood glucose levels and lower the risk of endocrine disorders.
The Takeaway
Salmon fish oil comes fortified with an array of valuable compounds such as Omega-3 fats, vitamins, minerals that offer various health benefits. Including fatty fishes in your diet or supplementing with salmon fish oil capsules makes a natural remedy to bring your health on track. You can now check out Nutrafirst Salmon Fish Oil Capsules online at the best price here.
Fish oil capsules as the name indicates originate from the tissues of various fish types. Add it to your regular diet plan or use it as a dietary supplement to consume Omega-3 fatty acids. You might be thinking, why should I eat these capsules? That's because our body cannot create Omega-3 fatty acids and its production depends on external sources. According to various researches, EPA a type of Omega 3 fatty acid helps the body control inflammation by synthesizing chemicals involved in blood clotting. Besides, there are many more advantages of fish oil-based Omega 3 capsules. We have enlisted the top 7 ways fish oil capsules can benefit our health: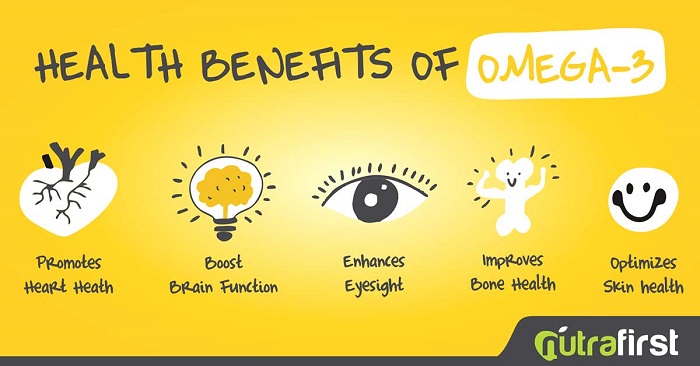 Prevent the Risk of Heart Diseases- Omega-3 stabilizes the negative effect of Omega-6 fatty acids from food products such as poultry, cereals, and eggs. The latter is known to cause heart diseases by promoting clot formation. Here, consuming the best fish oil capsules provides a sufficient amount of Omega-3 to control the clotting and manage the fatty acid imbalance.
Control Anxiety & Depression– Levels of Omega 3 decline in the bloodstream of people suffering from anxiety and depression. Thus, increasing the intake of Omega-3 fatty acids helps get through such problems without extensive discomfort. Besides, Omega-3 fatty acids also improve the efficacy of anti-depressants that are given to people dealing with depression.
Control Asthma– Airways of asthma patients stay inflamed and narrow. This causes difficulty in breathing and also triggers wheezing, coughing, and shortness of breath. This problem can be short-term for some, while others have to face severe conditions like a dangerous asthma attack. Omega 3 works wonders for the asthamese, reducing their possibilities of getting an asthma attack. That's why experts recommend the best Omega 3 capsules to asthma patients or a diet rich in those fatty acids.
Fish Oil Capsules are Suitable for ADHD– Short attention spans and concentration difficulties are common among kids suffering from ADHD (Attention Deficit Hyperactivity Disorder). Omega 3 capsules might not treat ADHD, however, they help by promoting brain development and functioning.
Control Arthritis Pain– Rheumatoid arthritis is a painful medical problem, and the best salmon fish capsules can help here too. A fish oil-rich diet can help control the pain and stiffness and improve anti-inflammatory drugs' effectiveness.
Beneficial for Hair– With their anti-inflammatory properties, fish oil capsules help improving hair growth by opening up the follicles. While their regular consumption reduces hair loss, being a healthy fat, Omega 3 also prevents the scalp from going dry and flaky.
Fish Oil Capsules Improve Vision– While age-related vision degeneration is natural, adding this essential fatty acid to your diet can prevent that. Fish oil capsules improve eye vision by strengthening the eyes' small blood vessels and making them healthier. Particularly for those suffering from dry eye situations, consuming fish oil supplement is the right choice.
Thus, in today's time of stressful living and fast-paced lifestyle, a healthy diet plan becomes more than essential. And that's incomplete without these essential Omega 3 fatty acids that the body doesn't produce naturally. Nutrafirst brings the best salmon fish oil capsules loaded with both DHA (Docosahexaenoic Acid) and EPA (Eicosapentaenoic Acid). Adding these to your diet supports heart health, strengthens bones, improves vision, and enhances inflammatory response and cognitive health. Get your dose of this essential health supplement today!
Salmon fish oil is one of the most revered dietary supplements available in the market today. Indeed, most nutrition and fitness experts recommend taking salmon fish oil capsules to all men and women running low on nutrition, especially deficiency of Omega-3. Also, Salmon fish oil capsules make an easier alternative to get enough amount of Omega-3 fats such as DHA and EPA that are required by the body to ensure overall wellness. Today, we're here with some interesting information on Salmon fish oil capsules and the ways it can benefit a woman's health. But, let's first know about salmon fish oil in detail.
Salmon fish oil –
Salmon fish oil is an organic oil that is obtained from the tissues of fatty fish of the same name, Salmon. This health supplement is generally sold in the form of capsules or liquid, however, most people like to use this supplement in the capsule form. These pills are brimming with essential Omega-3 fatty acids such as Docosahexaenoic Acid (DHA) and Eicosapentaenoic acid (EPA) along with other vital minerals, proteins, and vitamins. These nutrients help children, men, and women at different stages of life.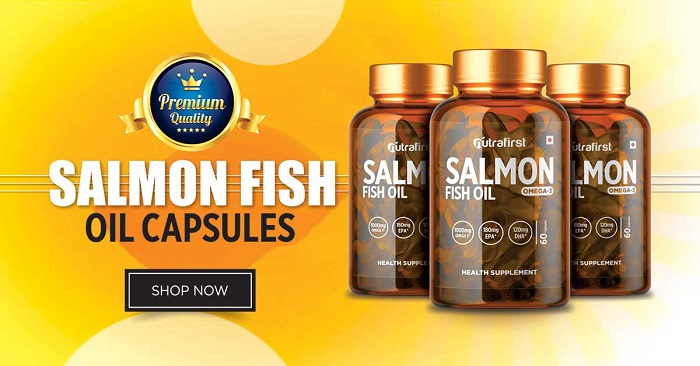 Health benefits of Salmon fish oil for women-
As you age, your body undergoes a range of changes, and there are obvious reasons that you need to increase Omega-3 intake. Here are some of the health benefits of Omega-3 fatty acid capsules.
1. Regulates menstruation-
Women are likely to experience pain and discomfort each month during menstruation. In scientific terms, menstrual cramps are defined as "dysmenorrhea". In this medical condition, strong contractions of the uterus occurs due to a rise in a hormone known as prostaglandins. This hormonal shift cause inflammation and may lead to discomfort. Healthcare professionals conclude that the anti-inflammatory agents present in salmon fish oil may help relieve this pain and discomfort by cancelling out the inflammation in tissues. Besides, it helps bring the hormones back to normalcy and curb period blues.
2. Relaxes muscles-
Painful muscles and joints are not uncommon during the old age. And nutritional deficiencies make a prime factor of causing joint pain and inflamed tissues and muscles. Omega-3 fatty acids in Salmon fish oil are highly beneficial for maintaining muscle and bone health. Indeed, the active compounds in this ayurvedic medicine aids in the absorption of minerals, thus ensuring healthy bone-mineral density. Besides, the anti-inflammatory agents present in the supplement reduce the chances of auto-immune diseases such as rheumatoid arthritis and osteoporosis.
3. Helps prevent cancer-
Salmon fish oil capsules or also known as Omega-3 capsules come power-packed with anti-inflammatory agents that pose a protective effect against foreign microbes, intruders, free radicals, and oxidative stress in the body. Some studies revealed that people who regularly use Salmon fish oil capsules regularly are found to be at a lower risk of breast and rectal cancer; however, detailed researches are required in this context.
4. Supports healthy pregnancy-
Omega-3 fatty acids are extremely crucial for the development and growth of the embryo. These nutrients not only enable women to deal with the pressure on the joints and spine during pregnancy but ensure the healthy growth of the offspring as well. As per studies, pregnant women who take salmon fish oil capsules are found to give birth to babies with better hand-eye movement as compared to others.
5. Boosts cognition-
A high concentration of Omega-3 fatty acids such as DHA and EPA that is highly beneficial for the brain. It helps maintaining overall health and development of the brain in infants. Apart from that, Omega-3 fatty acid capsules are believed to uplift cognitive health in the elderly. Besides, the essential micronutrients in pure salmon fish oil lowers the risk of serious maladies such as age-related mental decline, depression, anxiety, and serious psychotic disorders such as Alzheimer's diseases.
How to take Salmon fish oil capsules?
To reap the best health benefits, you are required to take 1 omega 3 fatty acid capsule every day (preferably after a meal) with a glass of lukewarm water.
Which is the best brand to buy in India?
Nutrafirst is one of the reputed brands that strive to provide the best quality supplements to its customers. To order safe, effective and chemical-free salmon fish oil capsules visit- www.nutrafirst.in
In modern times, nutritional deficiencies are not uncommon. Indeed, Omega-3 fatty acids are one of the most common types of nutritional deficiencies that have affected several men and women across the globe. These deficiencies not only signify a nutritional gap but can lead to different health maladies as well. However; taking Omega-3 supplements such as Salmon fish oil capsules can help you stay fit, active and healthy. Let's know more about it.
What is Salmon fish oil?
Salmon fish oil is an organic oil that is derived from fatty fishes of the same name. This pure and organic liquid comes enriched with DHA and EPA, two of the most vital omega-3 fatty acids we all need. Some other fishes that make a wonderful source of this natural elixir are tuna, mackerel, sardines etc. Indeed, WHO recommends taking two servings of fatty fishes per week to prevent Omega-3 fatty acid deficiency and keeping in good health. However; you may find it difficult to keep a check on your diet amidst the busy schedule. For this reason, many pharmaceutical companies are coming up with salmon fish oil in the form of capsules that are not only fortified with essential micronutrients but are super easy to use as well.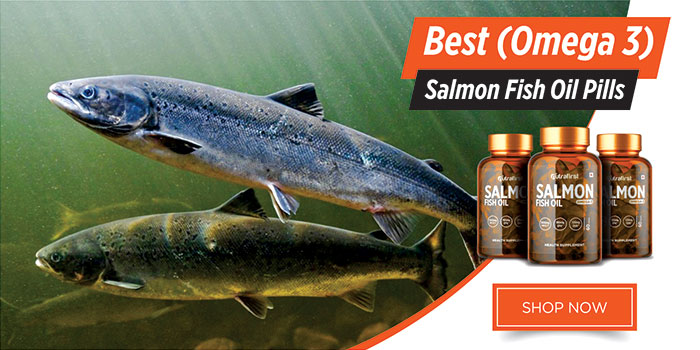 Health benefits of Salmon fish oil capsules-
Since, best fish oil capsules contain a wide range of essential micronutrients, these organic pills carry a host of health benefits. Some of the most impressive advantages of Salmon fish oil capsules as follows-
1. Improved inflammatory response-
Are you one of those who often experience swollen joints and numb fingers? It may be a sign of an inflammatory or autoimmune disorder. You must understand that a little inflammation is beneficial for health; however, chronic or too much of it can leave you in discomfort. Salmon fish oil contains anti-inflammatory agents that can effectively cut down inflammation in your body, dilate blood vessels and relax muscles. Also, it is highly beneficial for those suffering from autoimmune diseases such as rheumatoid arthritis and gout.
2. Clear vision-
Macular degeneration and blurred vision are two of the most annoying health problems that come with old age. Docosahexaenoic acid or DHA (a kind of Omega-3 fatty acid) forms a key component of the retina in our eyes. Also, these natural salmon fish oil capsules come filled with a generous amount of DHA that help prevent macular degeneration and improves vision, especially during old age.
3. Lower stress and depression-
Salmon fish oil capsules contain bioactive compounds that effectively lower the extent of cortisol production in the body, reduce stress and lower the chances of other mental health problems such as the postpartum depression. Some studies revealed that women who took Salmon fish oil pills during pregnancy are found to be at a lower risk of developing postpartum depression as compared to non-users.
4. Improved brain health-
Have you ever wondered why most malt drinks and protein powders contain DHA as an active ingredient? Well, it is because; this active ingredient performs different vital functions in the body, prominently, cognitive functions. Our brain is made up of 60 percent of fats, most of which are Omega-3. DHA found in Salmon fish oil capsules improve cognitive health and prevent a range of cognitive disorders such as Alzheimer's, memory problems and age-related macular degeneration.
How to use fish oil capsules-
Salmon fish oil capsules are simple to use. For best results, you can take 1 capsule, preferably after a meal with a glass of lukewarm water.
Where can I buy the best Salmon fish oil capsules?
You can buy the best salmon fish oil capsules at www.nutrafirst.in. Nutrafirst is a reputed brand that believes in providing its customers with 100 % natural, safe and effective health supplements.
As a woman, you may fear the word fat, especially while posing in front of a camera or a mirror in a changing room. However; certain fats such as polyunsaturated fats form a crucial micronutrient that regulates several vital processes in the body. Unfortunately, most women miss out on Omega-3 fatty acids, a type of essential fats in the diet, which, in turn, can lead to numerous health issues. It's no surprise that keeping a check on each diet for essential nutrients can be a challenge; however, incorporating Salmon (Omega-3) Fish oil capsules in your fitness regimes can help you get closer to optimal health. Here we are with a few good reasons for women to start taking salmon fish oil capsules. Read on!
Salmon fish oil capsules: introduction and health benefits
Salmon fish oil capsules are a popular dietary supplement contains the organic oil derived from the fatty fish of the same name. Other sources of pure fish oil include sardines, tuna, mackerel etc. This golden-yellow liquid contains a high concentration of Docosahexaenoic acid (DHA) and Eicosapentaenoic acid (EPA) that benefits your body in more than one ways. Let's take a sneak peek at some of the most impressive health benefits of Salmon fish oil capsules.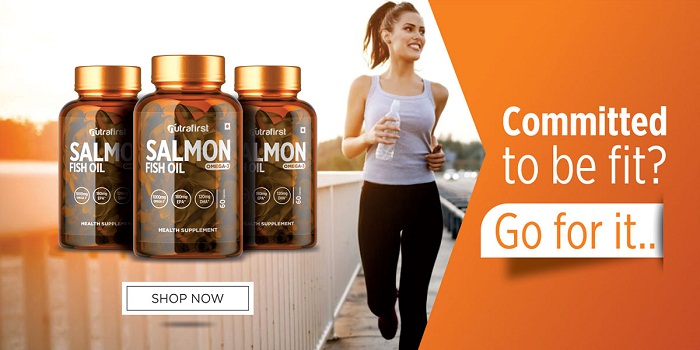 Advantages of Salmon fish oil capsules-
1. It helps relieve menstrual pain-
Many women undergo severe to mild abdominal pain during menstruation. This condition is medically known as 'dysmenorrhea.' It often occurs as a result of strong uterine contractions due to the action of prostaglandins (a hormone associated with pain and inflammation). Healthcare experts reveal that taking salmon fish oil Omega 3 capsules regularly can help offbeat some period blues. It can be credited to the anti-inflammatory agents present in these all-natural pills.
2. It helps alleviates rheumatoid arthritis-
Rheumatoid arthritis is an autoimmune disorder that is characterized by painful joints and inflammation in the muscles. You should know that women tend to be a greater risk of developing this health condition as compared to men. Numerous studies on rheumatoid arthritis (RA) and fish oil reveal that the anti-inflammatory agents help lower inflammation and provide symptomatic relief. However; you are advised to seek medical advice before starting any dietary supplement, especially if taking medicines or receiving a treatment.
3. It helps lower the risk of osteoporosis-
Women are more likely to experience a fluctuation in bone mineral density as compared to other men. This loss in the bone mineral can even lead to serious repercussions such as osteoporosis. Omega-3 fish oil capsules, in contrast, helps in the absorption of minerals and lowers the risk of the osteoporosis; however, supplementing with calcium is believed to enhance the effectiveness of these pills.
4. It lowers stress and uplifts mood-
Recent studies on Omega-3 fatty acid reveal that these organic supplements help lower cortisol production and calm the mind. Also, researchers conclude that regular use of these pills may reduce mild depression; however, deeper studies are required in this context.
These are some of the surprising ways Salmon fish oil capsules can help improve the overall health. If you too are looking for a supplement to get fit and active, buy Salmon fish oil capsules online and feel the difference.