Wouldn't you want to discover a secret elixir that would set your health in the best condition? We're sure you would. Most of us embark on a constant spree to discover a wellness product that hosts a multitude of health benefits, something that can make our skin and hair beautiful or something that can keep us fit and active. Believe it or not, you may find some of these wonder products lurking in your kitchen. Voila! Apple cider vinegar is one of those superfoods that are choke-full of healthy constituents. In fact, there are a plethora of health benefits this natural supplement is credited with. Let's know about Apple cider vinegar and some of its most impressive health benefits in detail.
Apple cider vinegar-
For those who don't know what apple cider vinegar exactly is- it is an amber-colored, sour-tasting wine made by fermenting organic apples with good bacteria and sugar to turn it into an alcoholic concoction. Thereafter, this liquid is treated with yeast to turn it into a probiotic drink. Raw apple cider vinegar (ACV) comes fortified with the mother strands (a colony of good bacteria, protein, and enzymes) that float in the liquid.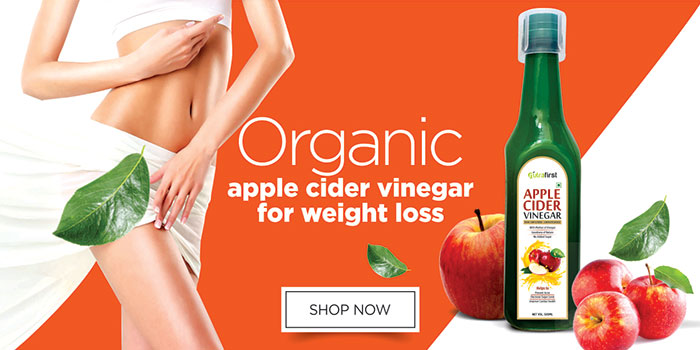 Health benefits of Apple Cider Vinegar-
1. Balanced blood sugar levels-
Health and nutrition experts suggest that taking a tablespoon of apple cider vinegar in a glass of lukewarm water every day balances blood glucose levels. The bioactive compounds in pure and organic apple cider vinegar help improve insulin sensitivity, especially after having a high-carb diet. It is highly beneficial for those men and women suffering from endocrinal disorders like diabetes and associated comorbidities.
2. Weight management-
Another impressive benefit of using organic apple cider vinegar is weight management. As mentioned above, the valuable constituents in this liquid keep insulin and blood glucose level, thus aids in weight loss. Besides, the essential micronutrients, antioxidants, and polyphenols ramp up your metabolic activities and help you achieve a perfect body mass index (BMI) naturally.
3. Disinfectant-
For centuries, apple cider vinegar has been used for cleaning wounds and infections due to its antimicrobial and antiseptic properties. Due to its low pH level, ACV makes a great tool to fight against a variety of microbes as well as alkaline grime. It is highly advantageous when it comes to treating skin & scalp infections, warts, and dandruff.
4. Teeth whitening-
Combating that nasty stain over the teeth can be extremely challenging. Don't worry! Apple cider vinegar carries bleaching properties and holds immense potential to whiten teeth naturally. An early morning gargle with ACV helps remove stain from the teeth and kills harmful bacteria that cause gum problems and bad breath.
5. Muscle cramps-
Muscle cramps may occur as a result of low potassium in the body. Mixing a tablespoon of apple cider vinegar with a glass of lukewarm water and drinking it 1-2 times a day helps relieve muscle cramps.
How to use Apple Cider vinegar for best results?
Apple cider vinegar is not only admired for its multitude of health benefits but its versatile use as well. You can use it as a salad dressing or as a flavoring agent in your favorite smoothie. However, most people find mixing one tablespoon of ACV with a glass of lukewarm water and drinking it on an empty stomach.
Where can I buy the best Apple cider vinegar in India?
You can buy best apple cider vinegar online at Nutrafirst with free home delivery services.