While it comes to enhancing your aesthetics, hair plays a crucial role. Indeed, it is your crowning glory and a healthy. Lustrous mane imparts a positive impression on anyone you see you. Unfortunately, most men and women today deal with a variety of hair related problems such as hair fall, thinning, split ends, dandruff, and many others due to a variety of factors. Some common contributors to these issues are- vitamin deficiencies, unhealthy lifestyle, environmental pollution, and stress. Nowadays, even young men and women are dealing with thinning hair and massive hair loss, which can be credited to poor lifestyle and excessive stress. In such circumstances, herbal supplements such as Hair regain plus capsules help you achieve thicker, fuller, and healthy mane. The rejuvenating properties of this amazing supplement can be credited to Himalayan herbs such as Bhringraj extract, Yashtimadhu, Brahmi extract, Hibiscus, Ashwagandha, Shankhapushpi extract used in their manufacturing. These pills are all-natural and are formulated by industry experts after years of extensive research. Also, this supplement is easy to use and does not contain any harmful chemicals and synthetic fillers. Here is a list of impressive health benefits hair regain capsules regularly-
Achieve fuller, healthier, and thicker hair-
What can be more frustrating than watching more hairs clogging the drain? Hair fall, thinning, and flat hair are a few common annoying troubles that have touched millions of men &women of all ages and ethnicities. Such problems are not only annoying but can ruin your overall appearance. In such cases, regular use of hair regrowth capsules can act as your true companion and help you combat these issues quickly and naturally. This advanced hair restorative formula contains shankapushpi and ashwagandha that are known for their best stress-relieving properties and improving the flow of oxygen-rich blood in the scalp. This shift in the oxygen level in the scalp provides better strength to the hair and prevents them from falling out. Also, other ingredients such as yashtimadhu and brahmi aid in maintaining the elasticity of the hair strands and prevent them from breaking.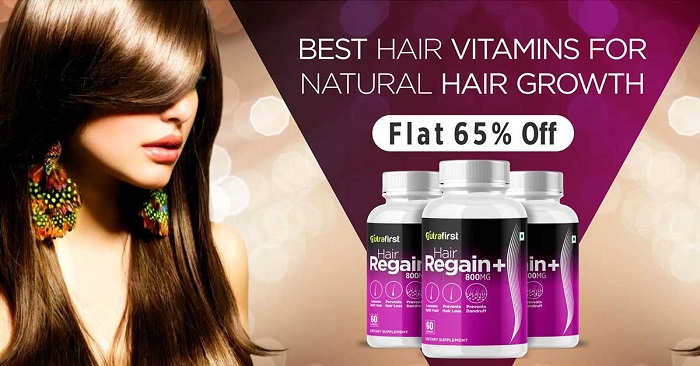 Prevents dandruff and itchy scalp-
Every day, our scalp comes in contact with irritants such as dust, pollution, grime, sweat, and microbes. These substances not only disturb the pH of the scalp but can lead to a variety of infections, dandruff, and itchy scalp. This anti-hair fall medicine comes packed with powerful antimicrobial agents such as neem and tulsi oil that fight against harmful microbes that cause dandruff, flaky scalp, and infections. In medical terms, dandruff is known as seborrhoeic dermatitis. Also, the moisturizing agents in these pills seep deep into the scalp and moisturize it, thus reducing the chances of the flaky or irritated scalp.
Make tresses glossy and smooth-
Dry, coarse, and shine less hair are unpleasant to touch and make you look unattractive. Hair regain capsules for men and women come fortified with amazing hydrating ingredients such yasthimadhu and hibiscus that diligently work to repair the cell damage and lock-in the moisture in the strands, thus providing you with smooth and glossy hair naturally.
Where can I buy hair regain capsules?
Buy best hair regain capsules online in India for men and women at the lowest price and avail free home delivery services at your home.