While it comes to enhancing your aesthetics, hair plays a crucial role. Indeed, it is your crowning glory and a healthy. Lustrous mane imparts a positive impression on anyone you see you. Unfortunately, most men and women today deal with a variety of hair related problems such as hair fall, thinning, split ends, dandruff, and many others due to a variety of factors. Some common contributors to these issues are- vitamin deficiencies, unhealthy lifestyle, environmental pollution, and stress. Nowadays, even young men and women are dealing with thinning hair and massive hair loss, which can be credited to poor lifestyle and excessive stress. In such circumstances, herbal supplements such as Hair regain plus capsules help you achieve thicker, fuller, and healthy mane. The rejuvenating properties of this amazing supplement can be credited to Himalayan herbs such as Bhringraj extract, Yashtimadhu, Brahmi extract, Hibiscus, Ashwagandha, Shankhapushpi extract used in their manufacturing. These pills are all-natural and are formulated by industry experts after years of extensive research. Also, this supplement is easy to use and does not contain any harmful chemicals and synthetic fillers. Here is a list of impressive health benefits hair regain capsules regularly-
Achieve fuller, healthier, and thicker hair-
What can be more frustrating than watching more hairs clogging the drain? Hair fall, thinning, and flat hair are a few common annoying troubles that have touched millions of men &women of all ages and ethnicities. Such problems are not only annoying but can ruin your overall appearance. In such cases, regular use of hair regrowth capsules can act as your true companion and help you combat these issues quickly and naturally. This advanced hair restorative formula contains shankapushpi and ashwagandha that are known for their best stress-relieving properties and improving the flow of oxygen-rich blood in the scalp. This shift in the oxygen level in the scalp provides better strength to the hair and prevents them from falling out. Also, other ingredients such as yashtimadhu and brahmi aid in maintaining the elasticity of the hair strands and prevent them from breaking.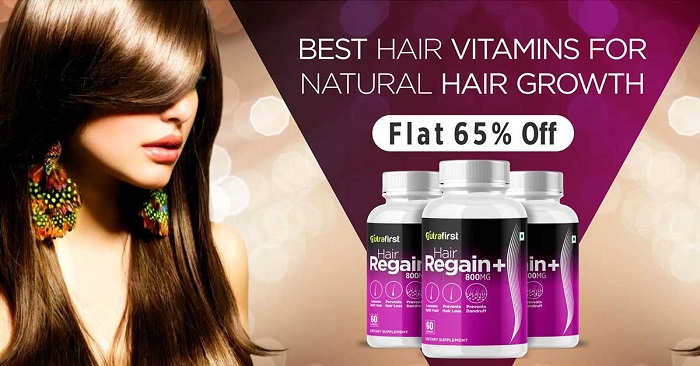 Prevents dandruff and itchy scalp-
Every day, our scalp comes in contact with irritants such as dust, pollution, grime, sweat, and microbes. These substances not only disturb the pH of the scalp but can lead to a variety of infections, dandruff, and itchy scalp. This anti-hair fall medicine comes packed with powerful antimicrobial agents such as neem and tulsi oil that fight against harmful microbes that cause dandruff, flaky scalp, and infections. In medical terms, dandruff is known as seborrhoeic dermatitis. Also, the moisturizing agents in these pills seep deep into the scalp and moisturize it, thus reducing the chances of the flaky or irritated scalp.
Make tresses glossy and smooth-
Dry, coarse, and shine less hair are unpleasant to touch and make you look unattractive. Hair regain capsules for men and women come fortified with amazing hydrating ingredients such yasthimadhu and hibiscus that diligently work to repair the cell damage and lock-in the moisture in the strands, thus providing you with smooth and glossy hair naturally.
Where can I buy hair regain capsules?
Buy best hair regain capsules online in India for men and women at the lowest price and avail free home delivery services at your home.
Achieving soft, smooth and silky hairs is something that tops the beauty goals of most men and women. However, in the recent times of modernity, stress, poor nutrition and harsh climatic conditions, our crowning glory has got accustomed to damage and hair loss. In such cases, many people often spend a fortune in buying expensive hair care products as a desperate attempt to reverse the damage. However; these chemical-laden products can make the condition even worst. Don't worry! Surely, Ayurveda has herbal yet effective treatments to offer. Today, we're here with a list of natural supplements that can help you reach your beauty goals fast. Read on!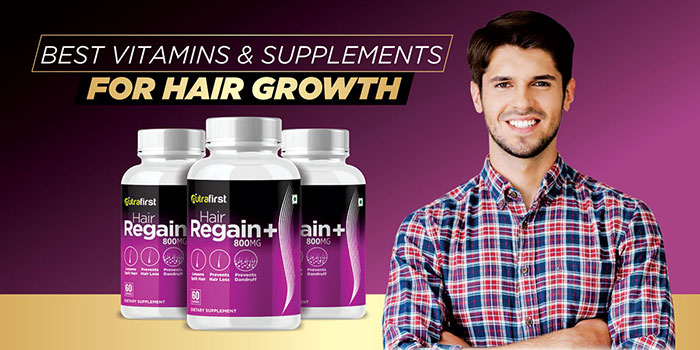 Bhringraj-
Bhringraj or 'false daisy' has gained tremendous popularity in the world of beauty for all its healing properties. The herb from the family of sunflower contains a range of essential nutrients such as Iron, Vitamin E, magnesium, polypeptides, steroids calcium, vitamin D that help ward off several hair-related problems. These phytochemicals are known to strengthen the follicles from within and diligently curb hair fall.
Yashthimadhu-
Yashthimadhu, also known as Licorice or mulethi is common kitchen ingredient in every Indian household. Also, several studies suggested including licorice based products in hair care regimes as an excellent solution to numerous problems. It forms a natural moisturizer and heals the dry, flaky scalp. Also, this powerful herb helps prevent dandruff and reverses hair damage.
Ashwagandha-
Stress is one of the leading causes of hair loss in most people. Ashwagandha is admired throughout the globe as a natural stress-reliever, and many hair care experts swear by its efficacy when it comes to reducing hair fall. The cooling effects of this herb soothe the scalp and ensure a rich supply of oxygen to the follicles. This, in turn, prevents hair fall and make the tresses thick and long.
Brahmi-
Brahmi is a herb known for its miraculous properties to curb premature greying of hairs. Also, its hydrating nature provides much-needed moisture to the hair strands and makes them appear smooth and glossy.
Shankhapushpi-
Also known as a powerful brain tonic, the use of Shankhapushpi (Gotu kola) in hair products is not new. It is another adaptogenic ingredient that diligently lowers stress and its effects on the health of your hairs. If you are experiencing stress-related hair loss, including shankhapushpi in your hair care regimes can help.
How to use-
You can use these herbs in numerous ways right from consuming them as a capsule, using them as a herbal hair mask or massaging the scalp with their oil.  However, finding authentic and pure herbs can be a difficult challenge for you. In such scenarios, using a herbal supplement that contains these herbs as an active ingredient is the best way to reap their optimal hair care benefits. Nutrafirst hair regain capsule (best hair vitamins for faster hair growth) is a premium product in the league.
Where can I buy hair regain capsules?
You can buy authentic, safe and pure hair regain capsules in India best price with free shipping.
Experiencing hair loss? Follow these tips to regrow hair naturally
Hair loss is a natural process most men and women undergo as they age. Surely, you can't always stop hair loss, but certain natural treatments and remedies can help regrow lost hair. If you are one of those men experiencing massive hair loss, you may have tried numerous fad products that claim to regrow hair, that too without showing any side effects. However, it is not always the case. At present, many manufacturers are launching hair regrowth products that are loaded with harsh chemicals which can result in dry, unhealthy looking hair or even speed up hair loss. In such scenarios, one question that strikes in the mind of numerous men is how to regrow hair? Today, we are here with a list of natural treatment that work miracles for men who are trying to regrow lost hair. Read on!
1. Natural supplements-
Are you fed up of trying several hair fall treatments and still wondering how to regrow hair? Well, certain natural hair regrowth products such as Biotin, Multivitamin capsules and Ayurvedic hair oil make one of the best treatments for hair loss. Nutrafirst is one such brand that strives hard to provide its customers with the best-in-class hair regrowth solutions. The formulation of these products took years of extensive research. They are fortified with the goodness of Himalayan herbs, and these hair regrowth supplements are highly beneficial for men suffering from hair-related problems such as premature greying, thinning hair and receding hairline.
2. Lifestyle changes-
While you type how to regrow hair naturally in the search box of your internet browser, you may see numerous blogs and articles that suggest making lifestyle changes can help men regrow lost hairs naturally. Yes, it's true! Making certain modifications in your lifestyle can help in hair regrowth. Here are a few tips that you can follow to regrow hair on the affected area of the scalp.
Quit smoking-
We're sure; you're aware of all the bad things smoking can do to your lungs. But, do you know that excessive smoking not only affects your respiratory tract but can cause hair loss as well? Researchers believe that smoking interferes with the supply of oxygen to the hair follicles, which, in turn, can cause hair loss. If you are a smoker and one of those men who're looking for some effective ways to regrow lost hair, it may be a good idea to quit smoking as soon as possible.
Eat a balanced diet-
Vitamin deficiencies are one of the leading causes of hair loss in men and women. Researchers conclude that eating a healthy and nutrition-rich diet is one of the most effective and natural ways to get a scalp packed with thick, healthy and lustrous hairs.
These natural treatments and remedies are highly effective in stimulating hair regrowth. If you too are affected by massive hair loss, follow any of these hair regrowth formulas and achieve strong and thick hair naturally.