We all are aware of the famous proverb that says you are what you eat. This is indeed true. Nowadays, men and women on the go have little time for themselves and most of them often rely on processed or fast-to-cook meals. Results? Nutritional deficiencies and an array of health problems! And with quick access to medical information and shopping at the ease of a few clicks, most people supplement with multivitamins to bridge nutritional gaps. However, many of these products may not contain omega-3 fatty acids – an essential component for health. Salmon fish oil capsules can fulfil this inadequacy, helping you get enough of essential omega-3 fats for overall wellness. Let's explore how this dietary supplement can help your body.
About Salmon Fish Oil
Salmon fish oil is golden-yellow oil derived from tissues of salmon fatty fish. Though Salmon fish is considered the best source of essential omega-3 fatty acids such as EPA and DHA, some substitutes include sardines, mackerel, and tuna. Apart from its high Omega-3 content, the natural elixir is rich in vitamins, minerals, and proteins required by the human body to work well. Let's take a look at the key health benefits of salmon fish oil.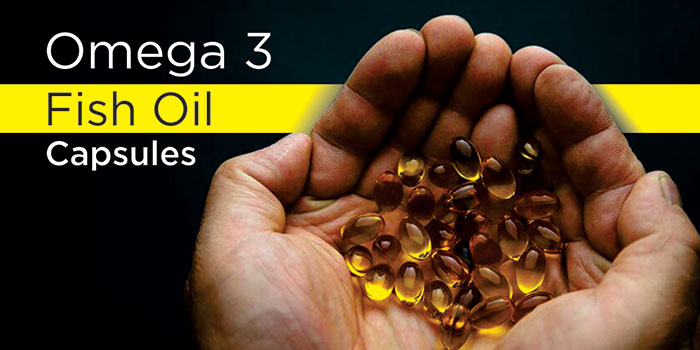 Health benefits of Salmon Fish Oil capsules:
Help Manage Arthritis: Salmon fish oil is best known for its anti-inflammatory agents that make it a natural remedy for people suffering from arthritis (including rheumatoid arthritis, ankylosing spondylitis, and psoriatic arthritis). Additionally, organic compounds in salmon fish oil help relieve muscle stiffness and soreness, thus ensuring pain-free muscle and joint movements. Clinical trials reveal that the effect is similar to non-steroid anti-inflammatory drugs and supplementing with omega-3 fatty acid capsules can help some people with arthritis to reduce drug intake.
Promote Healthy Heart: Many fitness freaks in the world eat salmon fish or supplement with fish oil capsules to ensure a healthy heart. Valuable nutrients in fatty fishes help reduce bad cholesterol in the heart and lower triglyceride levels by 15-30 percent. Besides, anti-inflammatory compounds in the organic fish oil prevent the formation of hardening plaque in the arteries, thus lowering the risk of hypertension and serious maladies such as stroke or heart attack.
Enhance Cognitive Functions: Health experts conclude that people with mental disorders like depression, anxiety, age-related mental decline may have low levels of DHA and EPA omega-3 fats in their bodies. Salmon fish oil, however, makes a rich, naturalsource of these fats, and people who eat fatty fishes or take omega-3 supplements are found to have better cognitive functions as compared to non-users.
Strengthen Bones & Teeth: Fish oil makes an excellent way to strengthen bones and teeth. All thanks to its vitamin D content that aids calcium absorption in the body for optimal bone density. Fish oil capsules indeed make a natural remedy for people suffering from osteoporosis, and muscle pain due to osteoporosis.
Regulate Blood Sugar: Triglycerides are a kind of fat in the bloodstream. When their levels are extremely high, it puts you at a greater risk of developing metabolic problems, including diabetes. Regular supplementation with salmon fish oil capsules helps regulate blood glucose levels and lower the risk of endocrine disorders.
The Takeaway
Salmon fish oil comes fortified with an array of valuable compounds such as Omega-3 fats, vitamins, minerals that offer various health benefits. Including fatty fishes in your diet or supplementing with salmon fish oil capsules makes a natural remedy to bring your health on track. You can now check out Nutrafirst Salmon Fish Oil Capsules online at the best price here.