Hair plays an important role in defining your personality, and watching several hair strands clogging the drain everyday can give you some blues, and you may fear going bald soon. Moreover, you may find yourself repeating "give me my hairs back" prayers each morning. If you always dream of getting thick, strong, and lustrous hairs, Ayurveda sure has herbal treatments to nourish and replenish your locks.
At present, millions of men and women are affected by the problem of hair fall, thinning hair, split end, and many others. But, don't worry! Ayurveda, the Indian medicinal system has a lot of treatments for your crowning glory. Nutrafirst hair regain oil is one supplement that has gained a tremendous surge in the market for all its amazing results. This organic hair oil comes power-packed with a cocktail of Himalayan herbs that form an age-old remedy to curb a variety of hair-related problems naturally and healthily. Indeed, many beauty and hair care experts swear by the effectiveness of this natural potion when it comes to enhancing the overall health of the tresses. Let's understand how this organic hair supplement can help you achieve healthy, strong and lustrous hairs.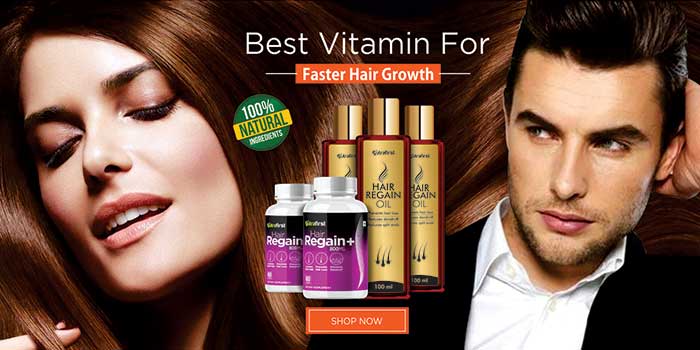 Hair regain Oil for faster hair growth-
Re-gain hair oil is a natural hair restorative supplement and makes a wonderful blend of minerals, vitamins, and Omega-3 fatty acids that your hair requires to keep in good health. Its multi-vitamin complex works at the cellular level and provides you with optimal hair care benefits. This ayurvedic formulation comes power-packed with the goodness of pure Himalayan herbs and provides much-needed nourishment to the hair roots. Besides, it diligently works to re-energize dormant hair follicles and reversing the hair damage done by harmful agents such as dust, pollution, salty water, chemical & heat treatments, and many others. Here is a list of most impressive health benefits of this herbal hair oil-
Promotes natural hair growth
Strengthen hair roots
Re-energize dormant hair follicles
Prevent hair thinning and hair fall
Improves hair thickness and elasticity
Makes hair silky and smooth
Soothes dry and itchy scalp
Adds shine
What makes hair regain oil so effective?
While beauty and hair care experts tout this hair oil as one of the amazing supplements to stimulate hair growth, you may think what makes it so effective? Well, it is the potent ingredients that are used in its manufacturing. It contains wonderful herbs such as-
Bhringraj
Yasthimadhu
Brahmi
Mandukparni
Hibiscus
Why choose Nutrafirst hair growth products?
At present, it is not uncommon to find a large range of hair care supplements that claim to revive hair growth and hair fall in no time. However, you must know that not each of them may provide you with the expected results. It is because; many of these products in the market today are nothing more than the mishmash of fad ingredients. In contrast, certain herbal brands such as Nutrafirst strives hard to provide its customers with the purest quality, herbal supplements to provide them with amazing results, that too in healthily and naturally. This clear liquid is 100% natural, and do not contain synthetic binders, or fillers.
If you too are looking for natural remedy to achieve thick, strong and lustrous hairs, you must know that it starts from within. Also, the key to achieving beautiful tresses is proper nutrition, moisturized scalp, and healthy hair roots.  In such cases, Hair regain capsules can come to your rescue like a true friend as it is revered as one of the best herbal concoction with key nutrients that support instant hair growth naturally.