Hair fall, thinning hairs, and dandruff are a few common yet annoying problems that have affected millions of men and women across the globe. Nowadays, a large section of men and women are suffering from these frustrating problems due to several lifestyle and medical causes. Some common factors are stress, pollution, nutritional deficiencies, and many others. It is no surprise that thinning hair or balding scalp not only ruins your overall appearance but can leave you in social embarrassment as well. In such cases, you would want to discover natural yet effective remedies to combat such annoying problems. This is where herbal hair care supplements such as hair regain capsules come into the picture. Today, we will be reviewing the effectiveness of hair regain oil for improving the health and texture of your hair. Let's start!
All about hair regain oil-
regain hair oil is an herbal concoction of essential oils and rare Himalayan herbs such as Bhringraj, Ashwagandha, Tulsi, Neem, Olives, Coconut, and Lajwanti. These excellent herbs hold immense importance in Ayurveda and make an age-old remedy for curbing a variety of hair problems such as falling, thinning hairs, and dandruff. Here are some amazing ways it can benefit your unruly and lifeless hair-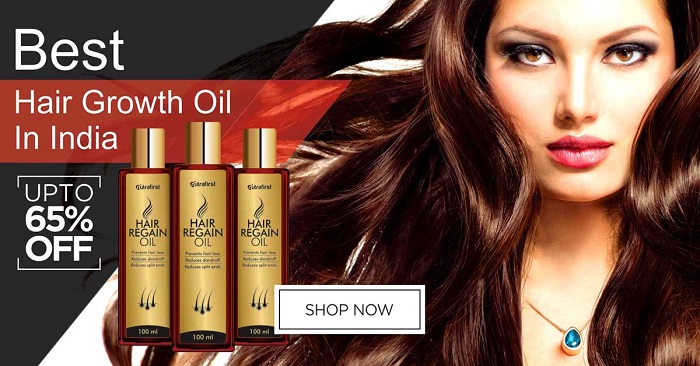 1. Prevents hair fall-
Hair fall is one such problem that has left several men and women in distress. After all, what can be more frustrating than losing more hair with each passing day? But, don't worry! Certain hair restorative supplements such as hair regain oil form a wonderful remedy to achieve achieving thick, strong, and long hairs naturally and quickly. This ayurvedic supplement contains Bhringraj, a rare Himalayan herb that penetrates the scalp and reaches the hair roots. micronutrients, thus making them stronger. Stress is one of the major causes of such hair problems in most cases and Ashwagandha, a natural adaptogen in this amazing supplement plays a crucial role in mind-calming and stress-relieving. This, in turn, enhances the flow of oxygen-rich blood in the scalp, strengthens hair follicles and prevents them from falling out.
2. Makes hair smooth-
Nowadays, it is not uncommon to find people struggling with brittle, coarse, and dry hair. The causes for such problems are many; some of the common ones include- harsh climate, heat styling, and chemical treatments such as Brazilian blowout, etc. In such cases, herbal hair restorative supplements such as hair regain oil makes one of the best remedies to combat these problems. This organic hair restorative supplement contains olive and coconut oil that penetrates the hair strands and locks in the moisture. Besides, other valuable components such as neem oil provide the scalp protection against a variety of microbial infections, and vitamins and minerals present in these ingredients diligently work to repair cellular damage done by harsh chemicals and heat treatments.
3. Makes hair glossy-
Tulsi and Lajwanti extracts are a few powerful herbs that are known in Ayurveda for their amazing abilities in hydrating hair and improve their texture. These botanical extracts help lock in the moisture in the strands and impart a brilliant shine in them.
How to use hair regain oil?
Using hair gain oil is simple and easy. To reap the best benefits, take a coin size of the oil on your hand and rub both palms together to spread evenly. Now massage it onto the scalp in a circular motion, using your fingers. Leave in at least for an hour or preferably overnight. Wash off the next morning or after a few hours using regular shampoo.
Where can I buy hair regain oil at the best price?
Nutrafirst hair regain oil is available online in India. To grab the best deals on anti-hair fall products, buy best hair oil in India for men and women at the lowest price and get free home delivery.
The fragility of hair cannot be measured but too much use of chemicals in terms of soap, conditioners, shampoo, and redundant oils with fillers can be attributed to damaging hair roots. Aside from this, dandruff, aging, and low nutrition in the body are equally responsible to damage the scalp that impedes the natural process of hair growth and encourage hair thinning instead. This leads to the loss of ample hair, causing you to suffer unnecessary anxiety and stress with the regular loss of hair. You go your way out to style your hair the way you want to. In order to look appealing and create a good impression on others, hair is an underlying part of your personality that can alter your overall look if taken care of properly.
Our hair has to go through a lot of stages to look good that includes washing, detangling, coloring, and styling. To have healthy stronger hair, it is important to keep your hair at its best. Natural hair oil for damaged and weak hair, can be a boon owing to the blend of ingredients it contains. Hair Regain Oil is one such oil that is endowed with essential natural compounds for the growth of the hair. It is necessary to continue the course of hair oil if you want to attain good results and expect new hair to grow. You can benefit from Hair Regain Oil that gives you perennial hair health benefit.
They are completely suitable for all hair types and curb hair fall by nourishing the scalp. Hair Regain Oil contains the plethora of pure ingredients that are enriched with a copious amount of medicinal properties to support hair health. It helps to strengthen hair and treats dry, split ends, and brittle hair. Ayurvedic hair oil treatment is the best way to restore the health of your hair and stimulate blood flow that fortifies the roots and boost hair growth. Your dilemma for hair care can also be resolved with the perpetual use of hair regrowth oil. When hair starts falling, lots of factors are involved that reduce the strength of the hair and make your scalp weaker. Dandruff, frizziness, scalp, moisture loss, and aging come in the way of the hair.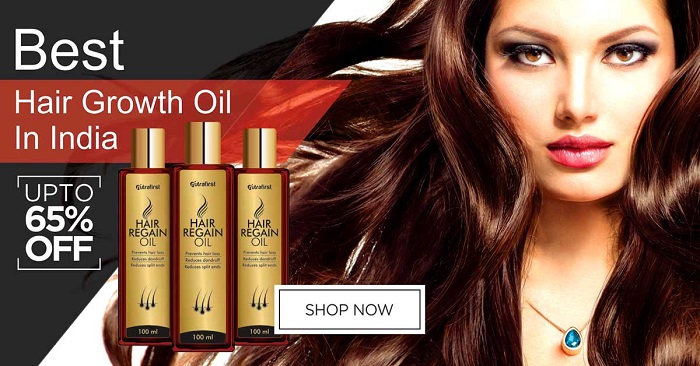 If you are grappling with vigorous hair loss and finding no way out then, organic hair oil is the apt treatment you can consider for long-lasting hair health. Among the natural and best hair oil, Hair Regain Oil is the perfect choice for your hair. It is natural and meticulously formulated by the maestros of hair. It holds the potential to reduce hair breakage, dry scalp, and excessive shedding. You can cash in on the benefits of hair regain oil and also, it can influence your overall well-being.
Let's take a look at the benefits it provides. Adding it to your lifestyle can empower your wellness along with maintaining healthy hair.
Moisturizes brittle and dry hair
The bouncy and luscious hair is prone to dryness and largely affects the condition of the hair. No one wants his/her hair to go weak and face brittleness. So, if there is anything that has the potential to curb the hair damage should immediately be adopted. Hair regain oil is the best in terms of nourishing and moisturizing the scalp. It is one of the best methods to treat the hair health that you can experience within a week provided you need to maintain the regularity. Hair Regain Oil is enriched with bountiful vitamins and minerals that the scalp starts losing over time. It is important for your scalp to get the proper nutrition with proper circulation of blood flow. Hair Regain Oil has this ability that doesn't let your hair fall under any circumstances and contributes to the better growth of the hair.
Improves the blood circulation of the scalp
If you have maintained the habit of regularly massaging your hair, higher chances are that you will be blessed with good hair. You won't have to think of the health of the hair if the scalp is getting proper blood flow. Massaging the oil is a guarantee of the good health of the hair and applying hair regain oil regularly invigorates hair growth. The blend of ingredients used in regain hair oil stimulates blood circulation that keeps the hair health fortified.
Removes dandruff and treats dry scalp
It is common to see people struggle with dandruff and dry scalp. It is imperative for you to give your hair the proper oil treatment and stop using a shampoo that claims false promises. Hair Regain Oil is a potent formula to prevent dandruff. Ingredients like coconut and Ashwagandha help dry scalp and dandruff. It contains antiseptic and anti-inflammatory properties that treat the dry scalp. It also removes itchiness and keeps dandruff permanently away. The said ingredients effectively absorb excess oils on the scalp and support hair growth.
Hair regain oil is a precursor of hair problems and soothes the scalp by preventing frizz without damaging the hair. It perfectly seals the ends of hair that successfully prevent split ends.
Strengthens hair roots and brings shine to the hair
The botanical extracts of ingredients strengthen hair roots and treat them naturally because the herbs work at the cellular level and reenergize dormant hair follicles. Within days after using hair regain oil, you get healthier hair with an impressive look that you feel comfortable carrying off. This herbal hair regrowth formula is potent owing to the purity and authenticity of the ingredients used that while treating the hair health also restores the hair luster.
When can you apply Hair Regain Oil?
First of all, you start by washing your hair and let them get dried followed by applying hair regain oil. Don't rush to apply it in wet hair as most of the hair gets tangled while rising. Also, drop an idea to apply the oil to dirty hair as it won't benefit the hair much. When the scalp is clear then only it absorbs the oil applied on it. It penetrates your scalp and remains there on your scalp for longer which gives it the complete nourishment.
Hair plays an important role in defining your personality, and watching several hair strands clogging the drain everyday can give you some blues, and you may fear going bald soon. Moreover, you may find yourself repeating "give me my hairs back" prayers each morning. If you always dream of getting thick, strong, and lustrous hairs, Ayurveda sure has herbal treatments to nourish and replenish your locks.
At present, millions of men and women are affected by the problem of hair fall, thinning hair, split end, and many others. But, don't worry! Ayurveda, the Indian medicinal system has a lot of treatments for your crowning glory. Nutrafirst hair regain oil is one supplement that has gained a tremendous surge in the market for all its amazing results. This organic hair oil comes power-packed with a cocktail of Himalayan herbs that form an age-old remedy to curb a variety of hair-related problems naturally and healthily. Indeed, many beauty and hair care experts swear by the effectiveness of this natural potion when it comes to enhancing the overall health of the tresses. Let's understand how this organic hair supplement can help you achieve healthy, strong and lustrous hairs.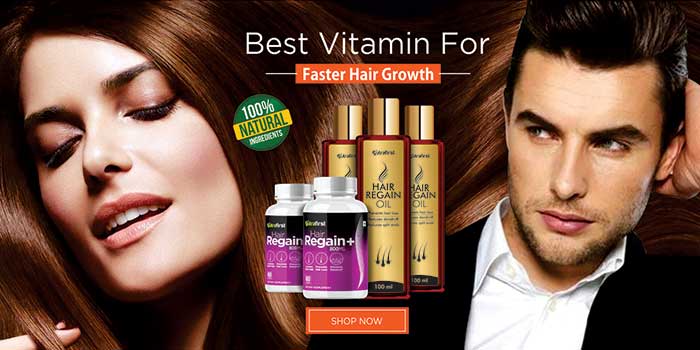 Hair regain Oil for faster hair growth-
Re-gain hair oil is a natural hair restorative supplement and makes a wonderful blend of minerals, vitamins, and Omega-3 fatty acids that your hair requires to keep in good health. Its multi-vitamin complex works at the cellular level and provides you with optimal hair care benefits. This ayurvedic formulation comes power-packed with the goodness of pure Himalayan herbs and provides much-needed nourishment to the hair roots. Besides, it diligently works to re-energize dormant hair follicles and reversing the hair damage done by harmful agents such as dust, pollution, salty water, chemical & heat treatments, and many others. Here is a list of most impressive health benefits of this herbal hair oil-
Promotes natural hair growth
Strengthen hair roots
Re-energize dormant hair follicles
Prevent hair thinning and hair fall
Improves hair thickness and elasticity
Makes hair silky and smooth
Soothes dry and itchy scalp
Adds shine
What makes hair regain oil so effective?
While beauty and hair care experts tout this hair oil as one of the amazing supplements to stimulate hair growth, you may think what makes it so effective? Well, it is the potent ingredients that are used in its manufacturing. It contains wonderful herbs such as-
Bhringraj
Yasthimadhu
Brahmi
Mandukparni
Hibiscus
Why choose Nutrafirst hair growth products?
At present, it is not uncommon to find a large range of hair care supplements that claim to revive hair growth and hair fall in no time. However, you must know that not each of them may provide you with the expected results. It is because; many of these products in the market today are nothing more than the mishmash of fad ingredients. In contrast, certain herbal brands such as Nutrafirst strives hard to provide its customers with the purest quality, herbal supplements to provide them with amazing results, that too in healthily and naturally. This clear liquid is 100% natural, and do not contain synthetic binders, or fillers.
If you too are looking for natural remedy to achieve thick, strong and lustrous hairs, you must know that it starts from within. Also, the key to achieving beautiful tresses is proper nutrition, moisturized scalp, and healthy hair roots.  In such cases, Hair regain capsules can come to your rescue like a true friend as it is revered as one of the best herbal concoction with key nutrients that support instant hair growth naturally.
Understand the worth of your hair as damaged hair cannot be easily controlled by so-called natural hair oil supplements until it is infused with Ayurvedic ingredients. Your identity is recognized by your hair and face value. A beautiful face with brittle hair makes no good impression.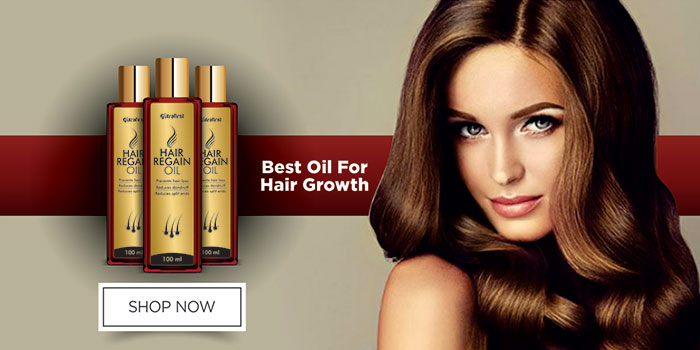 Countless people pay attention to the beauty of the face but tend to overlook pampering their hair with the same zeal that they have for the face. We imbibe every little thing from our favorite celebrities, from emulating their style, stealing their looks to using cosmetics as they do.
However, hair is one part that goes unnoticed especially for the ones that are going through the loss of hair strands per day. They have no other option but to accept the reality that they are getting bald. It is not as if that you will have bountiful and voluminous hairs at all stages of life but maintaining them is in your hand. Caring of hair can extend the time period of falling of hair and controls it to some extent.
Some folks are naturally blessed with good hair follicles and leave no stone unturned in flaunting their fluffy hair. But what about those who are compelled to live the life that they seem to be losing interest for? The reason is nothing but excess hair fall or baldness that spoils everything.
If you are tired of using a number of hair oil supplements to prevent hair fall and always end up spoiling your mood then, stop doing it. Think for a while what you are putting your money into, is it worth it? One right choice may unfurl your every day with pleasant surprises. It is needless to say that we are surrounded by noxious air pollution which is not hair friendly. So, choose wisely whatever hair oil you are picking up.
To retain the radiance of lustrous locks, powerful Ayurvedic herbal hair oil should be preferred choice to remove dryness and dandruff. Taking the right steps to protect the hair from falling should be the priority as the overall personality depends on the condition of hair. Nourish your hair with the best hair oil to rapidly grow the hair.
Nutrafirst Hair regain oil, ingredients like Lajwanti, Chamomile, Coconut, Tulsi, Neem, Bhringraj, and Ashwagandha have been used to give hair the amazing hair volume. This best hair oil for men and women curbs premature grey hair, hair fall, and dandruff. Devote some little time to the health of your hair and go carefree for the rest of your life.
The blend of above-mentioned ingredients brings shine and density in no time. Bhringraj widely known for many other health benefits boost the blood circulation to the scalp and helps in triggering hair growth. When the blood is boosted, it gives your hair follicles the nourishment it requires. Almost all the ingredients have the same potential as Bhringraj does and surely proves to be a good tool in terms of curing hair loss.
The top benefits of using natural hair oil are:-
This oil improves the health of your hair and brings massive improvement in luster, strength, and density. The natural herbal hair oil contains vitamins that act as a source of nourishment to the hair.
Ensure to give your hair a thorough massage with such herbal hair oil that goes into the root of your scalp and boost the blood circulation to improve the hair growth.
Make a routine to use the oil regularly to ward off premature grey hair.
Our natural hair oil fortifies hair tissues with the presence of herbal ingredients. No other products like shampoo and conditioner have this much efficacy to nourish hair so deeply the way this oil does.
Hairs are vulnerable to damages as they are exposed to all noxious air and natural elements, so to prevent tames frizzy hair and excess hair loss. They need meticulous care with good herbal hair oil that can feed nutrients to the hair.
For stronger, longer, and lustrous hair, use our natural hair oil as they contain the fatty acids for the improvement of hair.
No other remedy proves to be successful if it is not endowed with good ingredients. Hair growth is possible only with natural hair oil that is loaded with pure and herbal ingredients. Make sure you are choosing products like we have as they have essential ingredients mixed in the oil for good hair growth.