Summer is around the corner and it's just the time to make sure that your hair looks their best. The scorching sun and hot & moist environmental conditions can draw the moisture out from your hair and make them dull, lifeless and unmanageable. In such situations, you may want to explore the best remedy that can help make your hair strong, smooth and shiny. Well, the simple rule to keep your crowning glory in good health is to coat them with herbal oils regularly. Indeed, hair oiling has been an age-old remedy to curb a plethora of hair-related issues. Today, we are here with a piece of interesting information on hair oiling, its importance and benefits.
Why oiling makes an important hair care routine?
Have you ever wondered how your grandma managed to wear long, thick, and shiny hair all her life? Well, the answer lies in her hair care regime that involves massaging her scalp with essential oil regularly. Indeed, hair oiling has a multitude of benefits for your mane. Massaging your scalp by applying just the right pressure not only helps increase the supply of oxygen-rich blood but opens the pores on the scalp as well. Besides, oiling your hair regularly provides much-needed nutrition to the hair follicles, strengthens them, improves texture and stimulate faster hair growth.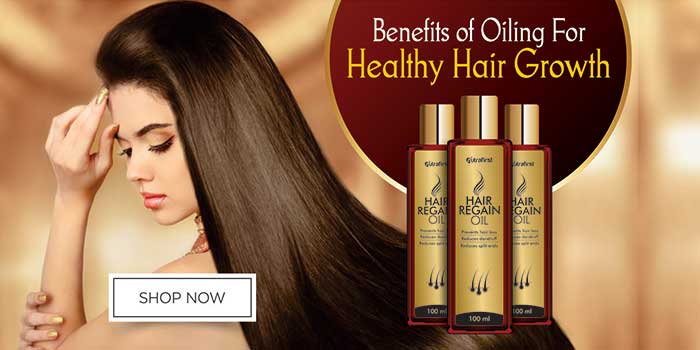 How often should I oil my hair?
Since you now know the importance of oiling your hairs, it is obvious for you to think how often should you dunk your mane in essential oils? Well, most hair experts suggest oiling your hairs at least once or preferably twice in a week.
Which types of oil should I use?
At present, you may find the shelves of supermarkets, and pharmacies stacked with a range of cosmetic hair oils with impressive claims to boost the health of your hair magically. However; most of them may come laden with harsh chemicals that may do more harm to your tresses than good.
Most hair experts suggest using natural and herbal hair oil over cosmetic or synthetically produced hair oil. Nutrafirst hair regain oil is one of the best hair oils available in India. This ayurvedic formulation comes fortified with the power of rare Himalayan herbs such as Bhringraj, Olives, Neem oil, Coconut oil, Tusli, Chamomile, Lajwanti and Ashwagandha. Let's quickly understand the ways these herbal extracts can improve the overall health of your hair.
Hair care benefits of hair regain oil-
This natural elixir can promote healthy hair in the following ways-
Bhringraj- Bringraj, also known as false daisy oil is most revered for its healthy properties and has been used for treating hair fall and promoting hair growth. It is highly effective in stopping hair fall, thinning of hairs, and stimulating faster hair growth. Besides, it keeps a check on hair discoloration.
Ashwagandha- Ashwagandha makes a wonderful stress-reliever and is believed to boost hair growth by calming the mind, improving the supply of oxygen-rich blood in the scalp and reducing the extent of hair fall.
Olives and coconut milk- It is no surprise that summer heat may draw moisture from your hair and leave them dull, coarse and brittle. Olives and coconut milk in this formulation seep inside the strands and lock in the moisture. Besides, these active ingredients improve the texture and impart a glossy sheen your mane.
Neem oil and Lajwanti- During summer days, your scalp deals with sweat, dust, and grime deposition on the scalp. These impurities can clog pores and even cause infections and allergies. Nutrafirst regain hair oil, in contrast, contains neem and lajwanti extract that are known for their antimicrobial and anti-inflammatory properties. This hair oil diligently fights infections and promote a healthy scalp.
Where can I buy best hair oil in India?
You can buy best hair oil in India for men and women at the best price @ Nutrafirst and get free shipping, best discounts and safe method of payment on ayurvedic hair fall remedies.