The name of the 'Keto diet' is prevailing across markets due to its potential benefits as is seen in many advertisements. However, there is a twist as is seen in many stories. Before you make up your mind to go with the 'Keto diet', make sure you have enough knowledge about it. When it comes to a weight-loss diet, Keto is what comes to the mind of people. Keto is a blend of a low-carb and high-fat diet that becomes a go-to choice for people struggling from weight loss problems.
Being on the Keto is not easy and isn't meant for everyone. Many beginners follow this diet with intent to achieve a diluted body without putting in extra efforts on vigorous exercises, but things always don't work the way you plan. Without proper research, they decide to go with 'Keto diet' which doesn't prove to be effective due to the different lifestyle and body functionality of people. Let alone splurging Keto lifestyle, many of us fail to lose even 2-5 kg of weight. One thing to remember, before you set out on a journey on Keto diet, makes sure you aren't vulnerable to its nasty side effects. Get the proper health check-up by the medical specialist to know more about your body.
In addition to this, you will get to see Atkins diets, paleo, and south beach diets seem to be fitting into the same category. Addressing them as Keto diet won't be wrong as they work in the same way. As per the various study, the inclination of people to Keto diet is because of jaw-dropping ads that emphasize the upliftment of their brand image using Keto as a tool.
A real Keto-diet is comparatively different than other diets and focuses more on fat. In case of other diets, low-carb diets are the underlying reason due to the amount of protein present in those diets. With Keto plan, you can expect the supply of 90% daily calories. During the onset of the Keto diet, it was specifically used for the treatment of epileptic seizures (a kind of disease) in children that could not be controlled with AEDs.
Followed by this, it was tried for weight loss also as per various sources. However, effective results pertaining to this could not be found. The results that appeared out of this reflected the mixed reports. So, coming to a conclusion based on these results won't solve the dilemma. Therefore, calling it safe for weight loss will be like believing in incomplete knowledge.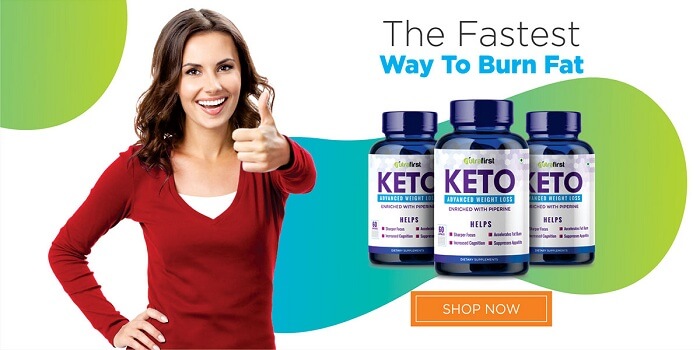 How does the Keto diet work?
Comprehensively speaking, the main role of a ketogenic diet is to put a curb on carbohydrates intake. The body at this stage starts breaking down carbohydrates into sugar glucose to produce the energy. The aim of the Keto diet is to put the body into the state wherein it uses an alternative for fuel.
The deficiency of glucose that comes from carbohydrates makes body use stored fat. The process is also called the ketone bodies due to lack of enough carbs in the body. The Keto diet works on ketone bodies, it is a fuel that the liver produces from stored fat.
When the fat starts burning, your body comes into a good shape by losing pounds. However, making the liver make ketone bodies is not less than taking a risk.
Needless to say that deficiencies of carbohydrates lead to ketosis. The process involves the breakdown of protein and decreased energy with hardly 20 to 50 grams of carbs per day (A banana contains around 27 grams of carbs). You can better comprehend by now that how much carbs you are keeping away from yourself to reach ketosis.
You immediately don't come into the state of ketosis; it takes a few days after the onset of the Keto diet. When you take too much protein, this becomes a problem for your low-carb diet and soon kicks you out of the ketosis.
Risk factors associated with Keto–
A plethora of Keto advanced weight loss capsules can be found in the market but if things could improve using pills then everyone would follow the same. In the same way, many weight-loss diets come with amazing health and wellness promises but have certain risks involved. The ketogenic diet is one of them. As per various dieticians, ketogenic diet, of course, has gained momentum across the world as one of the best weight-loss diets but it is equally risky, strict, and difficult to maintain.
A ketogenic diet poses serious risks. One of the detrimental issues detected in the study of the Keto is it is high in saturated fat. Saturated fat is responsible to cause cholesterol that builds up in or around your arteries and increases the risk of heart failure. As per the expert recommendations, the intake of daily calories in the body should be less than 10% to avoid heart risk. Being on a Keto diet increases the bad LDL cholesterol that is directly linked to heart disease.
On the other hand, to get into ketosis, your diet should entail 75 percent of calories from fat as compared to what you normally have I.e. 25-30 percent. Also, the contribution of 5 percent calories is also essential from carbohydrates which mean 20-50 grams per day. Intake of around 15 percent of calories from protein is essential to come to the Keto diet.
When all things go as per the planned way then it takes around a week for ketosis to kick in. so, you can comprehend that the intake of calories is high in a Keto diet. Consuming the same calories can be attributed to the debilitating heart health.
Other potential risks of Keto are:
Liver problems- There is a prevalence of disease called (NAFLD) non-alcoholic fatty liver disease, it has taken a toll on numerous people. The increase in obesity causes this disease that leads to liver cancer. It seems to have no end with any treatment. Keto is equally responsible to impair the condition of the liver as it contains meat one of the main components of the Keto diet, it is necessary to include this in the Keto diet for being the essential source of energy.
So, it develops fat in the body slowly. Metabolizing so much fat get a herculean task for the body and the Keto diet is largely responsible for the worsening condition of the liver. To stop it, your lifestyle modification will work as the main therapy and is considered to be the best treatment option to save the liver from getting damaged.
Nutrient deficiency– To have the optimal health condition, eating enough vegetables, grains, fruits, protein broccoli, sprouts, spinach is necessary. Incorporating these items in your daily life prevents you from the risk of bad health or body ailments.
Moreover, micronutrients such as vitamins B and C, E, selenium, phosphorus, and magnesium fulfil the requirement of nutrition in the body due to which you easily avert major health problems such as overweight issues. Your agility and performance reach the peak throughout the day.
Constipation– Constipation during the onset of the Keto diet is common as your body adjusts itself according to the fewer carbs and more fats that help digest items accordingly. But as you move forward, your GI tract gets adjusted as per your eating style; it no longer becomes an issue then.
The reason of constipation is because of legumes and grains that are low in fibrous foods, once you start eating such foods, your problem of constipation gets solved due to the accurate functioning of bowels.
"'Kidney problems"' – One of the main functions of kidneys is to help metabolize protein and Keto diet is known to overload them. (The average intake of protein that women should take is 46 grams per day and 56 grams for men).
Mood swings and redundant thoughts- For the brain to function well needs sugar that comes with healthy carbohydrates. Keto is a low-carb diet that causes irritability to the brain. The risk of losing mental strength keeps increasing with each passing day. So, make sure you take consultation from a healthcare professional before embarking on a Keto diet.
What does your eating plan incorporate in Keto diet?
The emphasizes on the high-fat requirement, people must follow this rule when eating their meal. When we talk about the daily 2000-calorie diet, it encompasses 40 grams of carbs, 165 grams of fat, and 75 grams of protein. However, you can extend the limit based on the requirement of your body needs.
Keto diet also involves some healthy unsaturated fats such as almonds, walnuts, tofu, seeds, olive oil, and seeds. Saturated fats such as cocoa butter, coconut oils, lard are largely encouraged. Protein is the underlying part of the Keto whether lean protein foods or protein sources. It is the need of the Keto diet such as pork, and bacon.
Vegetables and fruits are the main pillars of Keto diet; they are rich in carbs so, their regular intake in the diet is imperative which should be used in small portions such as berries. Vegetables too hold an important place in the Keto diet as they are rich in carbs. But limitations are there in their consumption such as leafy greens that involves spinach, cauliflower, Swiss chard, Brussels, onions, garlic, mushrooms, celery, cucumber, and broccoli) they all contain enough amount of carbs to support your Keto journey.