Are you one of those beauty enthusiasts who often crave for smooth, supple, and youthful skin like that of your favourite celebrity? If so, there is a truth bomb for you- vitamin C serum is what you need to discover the best version of your skin. Here, we are going to present you with a piece of interesting information on the excellent ways vitamin C serum can benefit your skin. But, before we start rolling the list, let's first know about it in details.
About Vitamin C serum-
Vitamin C serum is a clear liquid that comes fortified with an appreciable amount of vitamin C along with other valuable constituents. It has created a rave in the market for an array of associated health benefits and is admired by most beauty experts for its effectiveness. Nowadays, most vitamin C serums for skin you find in the department stores, beauty stores, and some drug stores come power-packed with organic or herbal constituents that are best known to do wonders when it comes to improving your skin inside out.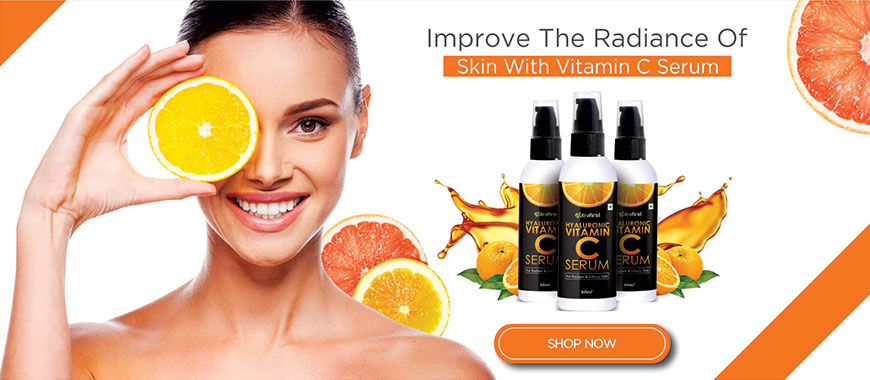 Skincare benefits of using vitamin C serum-
Moisturizes skin- Who would want to have a flaky, dull, and uneven skin texture? Lifeless skin not only takes a toll on your outer appearance but can also leave you in great discomfort. Most vitamin C serums for skin whitening contain hyaluronic acid and ascorbic as active ingredients. Ascorbic acid in these formulations helps prevent trans-epidermal water loss.
Prevents wrinkles and photo damage- Oxidative damage to proteins in the skin cells occurs as a result of both photo damage (photo-aging) and intrinsic aging. These problems often contribute to changes in skin structure and may ruin your outer appearance. Vitamin C serum comes fortified with powerful antioxidants that safeguard skin cells against oxidative stress. Besides, vitamin C in topical face serum boosts the production of collagen in the body. The role of vitamin C in the hydroxylation of collagen molecules is well characterized. This hydroxylation of collagen plays a vital role in promoting skin firmness and preventing wrinkle formation.
Lightens skin tone- Every day, our skin comes in contact with a variety of agents that cause skin tanning or dark spots. Topical Vitamin C serums are also known to limit the production of skin pigment, melanin by interfering with tyrosinase activity in the body. This is how vitamin C helps in skin brightening and fading of dark spots. Additionally, best hyaluronic acid serum helps combat hyperpigmentation caused due to melasma, sun spots, and age spots.
How much vitamin C is good for your skin?
The allowed concentration of vitamin C in serum lies between 10-25%. However, dermatologists recommend that people with sensitive skin should pick a milder serum with 5% vitamin C.
Where can I buy the best vitamin C serum?
You can buy best vitamin C serum online in India @ Nutrafirst and get free home delivery with best discounts on skin care products.