Achieving long, thick and lustrous hair is a common beauty goal for most of us. After all, healthy tresses improve your outer appearance and impart a good impression. At present, many men and women are affected by a lot of hair-related problems such as hair fall, split ends, dry& brittle hair, dandruff and many others. In such scenarios, they tend to spend a fortune on a variety of hair products as a desperate effort to breathe life into their not-so-pampered hair. But, a little do they know that hair health starts from within and supplementing the locks with Biotin can be one of the best ways to reach beauty goals. Today, we will be reviewing how including biotin capsules in your beauty regimes can help you achieve healthy hairs naturally. Let's start!
What is Biotin?
Biotin is one of the water-soluble B vitamins present in the human body. Also known as vitamin B7 or vitamin H, this organic compound plays a crucial role in numerous activities such as fat metabolism and many others. One of its most impressive benefits its ability to improve hair health. Generally, we get the required dose through the food we eat; however, a few of us may suffer its deficiency as well. In such cases, a health and nutrition expert may recommend you to take a biotin supplement.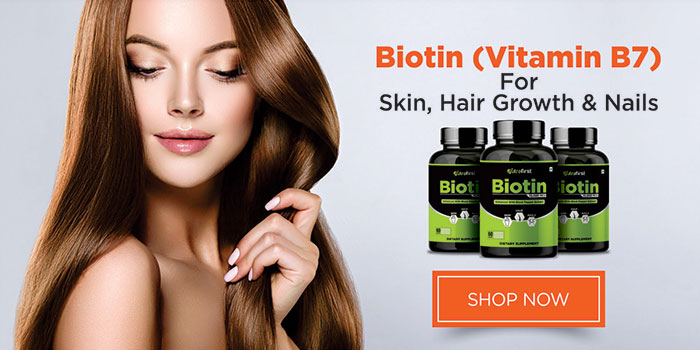 A relation between biotin and hair health-
The causes for hair problems are many; vitamin deficiencies, stress, heat treatments and tight hairstyles are the some common ones. Now, you might be eager to know how effective are biotin supplements in curbing hair problems? As per studies, biotin capsules are highly effective in preventing hair fall and thinning if it is occurring due to a deficiency of the B vitamin. Supplementing your locks with an additional dose strengthens the follicles and helps prevent the strands from falling out. Also, it boosts the production of keratin protein, which, in turn, adds bulk to the hairs and make them appear thick and healthy.
However; you must know that biotin deficiencies are rare and most men and women experience baldness due to high levels of DHT, a kind of androgen in the body, biotin is likely to show a little benefit to your hairs.
What are the symptoms of Biotin deficiency?
Some common signs of Biotin deficiency include-
Thinning hair or loss of body hair
Skin infections, including eczema
Brittle, splitting nails
Neurological maladies such as depression, lethargy, hallucinations, and numbness
Lack of coordination
Weak muscles and slow body growth in Infants
Dosage-
Like any other supplement, ensuring the right dose of biotin holds immense importance. Generally, adults are recommended to take 25-35 mcg of biotin daily, whereas, infants are prescribed an RDA of 5 mcg of biotin every day.
How to use biotin capsules?
To achieve long, thick and healthy hair fast, you are recommended to take 1 capsule of Biotin, twice daily with a glass of lukewarm water or as directed by a healthcare professional.