In the recent times of Coronavirus pandemic, keeping your immunity up holds paramount importance. It is because a strengthened immune system provides your body protection against a range of infections, allergies, and an attack by a foreign microbe not only in the case of a pandemic but during seasonal changes as well. We're sure; you might be taking a variety of precautions and eating a lot of healthy food to maintain the robustness of your body's defense mechanism. But, you must know that people in old age or with special medical conditions such as diabetes, hypertension, and cancer cannot absorb nutrients from the food they eat and require an additional dose of immunity-boosting agents in supplement form. Keeping these aspects in mind, we at Nutrafirst decided to come up with an immunity booster capsules that can help you stay resistant to a variety of infections and allergies, that too naturally and quickly. Let's understand!
Nutrafirst Immunity Booster capsules-
Nutrafirst immunity booster Medicine are an ayurvedic supplement that comes enriched with valuable, immunity enhancing agents such as vitamin C, vitamin D, and essential minerals like zinc. Let's take a glance at the best health benefits of immunity booster capsules.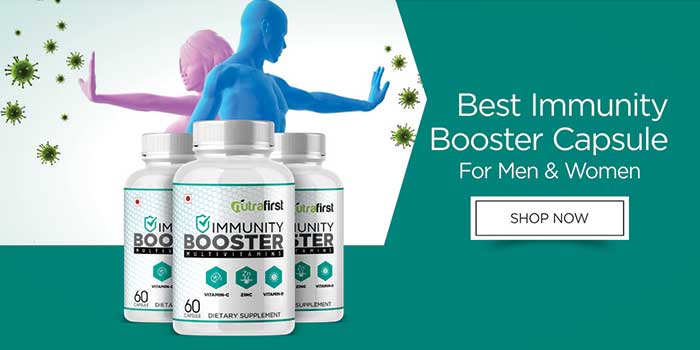 Vitamin C-
This organic supplement comes enriched with a rich amount of vitamin C, also known as the 'immunity vitamin.' Well, it's time to quickly revise some lessons from the school biology class that vitamin C makes one of the most powerful immunity boosters and helps the body stay strong and fit. This bioactive compound boosts the production of White Blood Cells (WBCs) that make an inevitable part of the immune system and plays a crucial role in warding off a plethora of histamines and foreign bodies that pose a potential threat to the body. Citrus fruits and veggies such as grapefruit, lemon, strawberry, kiwis, and spinach make a natural source of vitamin C. Apart from bolstering the body's immune system, this amazing compound helps manage other health problems such as scurvy and dry skin as well.
Vitamin D-
Vitamin D, also known as the 'sunshine vitamin' makes another superstar in the league of natural immunity boosters. Although it has popular applications in maintaining the bone mineral density and calcium absorption in the body, it can do wonders when it comes to enhancing the immunity as well. It is because, vitamin D has a profound impact on your immune system, and it plays a vital role in enhancing the function of immune cells, including T-cells and macrophages that are known to protect your body against pathogens. Also, it is extremely beneficial for all those suffering from respiratory malfunctioning and maladies.
Zinc-
Just like A vitamin C and D, Zinc ( a type of natural mineral) play a central role in maintaining the integrity of your body's immune system or immune response. This organic compound plays a pivotal role in the production of immunoglobulin antibodies, cytokines, and many others. Also, it helps in DNA replication of antibodies and antioxidants for a strengthened immune system.
How to use immunity booster capsules?
For better immunity, you are recommended to take 1 capsule, twice daily at least 30 minutes after meals with a glass of lukewarm water.
Where can I buy Nutrafirst immunity booster capsules?
You can buy best immunity booster capsules online for men and women @ Nutrafirst at the best price and grab best discounts with free home delivery.