Hair plays a crucial role in improving your appearance and most of us spend a few worthy minutes to style them every morning. However; many men and women across the globe are affected by several hair-related problems such as hair fall, thinning strands, split ends, dry& coarse hair and many others. The causes for these common hair problems are many, so are the range of expensive shampoos and conditioners that claim to improve the hair health fast; however, these chemically-laden products can make the condition even worse. Fortunately, certain natural hair fall treatment like Nutrafirst hair regain capsules can come to your rescue and help you achieve thick, strong and shiny hair naturally.
Nutrafirst hair regain plus capsules:
Hair regain capsules make a natural comprehensive solution for a range of hair-related problems. It is enriched with medical-grade botanical extracts and comes power-packed with the natural goodness of Bhringraj, Yashthimadhu, Hibiscus, Shankhapushpi, Ashwagandha and Brahmi. These organic ingredients are proven to add essential micronutrients to your hair and make them thick, long and glossy naturally. Here are a few ways these all-natural pills can benefit your hair health-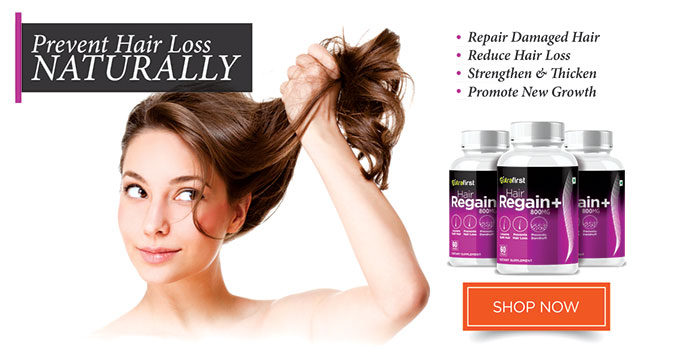 1. Reduce hair fall-
It is frustrating to see several strands on the pillow as you wake up in the morning. In fact, hair fall and thinning tresses are the common problems that have affected people of all ages, gender and ethnicities. Researchers conclude stress as one of the major causes of hair fall amongst the young generation. The active adaptogens such as Ashwagandha and Shankhapushpi in this hair restorative supplement calms the mind and uplifts the level of oxygen-rich blood in the scalp. This boost in the oxygen-rich blood strengthens the hair follicles from within and reduce annoying hair fall.
2. Curb dandruff and stimulate hair growth-
Dandruff is often seen as a strong cause of weaker roots and increased hair fall. Hair regain capsules boast a variety of vitamins and minerals that deep moisturize the scalp and help prevent flaky scalp. Besides, the anti-inflammatory properties of essential oils help prevent scalp infections, itching and rashes. Also, these micronutrients energize the dormant follicles and stimulate faster hair growth.
3. Makes hair voluminous and shiny-
Thinning hairs not only makes you look older, ruin your outer appearance but can take a toll on self-confidence as well. This natural potion contains Brahmi, Yashthimadhu and Bhringraj as active ingredients that are proven to add volume and shine to your dull, lifeless tresses. Also, these herbs fight against premature greying and help maintain the natural color of the hair.
4. Hydrate and improve hair texture-
Dry, coarse and brittle hair not only looks unruly but indicates a lack of much-needed nutrients as well. Hibiscus present in this pure and natural hair supplement seeps inside the hair strands and locks in the moisture; leaving them soft, shiny and smooth.
How to take hair regain capsules?
To achieve thick, strong and beautiful hairs naturally, you are required to take 1 capsule, twice daily (30 minutes before meals) with a glass of lukewarm water.
Where can I buy hair regain capsules at the best price in India?
This natural and ayurvedic hair fall treatment is available online in India. To grab the best deal, buy best hair regain capsules online for men and women @ Nutrafirst and grab best discounts, free shipping and easy method of payment on hair care products.