Salmon fish oil capsules form one of the best sources of essential Omega-3 fatty acids that our bodies require to carry out vital metabolic processes. It is no surprise that most of us miss out on essential nutrients in our diets, which can lead to severe nutritional deficiencies and increases the risk of serious ailments. However; keeping a check on each diet is not always possible and you may want to discover a convenient, safe and healthier alternative. This is where the need of Salmon Omega 3 fish oil, also known as Omega-3 fatty acid capsules emerges. Let's understand how these natural capsules can help you achieve optimal health benefits.
What is Salmon fish oil?
Salmon fish oil is yellow-coloured organic oil that is derived from fatty salmon fishes. Some other sources of Omega-3 fatty acids include- mackerel, tuna, and sardines. This organic supplement is an excellent source of Omega-3 fatty acids such as Docosahexaenoic acid (DHA) and Eicosapentaenoic acid (EPA) and is admired by most fitness experts for all the good things it can do to your health.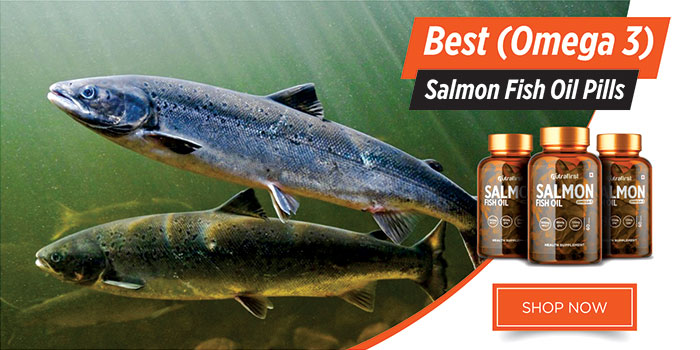 Health benefits of Salmon fish oil capsules-
Salmon fish oil capsules contain a range of essential micronutrients and may benefit your overall health in numerous ways. Some of its most impressive advantages as follows-
Improved inflammatory response–
The organic salmon fish oil contains a wide range of antioxidants and anti-inflammatory agents that diligently fight against several disorders that occurs as a result of chronic inflammation. Also, it relieves muscle stiffness and promotes pain-free movements of muscles and joints. Besides, its ability to relieve chronic inflammation, it helps reduce the symptoms of autoimmune diseases such as rheumatoid arthritis and gout.
2. Promotes healthy vision-
The retina in our eyes is made up of DHA, a kind of Omega-3 fatty acid that is found in Salmon fish oil capsules. Regular intake of this natural supplement helps ensure a clear vision and help maintain eye health. Apart from that, other vitamins and minerals found in pure salmon fish oil help prevent macular degeneration and other vision-related maladies.
3. Improves skin texture-
Who wouldn't want to cherish the joys of having healthy and glowing skin? Salmon fish oil capsules can come to your rescue when trying to feed your skin cells with essential nutrients such as A, E and D which nourishes the skin cells and rejuvenates them naturally. Besides, the antioxidants present in it help remove toxins from the skin and protects it from harmful effects of UV radiations as well. Indeed, it makes a healthier alternative to expensive beauty products that are brimming with harsh chemicals.
How to take Salmon fish oil capsules?
Using Salmon (Omega 3) fish oil capsules is simple and convenient. To reap the best benefits of this natural supplement, you are advised to take 1 capsule daily (preferably with a meal) with a glass of lukewarm water.
Which is the best brand to buy in India?
Nutrafirst is one of the organic brands that believe in providing their customers with premium quality, effective and safe health supplements. Also, Salmon Omega 3 fish oil Capsules are free from harsh chemicals, synthetic fillers and metals.