Salmon fish oil capsules form one of the best sources of essential Omega-3 fatty acids that our bodies require to carry out vital metabolic processes. It is no surprise that most of us miss out on essential nutrients in our diets, which can lead to severe nutritional deficiencies and increases the risk of serious ailments. However; keeping a check on each diet is not always possible and you may want to discover a convenient, safe and healthier alternative. This is where the need of Salmon Omega 3 fish oil, also known as Omega-3 fatty acid capsules emerges. Let's understand how these natural capsules can help you achieve optimal health benefits.
What is Salmon fish oil?
Salmon fish oil is yellow-coloured organic oil that is derived from fatty salmon fishes. Some other sources of Omega-3 fatty acids include- mackerel, tuna, and sardines. This organic supplement is an excellent source of Omega-3 fatty acids such as Docosahexaenoic acid (DHA) and Eicosapentaenoic acid (EPA) and is admired by most fitness experts for all the good things it can do to your health.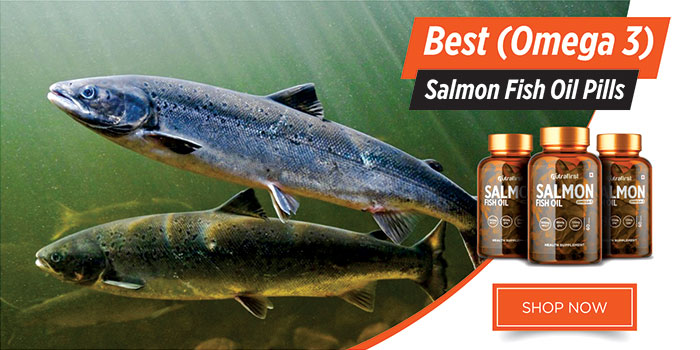 Health benefits of Salmon fish oil capsules-
Salmon fish oil capsules contain a range of essential micronutrients and may benefit your overall health in numerous ways. Some of its most impressive advantages as follows-
Improved inflammatory response–
The organic salmon fish oil contains a wide range of antioxidants and anti-inflammatory agents that diligently fight against several disorders that occurs as a result of chronic inflammation. Also, it relieves muscle stiffness and promotes pain-free movements of muscles and joints. Besides, its ability to relieve chronic inflammation, it helps reduce the symptoms of autoimmune diseases such as rheumatoid arthritis and gout.
2. Promotes healthy vision-
The retina in our eyes is made up of DHA, a kind of Omega-3 fatty acid that is found in Salmon fish oil capsules. Regular intake of this natural supplement helps ensure a clear vision and help maintain eye health. Apart from that, other vitamins and minerals found in pure salmon fish oil help prevent macular degeneration and other vision-related maladies.
3. Improves skin texture-
Who wouldn't want to cherish the joys of having healthy and glowing skin? Salmon fish oil capsules can come to your rescue when trying to feed your skin cells with essential nutrients such as A, E and D which nourishes the skin cells and rejuvenates them naturally. Besides, the antioxidants present in it help remove toxins from the skin and protects it from harmful effects of UV radiations as well. Indeed, it makes a healthier alternative to expensive beauty products that are brimming with harsh chemicals.
How to take Salmon fish oil capsules?
Using Salmon (Omega 3) fish oil capsules is simple and convenient. To reap the best benefits of this natural supplement, you are advised to take 1 capsule daily (preferably with a meal) with a glass of lukewarm water.
Which is the best brand to buy in India?
Nutrafirst is one of the organic brands that believe in providing their customers with premium quality, effective and safe health supplements. Also, Salmon Omega 3 fish oil Capsules are free from harsh chemicals, synthetic fillers and metals.
When we talk about fulfilling nutritional gaps, dietary supplements make the first thing that strikes the mind. At present, many of us are affected by a variety of deficiencies; Omega-3 is one of the most common ones. Also, it may be difficult for you to keep a check on the diet for all crucial nutrients amidst this busy schedule. In such conditions, you may want to find the best yet easy ways to ensure a recommended intake of essential micronutrients; using Salmon fish oil capsules is one of them. Today, we will be reviewing how this organic compound can benefit your overall health. Let's start!
Salmon fish oil (Omega 3) Capsules: An introduction
Salmon fish oil is an organic dietary supplement that is obtained by the tissues of fatty fishes. Some other sources include tuna, sardines and mackerel. This natural oil is most admired by the fitness experts for its high Docosahexaenoic acid (DHA) and Eicosapentaenoic acid (EPA) content. These kinds of omega-3 fatty acids Capsules play a crucial role in regulating vital processes in the body. Here are some of its most important health benefits-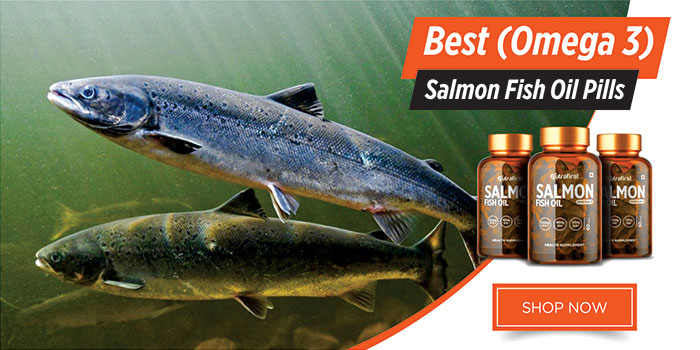 1. Improved eye health-
Who would like to have a blurry vision and other eye-related problems? Unfortunately, these come as an unwanted feature of old age and nutritional deficiencies. However; it is no surprise that DHA forms an inevitable part of the retina of the eyes. Hence, taking Omega-3 fatty acid capsules make a wonderful way to add a generous amount of DHA, which, in turn, improves vision and help prevent macular degeneration.
2. Enhanced brain functions-
Have you ever wondered why most malt drinks are advertised as with added DHA? Well, it is because of its amazing properties to boost the development of the brain in the fetus as well as delaying age-related mental decline. Pure Salmon fish oil makes a natural source of DHA that help improve memory power, aids prevent psychotic disorders such as Alzheimer's and help improve the symptoms of Attention deficit hyperactivity disorder (ADHD) in children.
3. Relieves migraine headaches-
If you ever had a migraine, you already know how painful the situation can become. As per recent researches, Omega-3 fatty acids or the polyunsaturated fatty acids present in this natural elixir can help improve the symptoms. These organic compounds boast anti-inflammatory properties that diligently remove swelling in the brain and help reduce tormenting pain.
4. Glowing and radiant skin-
Looking for natural remedies to get glowing skin? These all-natural pills come fortified with amino acids, minerals and vitamins such as Vitamin A and E that are proven to nourish the cells from within and aids in skin rejuvenation. Also, these nutrients provide the much-needed moisture to the skin, delays premature ageing and make it soft, supple and smooth.
5. Help maintain a healthy pregnancy-
A deficiency of Omega-3 acids during pregnancy may result in abnormal growth of the fetus and birth defects. As per some clinical trials, women were supplemented with Omega-3 fatty acid capsules during pregnancy gave birth to babies with better cognitive behaviour and eye-hand movement.
How to choose the best brand online in India?
At present, online shopping portals and the shelves of pharmacy stores are stacked with Salmon fish oil supplements by different brands. But, many of them may contain synthetic fillers, traces of heavy metals or other impurities. Therefore, you need to check the label for certification by regulatory authorities. Also, certain organic brands such as Nutrafirst offer its customers with 100 % natural, safe and effective fish oil (Omega 3) supplements. To order, CLICK HERE.
Reviewing The Best Health Benefits Of Salmon Fish Oil Capsules
In recent times of helter-skelter and hectic work schedules, we often miss out on nutrients that play a crucial role in maintaining the overall health. Omega-3 deficiency is something which has affected almost each of us. As people are becoming health conscious, they often consider dietary supplements as a quick and convenient way to fill the nutritional gaps. Salmon fish oil capsules form one such supplement that has gained tremendous popularity for all good reasons. Before we start to roll out the list of associated health benefits, let's know about it in detail.
What are Salmon fish oil capsules?
Fish oil capsules form one of the most sought-after dietary supplements available in the market. It contains the oil derived from the tissues of Salmon fish, which is considered to be a rich source of Omega-3 fatty acids such as Docosahexaenoic Acid (DHA) and Eicosapentaenoic acid (EPA). These nutrients cannot be synthesized by our bodies and can only be taken through the food we eat. The WHO recommends eating 1-2 portions of fatty fish, every week to fulfil the nutritional deficiencies. At present, men and women on the go consider taking Salmon fish oil capsules as a quick fix to curb these deficiencies.
What are the health benefits of Salmon fish oil capsules?
When we talk about the advantages of taking Omega-3 fatty acid capsules, the list can be really long. However, we're here with some of their most-impressive health benefits-
Healthy muscles and joints-
Stiff muscles, weaker joints and auto-immune diseases come as a signature of growing age, unhealthy lifestyle and other factors. Salmon fish oil comes power-packed with anti-inflammatory agents that reduces the inflammation in muscles and relaxes them. It is highly beneficial for people suffering from auto-immune disorders such as rheumatoid arthritis and gout. The fatty acids present in the supplement ensure a healthy bone density and protects the bone from injuries.
Improved cognitive health-
The salmon fish oil capsules contain a high concentration of Omega-3 fatty acids such as DHA and EPA. These nutrients are linked with better cognitive behaviour in children. Studies revealed that salmon fish oil can also prevent the onset of mental decline. Besides, these capsules lower the chance of psychotic disorders such as Alzheimer's and bi-polar disorders in the elderly.
Promotes eye health-
Just like our brain requires Omega-3 fatty acids, our eyes too rely on them. According to some medical journals, people deficient in Omega-3 fatty acids are at a greater risk of macular degeneration and vision-related problems. Besides, it may help maintain the moisture and prevents dry eyes.
Help support pregnancy-
Omega-3 fatty acids play a crucial role in early growth and development. Therefore, maintaining a healthy level of fatty acids is extremely important for pregnant and lactating women. As per the clinical trials, women who took salmon fish oil capsules are found to give birth to infants with better hand-eye movements as compared to others. Also, taking fish oil capsules during pregnancy can support visual development and lowers the risk of allergies in infants.
Promotes healthy skin-
Skin is the largest organ of the body, and we all require Omega-3 fatty acids to keep it healthy and young. People who take Salmon fish oil capsules are at a lower risk of skin-related problems such as Psoriasis and Dermatitis.
Who can take Salmon fish oil capsules?
Fish oil supplements are considered safe for most men and women. However, like any other supplement, it can cause certain discomforting symptoms such as skin rash, nausea, loose stool, allergies in a few cases. We recommend you to consult a healthcare provider before starting any health supplement, especially if you are-
Pregnant or breastfeeding
Allergic to fish or other ingredients
Receiving treatment for an illness
How to use fish oil capsules?
Salmon fish oil capsules are super-easy and convenient to use. To reap their best benefits, you are required to take one capsule every day, preferably with meals or as directed by a physician.