Who would like to have thin, dull and lifeless hairs? Unfortunately, a large section of men and women are affected by hair fall problems. All thanks to stress, pollution, nutritional deficiencies and many others. Undoubtedly, watching more hair clogging the shower every day can be frustrating and you may try to find out the best remedy to revive your hair health naturally. This is where herbal hair care supplements come into the picture. Today, we will be reviewing the effectiveness of Nutrafirst hair regain oil for improving the overall health of your hairs. Let's start!
What is Nutrafirst hair regain oil?
Hair regain oil is an herbal formulation that comes enriched with the extracts of rare Himalayan herbs such as Bhringraj, Ashwagandha, Tulsi, Neem, Olives, Coconut, and Lajwanti. These organic herbs hold immense importance in Ayurveda for their medicinal properties and make an age-old remedy for a variety of hair problems. Here are some amazing ways it can benefit your not-so-pampered hair-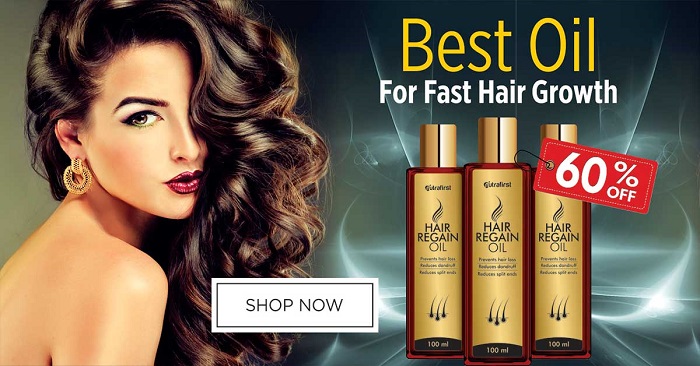 1. Prevents hair fall-
Hair fall is a common problem that has affected numerous people across the globe. Nothing can be more frustrating losing more hair strands every day and can leave you to repeat give me my prayers back every day. In contrast, massaging your scalp with hair regain oil can provide you with amazing results. The herbal ingredients such as Bhringraj seep into the scalp and nourish the follicles with essential micronutrients, thus making them stronger. Stress forms a major precursor of hair fall amongst the younger generation. This ayurvedic medicine comes power-packed with the goodness of Ashwagandha, a natural adaptogen that calms the mind and lower stress. This, in turn, enhances the flow of oxygen-rich blood in the scalp, strengthens hair follicles and prevents them from falling out.
2. Improve hair texture-
In modern times of pollution, harsh climate, heat styling and chemical treatments; our hair gets accustomed to damage and loses their shine and natural texture. Pure hair regain oil contains olive oil, coconut oil that penetrates into the hair strands and locks in the moisture. Besides, the essential micronutrients such as vitamins and minerals present in these ingredients diligently work to repair cellular damage done by harsh chemicals and heat treatments. Also, these natural prevents split ends and brittleness.
3. Makes hair shiny-
Nutrafirst regain hair oil contains Tulsi and Lajwanti extract that are known for their hydrating nature. These botanical extracts help lock in the moisture in the strands and make them appear glossy and gorgeous.
How to use regain hair oil?
Using hair regain oil is simple and easy. To reap the best benefits, take a coin size of the oil on your hand and rub both palms together to spread evenly. Now massage it onto the scalp in a circular motion, using your fingers. Leave in at least for an hour or preferably overnight. Wash off next morning or after a few hours using regular shampoo.
Where can I buy the best hair regain oil at the best price In India?
Buy best hair growth oil online in India for faster hair growth and avail fast shipping with free home delivery @ Nutrafirst.