Salmon fish oil is an organic health supplement that has become quite popular in the past few years. It is because; this natural oil comes power-packed with essential micronutrients that your body requires to carry out numerous physiological symptoms. One of the most important essential nutrients found in this natural elixir is Omega-3 fatty acids. These healthy fats play a crucial role in keeping the body in good shape, and since your body can't produce them on its own, these compounds need to be replaced every day through diet. Although it became popular in the past few decades, the use of Salmon fish oil capsules is not new. It has been used for ages to cure several health conditions. Today, we are here to present a piece of interesting information on the ways Salmon fish oil capsules can benefit your health. But, before we start to roll out the list of their associated health benefits, let's first know about the supplement in detail.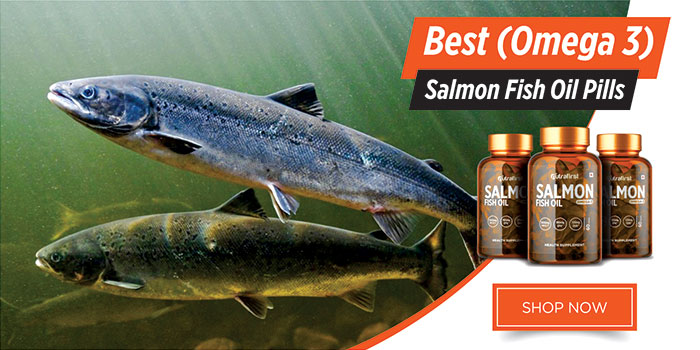 What is Salmon fish oil?
Salmon fish oil is a golden-yellow, organic oil that is obtained by the fatty tissues of fish of the same name, Salmon. Some other fishes that make an alternative source of Omega-3 supplements include mackerel, tuna, and sardines. This organic oil comes power-packed with two major fatty acids-Eicosapentaenoic acid (EPA) and Docosahexaenoic Acid (DHA) along with other important nutrients such as vitamins, minerals, and proteins and many more. At present, many of us remain gets a little time to keep a check on the diet for all essential nutrients and remain deprived of essential fatty acids. In such situations, salmon fish oil capsules can come to your rescue like a true friend. Let's understand the common yet interesting health benefits associated with Salmon fish oil capsules, also known as Omega-3 fatty acid capsules.
1. Healthy joints, muscles, and ligaments-
Stiff muscles and painful joints can make your day-to-day life miserable. Generally, muscle stiffness occurs as a result of acute inflammation. In such cases, taking this ayurvedic medicine may make a wonderful way to cure this situation. It is because; salmon fish oil capsules contain a wide range of anti-inflammatory agents that are proven to reduce inflammation and stiffness in the muscles. These Omega-3 capsules are highly beneficial for all those people suffering from autoimmune diseases such as rheumatoid arthritis and gout. Also, certain studies from the journal of clinical nutrition suggest including three grams of fish oil in your diet as a remedy to lowering the discomforting symptoms such as morning stiffness, tender muscles, and swelling. Apart from that, pure salmon fish oil is believed to improve blood circulation throughout the body and helps reduce muscle pain as well.
2. Delays skin aging–
Achieving clear, flawless, and glowing skin is something that holds a special place in everyone's list of beauty goals. However, you must know that healthy skin starts from within. These fish oil capsules come fortified with essential micronutrients such as proteins, Omega-3 fatty acids, vitamins, and antioxidants that diligently work to nourish your skin from deep within. Some studies conclude that people who took 10 grams of fish oil regularly for 6 months were found to healthier skin as compared to non-users. Besides, other anti-inflammatory agents in this amazing supplement are potent enough to fight against skin inflammation, and help treat numerous conditions such as psoriasis, eczema, dry & flaky skin. Moreover, fish oil has compelling effects on the reduction of acne and breakouts. If you too are looking for a natural and effective product that can help you achieve younger, glowing, and healthy skin, Salmon fish oil capsules make a must-try for you.
3. Promotes healthy vision-
Blurry vision, dry and itchy eyes are a few most discomforting problems that often come with old age? However, it is not uncommon for people of the younger generation to develop such maladies. DHA, a type of Omega-3 fatty acids form a crucial component of retina present in our eyes. Interestingly, Salmon fish oil capsules make a natural source of this fatty acid and help nourish the eyes naturally and healthily. Besides, this ayurvedic formulation contains proteins, vitamins, antioxidants that play a crucial role in maintaining the overall health of the eyes. Besides, these micronutrients help protect the eyes from a myriad of potential risks such as cataract, dryness, and age-related macular degeneration.
How to use Salmon fish oil capsules?
To reap the best health benefits, you are recommended to take 1 capsule (preferably after meal) daily with a glass of lukewarm water.
Which is the best brand to buy online?
At present, many pharmaceutical companies are coming up with Salmon fish oil in a capsule as well as liquid form. However, you must check that the brand is certified as safe for use by the regulatory authorities. Nutrafirst is one such reputed brand that believes in providing its customers with 100% natural, safe and authentic Salmon fish oil capsules. Besides, these pills are free from harmful chemicals, heavy metals, and impurities.