In recent times, Green coffee bean extract has become tremendously popular for its numerous health benefits. Many nutrition experts revealed that including green coffee in your fitness regimes not only provides you with an instant splash of freshness but there is scientific evidence that it can empower your body's ability to control weight and regulate glucose metabolism. Besides, this natural substance stores plenty of micronutrients that benefit your health in numerous ways. Today, we will be reviewing green coffee's effectiveness in weight management as well as in blood glucose regulation. Let's start!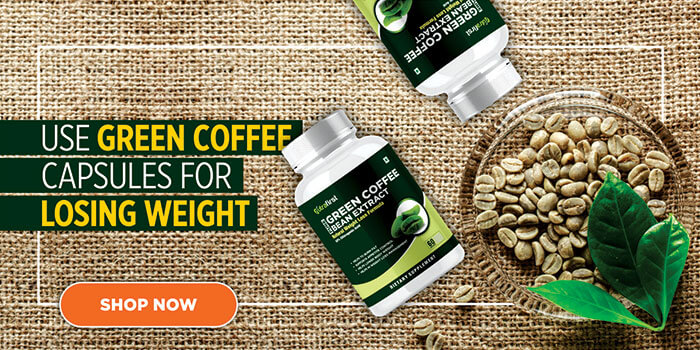 What is green coffee extract?
Green coffee bean is a widely consumed dietary supplement across the globe. It is derived from unroasted beans of coffee plants that are cultivated in the organic farms. It is no surprise that most coffees consumed worldwide is roasted or black coffee which is admired for the strong kick of freshness and energy it provides. However, Green coffee is considered much healthier as it contains a high concentration of Chlorogenic acid and caffeine in moderation. At present, green coffee extract is available in different forms such as green coffee infusion bags, whole beans, brews, green coffee capsules and many others.
Green coffee and weight management-
According to a study published in the Indian Journal of Innovative Research and Development, the presence of chlorogenic acid in green coffee makes it a potent fat-burner. If you have been trying to shed a few extra pounds, you may have come across the fact that higher the metabolic rate, faster you lose weight. Chlorogenic acid present in this herbal supplement enhances your basal metabolic rate (BMR) and speeds up the body's fat-burning processes. Besides, the moderate amount of caffeine present in this natural remedy provides you with an instant splash of energy and also, it enables you to perform better during workouts without experiencing fatigue.
Green coffee and diabetes-
Many health and nutrition experts swear by the health-promoting properties of green coffee extract. One of its most impressive health advantages is its ability to regulate blood sugar levels and lowering the risk of type 2 diabetes. Researchers link chlorogenic acid as the factor responsible for balancing blood glucose levels and keeping a check on insulin spike. As per a study published in the Nutrition Journal, people who drank 5 to 7 cups of green coffee each day regularly for 2 months were found to have well-regulated blood sugar as compared to non-users. Another study suggested that the phytochemical is highly helpful in stimulating insulin secretion and helps control the symptoms of diabetes.
Which is the best way to consume green coffee?
At present, green coffee extract is available in a variety of forms such as whole beans, brew powder, and infusion bags. However, most people find its pungent smell and slightly bitter taste unsuitable for their taste buds and they may even discontinue its use. For this reason, many pharmaceutical companies are coming up with green coffee extract in the form of capsules. Nutrafirst is one such brand that offers its customers with authentic and premium-quality green coffee capsules at affordable price. To order, click here.
How to use green coffee capsules?
To reap the best health benefits, you are recommended to take 1 capsule, twice daily with a glass of lukewarm water. Also, ensure taking each capsule separately, at least 30 minutes before meals.