Is low vitality, poor stamina, low confidence, and deficiency of testosterone hormones creates trouble in completing your intimacy session. Are you incapable to satisfy your partner's sexual desires of your partner in the bedroom? You are not able to maintain a harder erection with healthy libido during intimacy then try our 100% natural and ayurvedic testosterone booster capsules known as Ultrajosh.
Regular usage of Ultrajosh capsules keeps you fit and active the whole day by improving energy level, stamina, and production of testosterone hormones within the men's body. Ultra Josh is a power-packed formula of natural aphrodisiac compounds known as Shilajit, Safed Musli, Ashwagandha, Vidarikanda, and Kaunch beej, which naturally enhance your sexual performance by creating harder or stiffer erection in men.
Ultrajosh is used to treat Parkinson's disease, improves mood, and infertility problems in men.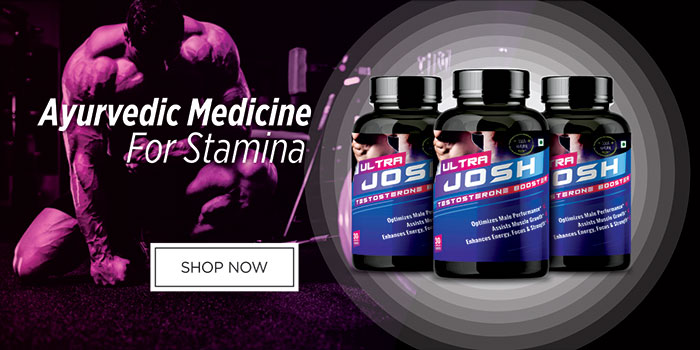 Working of ingredients of Ultrajosh capsules-
Shilajit extracts- Pure and original Shilajit plays a main role in managing erectile dysfunction (ED) problem of men by boosting the blood supply towards male genitals and creates a harder or stiffer erection for long-lasting intimacy. Shilajit helps to increase athletic performance in sports person, helps in making stronger or bigger muscles.
Safed Musli- Safed Musli is widely used by men for treating sexual weakness, premature ejaculation, and impotence problem of men. Benefits of Safed Musli improve sexual desires, libido, sperm and semen quality in men. Nowadays, athletes, exercisers and bodybuilders use pure and organic Safed Musli for getting stronger or bigger muscles.
Ashwagandha – Withania Somnifera is the scientific name of Ashwagandha, which is a well-known immunity booster for men and women. Ashwagandha has been used thousands of years in Ayurvedic medicine, which is intended for boosting vitality, stamina, and libido in men by improving the production of the testosterone hormones.
Vidarikanda- Vidarikanda is extensively used by men for treating the urinary system and reproductive system. It helps in treating dryness, pain or inflammation of urinary tract infection. This natural herb promotes the production of healthy semen, and improves the sexual performance. Even, it is used for kidney problems, urinary tract infections, sexual problems, infertility and weight gain. Due to its anti-hyperglycemic properties, it is used to lowers the blood glucose level in case of type-1 and type-2 diabetes.
Kaunch Beej- Kaunch Beej is used for the treatment of various health ailments like impotence, sexual disabilities, neurological problems, and maintain a healthy libido. It helps to overcome stress or anxiety levels.
Health benefits of test booster capsules-
Strengthens bones or tissues
Stronger or bigger muscles
Manage infertility problems
Improves mood swings
Improves growth of muscles
Improves the production of testosterone hormones
Boost energy or stamina
Improves penile size
How to take Ultrajosh capsules?
You should take one Ultrajosh capsule two times a day after 30 minutes of a meal with a glass of lukewarm water or milk.
Where I can buy best testosterone booster capsules in India?
Buy best testosterone booster capsules for men in India at a reasonable price and get enhanced energy level, stamina, confidence, and testosterone hormones.