Nowadays, Salmon fish oil capsules have become increasingly popular due to all their healthy properties. At present, most men and women on the go remain deprive of essential nutrients such as Omega-3 fatty acids that are crucial for carrying out vital processes in the body. Also, keeping a check on the diet for these compounds amidst helter-skelter of life can be challenging. In such cases, you may try to find a simple, natural, yet effective solution to curb such nutritional deficiencies. This is where Salmon fish oil capsules come into the picture. Let's understand how these organic pills can help you stay fit and active.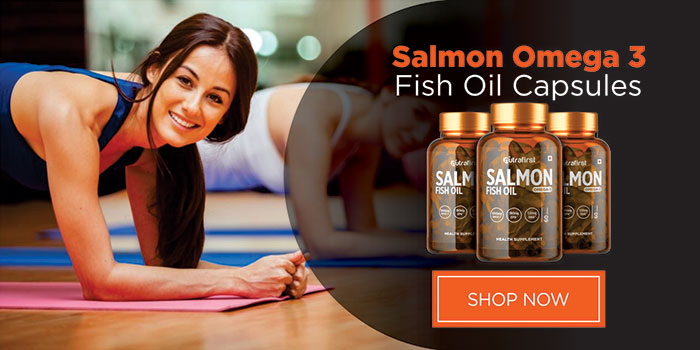 What is Salmon fish oil?
Salmon fish oil is the organic oil that is derived from the tissues of fatty fish of the same name. Generally, salmon fish is considered the best for obtaining this amber-coloured liquid; however, tuna, mackerel and sardines make some other sources. At present, many manufacturers are coming up with the fish oil supplement in the form of capsules. Here is a list of ways these pills can benefit your overall health.
Health benefits of Salmon fish oil capsules-
Nutrition experts tout salmon fish oil capsules as a natural elixir for all the good things it can do to your health. Here are some of its most impressive health benefits-
Reduced inflammation-
Inflammation is your body's natural response to protect it against allergy, injury, and infections. However, chronic inflammation can affect your health negatively and can even lead to serious health issues. Salmon fish oil, on the other hand, comes enriched with anti-inflammatory agents that effectively lower the inflammation and relax muscles. Also, it is highly beneficial for those suffering from autoimmune diseases such as rheumatoid arthritis and gout.
Improved vision-
Blurred vision and macular degeneration are some common signatures of old age. DHA (a kind of Omega-3 fatty acid) makes a vital component of the retina in our eyes. Also, these organic capsules come filled with a generous amount of DHA that help prevent macular degeneration and improves vision.
Low Postpartum depression-
As per the studies, regular consumption of Omega-3 fatty acid capsules can help prevent postpartum depression in women. Also, nutrition experts advise eating 2-3 servings of fatty fish in a week to keep you in good health, post-pregnancy.
Healthy heart-
Inflammation forms a common cause of cardiovascular diseases. These all-natural salmon fish oil capsules come power-packed with anti-inflammatory agents that diligently soothe arterial inflammation and improve blood circulation. Besides, this organic supplement helps reduce the level of bad cholesterol and prevents the formation of plaque in the arteries, which, in turn, reduces the risk of stroke and heart attack.
How to use-
To reap the best health benefits of this Omega-3 supplement, you are recommended to take one capsule per day (preferably after meals) with a glass of lukewarm water.
Where can I buy pure salmon fish oil capsules?
You can buy online Salmon fish oil capsules at the best price at www.nutrafirst.in. These capsules come filled with organic oil derived from healthy salmon fishes and do not contain any synthetic fillers, impurities and heavy metals.