Charcoal peel-off face mask is a natural face mask that has gained a tremendous reputation in the arena of beauty and wellness for its amazing cleansing properties. This unique peel-off formulation contains the goodness of activated charcoal and natural extracts of mulberry, pomegranate, basil, and cucumber for the best health benefits. This all-natural, peel-off mask has a deep cleanses the skin and rejuvenates skin cells from within to unveil smooth, clear, and soft skin. Also, the plant-derived extracts in this all-natural face mask help prevent dark spots, preventing acne scars, removing blackheads, whiteheads, and blemishes. This charcoal peel-off mask is made using natural extracts and is suitable for all skin types and it can be used by both men and women.
Activated charcoal and its role in skincare-
Activated charcoal is the blackish-grey ash that is derived by burning natural woods or wood-like substances such as coconut and almond peats, olive peels, jute, and many others. This natural ash holds an importance in traditional medicine and was used to treat drug overdose as it makes a wonderful absorbent, especially when it is heated at extremely high temperatures. Nowadays, this organic compound makes an inevitable ingredient for a variety of skincare products. Let's understand how this ayurvedic formulation can help you achieve beautiful skin naturally.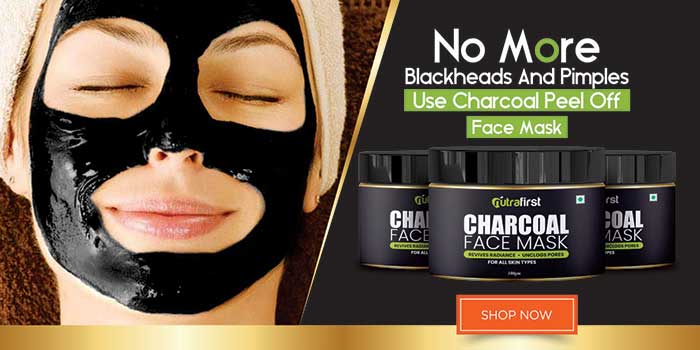 Skincare benefits of Charcoal peel-off face mask-
Charcoal face mask is made using organic ingredients for delivering the best skincare results. Here are a few impressive ways it can pamper your skin-
1. Skin cleansing-
Our skin comes in contact with dust, pollutants, and grime every day and these impurities are likely to get entrapped in the pores or fine lines on the skin. These locked-in particles in the skin lead to painful breakouts, pimples, and acne that are not only unsightly can leave you in immense pain and discomfort. The activated charcoal in this natural peel-off formulation makes it a product that diligently unclogs the pores in the skin and provides you with the clear, glowing, and younger skin naturally and quickly.
2. Revives skin radiance-
Since many of us love to go on a beach vacation or bask in the sun during colder days, our skin gets a layer of tan that hides the actual skin complexion. This layer of nasty hyperpigmentation not only darkens your complexion but can be extremely difficult to remove. This charcoal peel-off mask comes enriched with organic extracts of mulberry and pomegranate fruits that are known for their natural skin lightening properties. Also, the micronutrients present these botanicals, nourish the skin cells from within and prevent dark spots as well.
3. Hydrates the skin-
If you are the one who is having dry skin and looking for a natural remedy that can help you get rid of the flaky skin, this product makes a perfect pick for you. already know the efforts it takes to keep the skin well moisturized and healthy. This ayurvedic charcoal peel-off face mask boasts the power of hydrating components such as cucumber. It carries bioactive compounds that are known to improve your skin texture gently. Also, it makes an excellent tool to curb annoying problems such as itchy, irritated skin.
How to use a charcoal peel-off face mask?
To pamper your skin naturally, rinse the face with water and pat dry. Apply a thin coat of the mask evenly on your face and neck (avoid eyebrows, eyes, and lips). Leave for a few minutes. Once dry, peel it off starting from the outer edges. In case of difficulty peeling off the mask, use lukewarm water.
(Word of caution- Apply only a thin layer of this face pack as a thicker layer may be difficult to peel and can cause pain or irritate the skin).
Where can I buy charcoal peel-off face mask?
You can buy best charcoal peel-off face mask online for men and women at the best price and avail free home delivery services.