Green coffee capsules are a buzzword in the world of health and wellness. Indeed, most fitness experts tout it is one of the most revered, natural fat-burner. Today, we will be reviewing the best benefits of green coffee capsules. But, before we start with rolling the list of its best health advantages, let's first know about it in detail.
What is green coffee?
Pure and organic green coffee beans are referred to as the raw or unprocessed coffee seeds that are harvested from the coffee cherries in organic farms. After harvesting, these raw coffee seeds are sundried or dried in the machines to draw out the excess moisture and imparting them a crunch. These unroasted beans have a light green hue, thus called as green coffee. This ayurvedic ingredient comes brimming with a high concentration of chlorogenic acid and a generous amount of caffeine, which makes it the best fat-burner. Let's understand how this amazing supplement can help you drop a size naturally.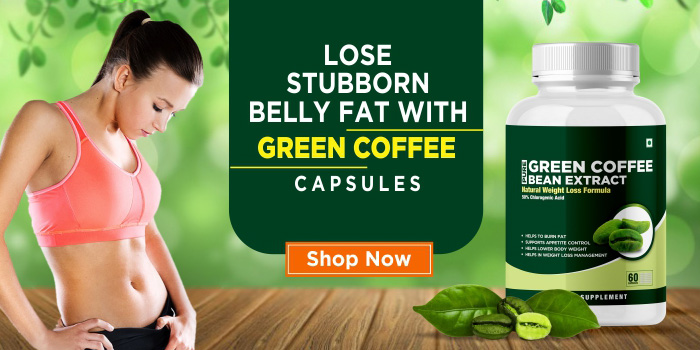 Green coffee capsules and weight loss-
While you go through a number of successful weight loss stories published online, you may want to know what makes this herbal supplement so powerful. Well, the fat-burning effects of this ayurvedic medicine can be linked with the chlorogenic acid and caffeine present in this ayurvedic medicine. Chlorogenic acid, a kind of phytochemical is known to speed up your body's metabolic rate and bring the natural fat-burning processes into action. Apart from that, other bioactive compound caffeine found in pure green coffee acts as a natural adaptogen and plays a crucial role in lowering stress. It provides you with an instant jolt of energy to keep you active and focused all day long. As per the clinical studies, people regularly use green coffee capsules at least 30 minutes before workouts are found to perform better than non-users.
Also, pure green coffee extract has a high antioxidant profile. These organic compounds help cleanse the body naturally and promote healthy digestion for better nutrient absorption and weight management.
Other health benefits of green coffee bean capsules-
Undoubtedly, green coffee capsules have become tremendously popular in the market as a natural fat burner; however, it has a long list of associated health benefits. Some of its most impressive health benefits are-
Increased energy levels
Healthy heart
Younger skin
Balanced blood sugar
Lower stress
Better digestive health
Do I need to work out as well to reap the best benefits of green coffee capsules?
In modern times, most people have a little time for following conventional weight loss methods such as working out. However, you must understand that if you are looking for a magic pill, unfortunately, that does not exist. Hence, to reap the most out of this herbal weight loss supplement, you are advised to make certain healthy modifications in your lifestyle and performing regular workouts.
How to use green coffee bean capsules for weight loss?
Using green coffee capsules is extremely simple and convenient. To get optimal weight loss results, you are advised to take 1 capsule, twice daily (at least 30-40 minutes) before meals with a glass of lukewarm water. Also, note that each of these pills must be taken separately and should not be doubled up to compensate for a missed dosage.
Where can I buy best green coffee bean extract capsules in India?
You can buy green coffee capsules for weight loss at the best price in India and avail free shipping at your home.