Dropping a size can be extremely difficult, and for this reason, most weight watchers often look for a variety of fat-burn methods that can help them achieve the desired results. However; trying conventional weight loss practices such as diets and exercises can be challenging for most men and women on the go. In such scenarios, they may try to find the easiest way to get a well-chiselled physique all over again. This is where fat-burners come into the picture. Green coffee bean capsule is one such name that has gained tremendous popularity for its amazing fat-burn results. Let's take a sneak peek into its uses, health benefits, dosage and much more.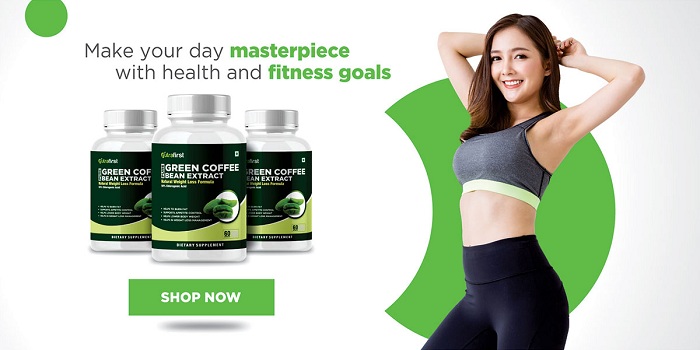 What is green coffee?
As the name signifies, green coffee is the raw or unroasted version of coffee kernels that are obtained from organic farms. At present, most coffees consumed throughout the world are roasted or brown coffee; interestingly, this processed version is less healthy. Green coffee, in contrast, is admired by fitness gurus for their amazing health benefits, fat-burn being the most impressive one. In modern times, pure extract of unroasted coffee kernels is widely marketed as herbal weight loss supplement, and you can find it in the form of capsules, whole beans, powder and infusion bags. However; most people find its bitter yet pungent taste unsuitable for their taste buds and prefer taking green coffee bean extract Capsules instead of whole beans.
Green coffee capsules and weight management-
While fitness gurus tout green coffee bean extract a potent weight loss supplement, it is obvious for you to think what makes it so powerful? Well, this ayurvedic medicine contains a high amount of chlorogenic acid and a moderate amount of caffeine that stimulates quick fat-burn by providing metabolism with an instant boost and accelerating your body's fat-burning processes. Also, a little amount of caffeine present in ayurvedic formulation provides you with an instant jolt of freshness and keeps you fit and active all day long.
Other health benefits of green coffee-
Generally, green coffee capsules are marketed as a natural fat-burner; weight management is not the sole advantage associated with it. Some of its other impressive health benefits include-
Healthy and glowing skin
Better digestion
Regulated blood glucose
Enhanced energy levels
Lower stress
Reduced inflammation
How much is not too much?
The dosage of green coffee Bean extract varies for each user depending on the age, health conditions, body mass index (BMI) and many others. At present, there is no fixed value for recommended daily intake; however, you must check the label for directions and use.
How to take green coffee capsules?
To reap optimal health benefits of green coffee capsules, you are recommended to take 1 capsule (at least 30 minutes before meals), twice daily with a glass of lukewarm water. Also, don't forget to read the label carefully for directions for use.
When is the best time to take green coffee?
Since green coffee is a diuretic, it can make kidneys to work more efficiently and you may urinate more frequently. We're sure; you would not like to take frequent trips to the washroom at midnight. Therefore, you must avoid taking the capsule right before bedtime. Also, these pills contain chlorogenic acid, which can cause acidity if taken early in the morning on an empty stomach. Hence, taking this ayurvedic medicine at least 30 minutes before meals is the ideal time.
Which is the best brand to buy in India?
At present, many health and nutrition companies are launching green coffee Bean extract capsules in different forms. However; it is often the best to go for herbal brands such as Nutrafirst to ensure the quality and purity of the weight loss supplement.