Do you often struggle to conceal those nasty dark circles under your eyes? Surely that hyperpigmentation under the eyes ruin your overall appearance and you may crave for a potent remedy to get rid of this annoying problem. In such scenarios, Nutrafirst under eye cream can come to your rescue like a true friend. Today, we will be discussing some impressive ways this herbal skin care product can help you achieve clear and youthful under-eye skin.
About Nutrafirst under eye cream-
Under eye cream (Anti-dark circle removal cream) is an advanced formula that is infused with medical-grade botanical extracts that diligently fights dark circles under your eyes and provides you with amazing results. Indeed, this herbal skincare supplement is a cocktail of Almond oil, Sandal oil, Wheat germ oil, Lemongrass oil, Soy Protein, Olive oil, Aloe Vera that not only curbs those annoying dark circles but rejuvenate your delicate under-eye skin and make your eyes young and beautiful.
When should you start using an under-eye cream?
You must know that under eye skin is much thinner than the skin on the rest of the face. Hence, it is more likely to get damaged or show signs of ageing. Most people consider using under eye creams after mid-thirty or as soon as they notice a few fine lines and wrinkles appearing on the corner of the eyes. Moreover, most of us spend long hours staring at the computer screens, which not only affects the vision but under-eye skin as well. Most beauty experts suggest using under eye cream earlier than your skin shows the signs of ageing.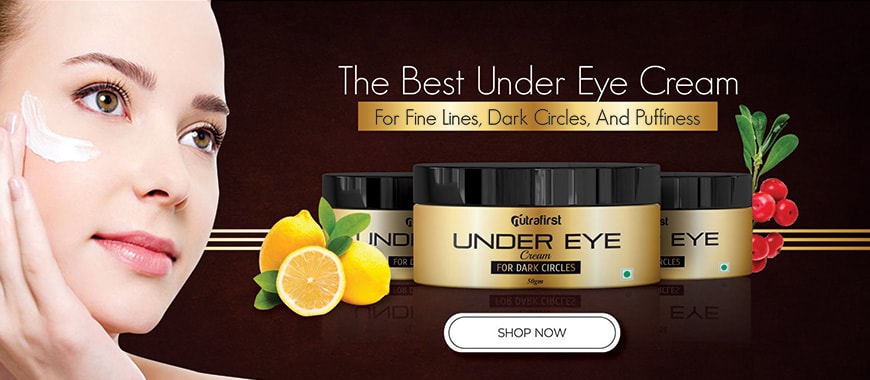 Beauty benefits of under-eye cream-
Natural remedies for dark circle comes enriched with the goodness of nature and can benefit your under-eye skin in the following ways-
#1. Reduces dark circles-
Dark circles are the hyperpigmentation under the eyes that may occur due to a variety of reasons. This herbal supplement comes enriched with essential oils -almond oil, olive oil and sandalwood oil that gently seeps into your delicate under-eye skin and lightens the extent of pigmentation around your eyes. Apart from that, these botanical extracts exfoliate a layer of dead skin cells and even skin tone around the eyes.
#2.Prevents premature ageing-
It is not only the dark circles that ruin your appearance but fine lines and wrinkles as well. Our organic under eye cream boasts soy protein and lemongrass that help maintain the elasticity of the skin and help reduce the formation of wrinkles, crow's feet and fine lines around the eyes. Besides, it rejuvenates the cells and makes your under-eye skin to appear young and healthy.
#3. Reduces puffiness and eye bags-
Puffed up and saggy eyes can make you look sick or old. This under-eye cream is enriched with wheat germ oil that contains powerful anti-inflammatory agents and effectively reduces puffiness around the eyes. Also, it helps maintain the elasticity of the skin and lifts saggy skin to reduce the appearance of eye bags.
#4. Soothes eyes & removes fatigue–
Since you spend long hours staring at the computer screen, by the day end, your eyes may feel dull and tired. It not only cause a great deal of discomfort can cause dark circles and wrinkles as well. This ayurvedic formulation contains aloe vera as an active ingredient that hydrates and soothes the under-eye skin naturally. Besides, it help lightens dark circles and removes eye fatigue as well.  
How to use-
Using this non-greasy cream is super easy. To reap the best benefits, take a pea-sized amount of the cream and make dots on the eye counter area. Massage in a circular motion until fully absorbed. You are recommended to use this under-eye cream twice daily.
Where can I buy under eye cream?
You can buy best under eye cream online to get healthy and fresh eyes. Get best discounts, safe method of payment, and free home delivery @ Nutrafirst.