Coffee is the second most-consumed beverage in the world, after water. Most Americans start their day with a steaming hot cup of freshly brewed coffee and need it throughout the day to stay energized and focused all day long. Although most people like to consume roasted or brown coffee, a little do they know that making a few changes in the way they use coffee can help them reap an array of health benefits. Yes, it' true! Using pure and organic green coffee beans instead of roasted coffee helps you achieve optimal health. Read on to know more.
About green coffee capsules-
Green coffee is the raw, unroasted coffee that is derived from the cherries of coffee plants. The tender kernels are either sun-dried or blow-dried in the machines to draw out excess moisture and imparting them a crunch. Untreated or green coffee beans are considered much healthier as they contain high amounts Chlorogenic acid and caffeine in moderation. These phytochemicals are great metabolic booster and help you stay fit and active. Let's know some of the health benefits of green coffee beans offer-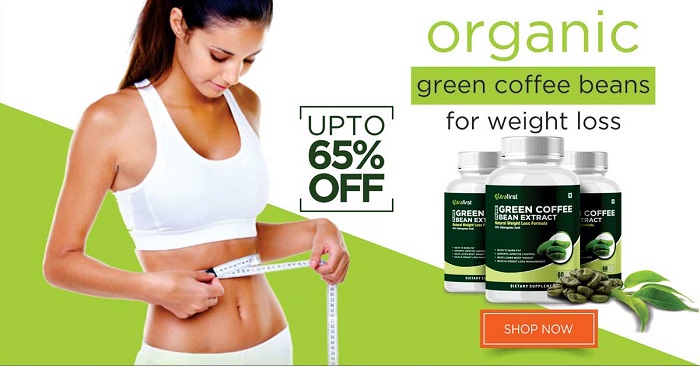 Weight management- Green coffee capsules comes filled with antioxidants and polyphenols such as Chlorogenic acid that makes wonderful metabolic booster. These valuable constituents elevate basal metabolic rate and enable you to shed a few extra pounds. Also, this natural fat-burner is mildly caffeinated and people who consume green coffee at least 30 minutes before a workout are found to perform better during workouts that too without exhaustion. Check out Green coffee capsules that are brimming with authentic and pure green coffee bean extract and delivers quick fat-loss results and other benefits.
Body detox- Since green coffee is heavily loaded with antioxidants; it makes excellent body detoxifier and flushes out toxins and other substances from the body. Also, the antioxidants in this supplement fight off free radicals in the body and safeguard vital organs in the body against oxidative stress.
Promote a healthy heart- The anti-inflammatory agents in green coffee reduce arterial inflammation and help prevent blockages in the heart. Also, vitamins and minerals present in this organic supplement lower the level of bad cholesterol that is responsible for causing a range of health problems.
Defy skin aging- Green coffee beans contain Gamma-Aminobutyric Acid (GABA), Epigallocatechin Gallate, and Theophylline, which are known for their anti-aging properties and help reduce wrinkles, fine lines, and dark spots on the skin. This, in turn, promotes clear, soft, and supple skin.
These are a few interesting health benefits you can reap by using green coffee regularly. If you're looking for a supplement that aids you to stay fit and motivated, green coffee capsules make an ideal pick for you.