Green coffee capsules have carved a niche in the fitness arena for all good reasons. Indeed, most fitness experts suggest taking green coffee capsules as one of the most effective methods to achieve a well-chiseled physique. Today, we will be reviewing green coffee's effectiveness as a natural fat-burner and the best ways to use it. But, before we start unveiling the truth, let's first know about it in detail.
What is green coffee?
Green coffee bean extract is the herbal extract that is derived from raw or unprocessed coffee cherries grown in organic orchards in tropical regions. Originally, the coffee kernels boast a light green tint, hence known as green coffee bean. These unroasted kernels have a relatively high nutritional value as compared to the roasted, brown coffee beans. Notably, raw coffee beans contain a higher amount of chlorogenic acid and a moderate amount of caffeine that makes it a potent supplement for triggering healthy weight loss. For this reason; many pharmaceutical companies have come up with green coffee bean extract capsules as natural fat-burner.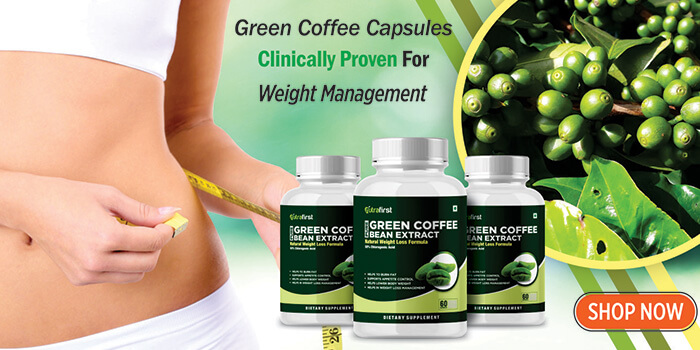 Green coffee bean extract vs. weight loss-
Undoubtedly, well-regulated metabolism plays a key role in instigating healthy weight loss. Green coffee capsules contain a high concentration of chlorogenic acid that is believed to boost your body's metabolism and speed up its fat-burning processes. Apart from that, this ayurvedic supplement comes power-packed with a moderate amount of caffeine that instantly wakes you up from lethargies and provides you with an instant splash of energy. This, in turn, increases your athletic endurance and keeps you active during workout sessions. Thus, green coffee Bean capsules allow you to burn a few extra calories healthily and naturally.
Other impressive health benefits of green coffee-
Generally, pure green coffee beans are sold as an herbal weight loss supplement for both men and women. However; it has a variety of associated health benefits apart from weight loss. Some of the other impressive health benefits of green coffee capsules are-
Better digestive health
Improved energy levels
Younger-looking skin
Healthier heart
Lower stress
How to use green coffee capsules?
Using green coffee capsules is just a walk in the park. To reap the best health benefits of this organic weight loss supplement, you are recommended to take 1 capsule, twice daily (at least 30-40 minutes before meals) with a glass of lukewarm water. Also, note that each of these capsules should be taken at a different time interval and should not be doubled up to compensate for a missed dosage.
Where can I buy the best green coffee capsules in India?
You can buy premium-quality, authentic and safe green coffee bean capsule online in India With Best Price