Salmon fish oil capsules have gained immense popularity amongst fitness enthusiasts for all good reasons. Health and fitness experts swear by their efficacy to fulfil the nutritional gaps and benefitting the overall health. Generally, salmon fish oil capsules are prescribed as a natural aid to ensure healthy levels of Omega-3 fatty acids, an important nutrient which most of us miss out in our diets. But, this is not the sole benefit of the natural health supplement. Through this piece of writing, we are bringing you science-backed reasons to include the Salmon fish oil capsules in your daily routine. Before we start rolling out the list, let's first know about it in detail.
What is Salmon fish oil capsule?
Salmon fish oil capsules are one of the most popular dietary supplements. These pills come enriched with the organic oil derived from the tissues of the fatty fishes such as Salmon. The all-natural supplement is extremely beneficial for athletes, elderly, and all the people on the go. Let's take a glance at the factors that make the fish oil capsules a must-have dietary supplement.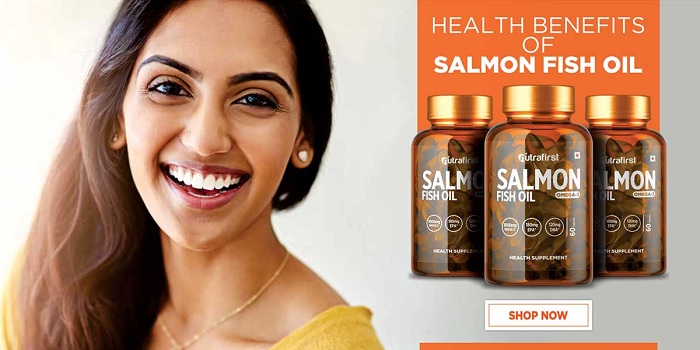 Impressive reasons to take Salmon fish oil capsules–
1. Salmon fish oil capsules contain vital Omega-3 fatty acids such as DHA and EPA that help in the development of the brain in infants. Also, these organic compounds are believed to improve cognitive behaviour in children. Apart from that, Omega-3 fatty acid capsules are highly beneficial for the elderly as the nutrients present in fish oil help prevent age-related mental decline, depression, anxiety and serious psychotic disorders such as Alzheimer's.
2. Docosahexaenoic acid (DHA), a kind of Omega-3 fatty acid forms a crucial structural component of the retina in the eyes. When you don't receive enough DHA, you are at a greater risk of experiencing vision-related problems. Interestingly, regular intake of salmon fish oil capsule lowers the risk of age-related macular degeneration and help maintain healthy vision.
3. Salmon fish oil comes fortified with the anti-inflammatory agents that reduce coronary inflammation and lowers the risk of several cardiovascular maladies. Besides, this nutritional supplement keep blood platelets clumping together, raises good cholesterol levels, and prevents the deposition of plaque in the arteries.
4. This natural supplement forms a wonderful remedy for metabolic syndrome. This disorder is a collection of multiple health problems including belly fat, blood pressure, insulin resistance, and high triglycerides. Omega-3 fatty acid capsules are considered highly beneficial for people suffering from this medical condition.
5. The organic supplement contains a variety of vitamins, fats and proteins that help the body to recover from injuries, wear and tear, wounds and muscular sprain. Also, their anti-inflammatory compounds help reduce stiffness in muscles, ligaments and tendons.
These are some of the best health benefits of Salmon fish oil capsules. If you too are looking for the natural remedy to ensure a healthy living, start using Salmon fish oil capsules today and pave a way to a healthy life. We wish you good health!