Turmeric is a brilliant, yellow-colored spice that holds a special place in the Ayurveda for its amazing medical properties. Indeed, folk communities of India have been using this aromatic kitchen ingredient as one of the natural remedies for inflammatory maladies, infections, and many others. Apart from its special application in the field of medicine, it is also used as a food coloring that imparts a brilliant yellow color to authentic Indian curries, chutneys, and soups. Nowadays, many fitness and nutrition experts tout this ayurvedic ingredient as one of the best yet natural ways to enhance the body's inflammatory response. In recent times, many nutraceutical companies are coming up with turmeric curcumin capsules as a health supplement that aims at providing improving comprehensive health just at the convenience of a pill. Today, we will be reviewing the best benefits of turmeric curcumin capsules for overall health. But, before we start unrolling the list, let's first know about it in detail.
What is turmeric?
Turmeric or commonly known as the 'Indian saffron' is a tuberous and perennial plant that is native to northern India and other Asian countries. The botanical name of this excellent herb is Curcuma longa and it is revered by naturopathy experts for its incredible healing properties. All these healthy properties in this excellent substance can be attributed to principal curcuminoid known as 'Curcumin.' This main phytochemical in turmeric pose a myriad of health benefits, especially when it comes to improving the inflammatory response of the body. Here are a few impressive ways this herbal health supplement can benefit your overall well-being-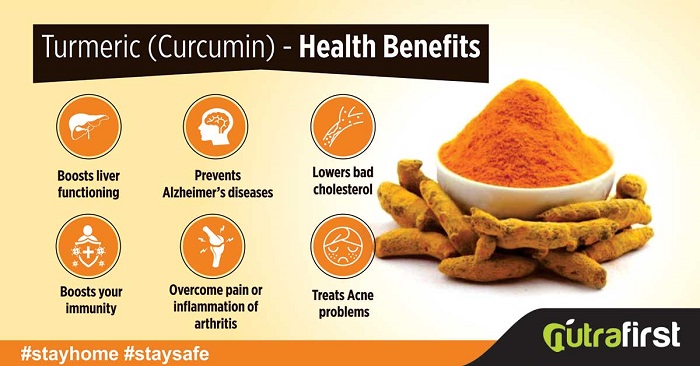 Improves the body's inflammatory response-
Inflammation is your body's natural response to a variety of microorganisms, infections, allergies, injuries. Undoubtedly; a little or short-term inflammation act as a protective action to your vital body organs; however, excessive or long-term inflammation can lead to serious repercussions. Moreover, medical professionals reveal long –term inflammation as a 'silent killer' it makes one of the greatest contributors to serious health conditions such as poor cardiovascular health, weak joints, liver problems, and many more. These turmeric capsules pills make a rich source of anti-inflammatory agents and antioxidants that are known to have a profound impact on inflammation and reduce the risk of developing certain health conditions such as ulcerative colitis, rheumatic arthritis, gout, and many others.
Relaxes muscles and joints-
Stiff muscles and joints can be extremely discomforting and can take a toll on the quality of life. Turmeric curcumin has amazing potential when it comes to reducing swelling, redness, and pain in muscles and joints. Also, turmeric curcumin capsules come as a boon for all those people who are dealing with autoimmune diseases. Regular use of these turmeric capsules may enhance your body's inflammatory response and soothe the symptoms of Rheumatoid Arthritis (RA), stiff muscles, gout, and many others.
Aids in weight loss-
In modern times, it is not uncommon to find people who are affected by unexplained weight gain due to a variety of lifestyle and medical reasons. Turmeric Curcumin Supplements makes a natural stress-reliever and reduce stress. Also, the active phytochemicals in this ayurvedic medicine bring the metabolic processes of your body into a rhythm and uplift your body's fat-burning potential. Also, some studies reveal that regular intake of turmeric Curcumin aid slow down the growth of fat cells in the body and help you maintain healthy body weight.
How to use turmeric curcumin capsules?
To reap the best benefits, you are recommended to take 1 capsule, twice daily (after a meal) with a glass of lukewarm water or as directed by a healthcare professional.
Where can I buy turmeric curcumin capsules?
You can buy Curcumin capsules online at the best price @ Nutrafirst and avail free delivery at your home with best COD facilities.