India is a land of traditions, and Lohri and Makarsankranti are the midwinter festivals that mark a thanksgiving to the Mother Nature for protecting the living beings from frosty winters. As you are all geared up to get the warmth of the bonfire, fly kites and to 'greet n treat' your loved ones, we are here with some delicious snacking recipes to spice up your celebrations. These snacks are not only mouth-wateringly tempting but equally healthy as well. Let's start!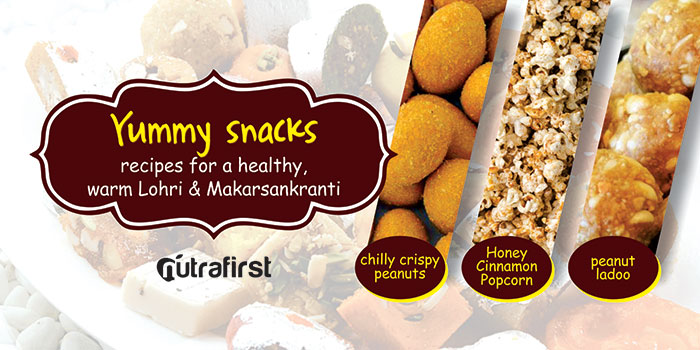 1. Peanut Laddus-
Peanuts and jaggery are considered to be the pious and common ingredient that is sacrificed in the bonfire along with other edibles. It is because; these two ingredients are bountiful of essential micronutrients such as vitamins, minerals and antioxidants and are widely consumed to keep the body warm during winters. Here is a savoury sweet that you can make by simply by combining these two ingredients.
Ingredients-
Peanut kernels- 1 cup (160 grams)
Jaggery-1/3 cup (powdered, chopped or grated)
Step-by-step-
Heat a flat bottom skillet on medium flame and add peanuts.
Roast on medium to low flame till they turn crunchy. Keep stirring constantly to prevent them from burning.
Now, spread them in onto a flat tray and let cool. Thereafter, take a blending jar and add roasted kernels and jaggery together. Grind to make a smooth powder.
Transfer the mixture into a tray. Now, take a small portion in between the palms and start moulding it into a ball. Keep moulding until it takes the desired shape.
Serve it plain or as a post-meal dessert.
2. Chilli crispy peanuts-
Chilli crispy peanuts are a perfect recipe for all those who love to indulge in hot and spicy snacks. Also, it is super easy to make and is surely going to put a pretty bow on your bonfire celebrations.
Ingredients-
Raw peanuts-2 cup
Salt-to taste
Baking powder- 1/4 teaspoon
Cumin powder- 1/2 teaspoon
Chaat masala- 1 1/2 teaspoon
Gram flour (besan)-3 cup
Turmeric- 1/2 teaspoon
Red chilli powder- 1 teaspoon
Garam masala powder- 1/2 teaspoon
Water- as required
Step-by-Step-
In a medium-sized bowl, add a little water along with 1/2 tsp chaat masala, cumin powder, 1/2 tsp red chilli powder, garam masala powder, turmeric powder salt, baking powder, and gram flour (besan). Mix all these ingredients well.
Now, add peanuts and 2 teaspoon oil to the mixture and stir them with a spatula to evenly coat them with the batter. You can add more water if required, but the mixture should not become too runny.
Heat oil in a pan and fry until they turn golden. Once golden, drain the excess oil using a frying spoon and spread them on a layer of paper towel to drain extra oil.
Put them in a bowl and sprinkle remaining chaat masala and chilli powder. Mix well and allow it to cool. Serve hot or cold.
3. Honey-Cinnamon Popcorn–
Watching the corn kernels pop is surely one of the exciting things you can do in your kitchen. But, transforming plain popcorns into a flavour of your choice is even more interesting. Undoubtedly, spicing up these healthy pops will add a few extra calories but you can easily make it a guilt-free recipe by adding or removing one or more ingredients.
Ingredients-
Unbuttered popped popcorn -2 bags
Butter (optional)- ½ cup
Honey- ⅓ cup
Cinnamon powder-1 teaspoon
Salt- to taste
Step-by-step-
Take a large bowl and pour all the popped popcorns into it.
Take another bowl and add honey and butter into it. Microwave for one minute or till both the ingredients melt a bit and mix well together.
Stir in Cinnamon powder until it mixes well. Now, pour it over the popcorns and keep turning the pops with a spatula to coat evenly.
Sprinkle the remaining cinnamon and a pinch of salt to make them more flavourful.
You can eliminate butter from the ingredient list if trying to lose weight or want to serve your guests with healthier snacks. These are 3 simple yet delicious snacks you can prepare on this festive day and treat your dear ones with love and good health. Nutrafirst wish you all a very Happy, Healthy and Prosperous Lohri and Makarsankranti!