Garcinia Cambogia capsules have become popular for their excellent fat-burning properties. At present, many nutrition and fitness experts suggest taking the natural supplement to whittle down the stubborn body fat. However, the supplement may not deliver the same weight loss results for everyone. As per the studies, some people achieved a well-trimmed physique after continuous use of these weight loss pills, while others received a little or no results. Wait! That doesn't mean these pills may not work for you as well. The people who remained deprived of their fat-burn benefits may either have used the herbal medicine the wrong way or have made certain mistakes that decreased their efficacy. Today, we are here with some effective tips you can follow to reap the best weight loss results from this supplement. Before we start unveiling these secrets, let's first know about Garcinia Cambogia in detail.
Garcinia Cambogia–
Garcinia Cambogia is a small, pumpkin-shaped citrus fruit that is mainly cultivated in south-western coasts of India and other Asian countries. Traditionally, the fruit was used to impart a dash of sourness to curries and chutneys. At present, the extract of the fruit is marketed as a herbal fat burner in the form of capsules. As per researchers, the factor which makes Garcinia an excellent fat burner is the high concentration of hydroxycitric acid present in its rind. This bioactive compound instigates fat burn by inhibiting the activity of citrate lyase (fat-producing enzyme) in the body and uplifting Serotonin levels in the brain.
Tips to follow while using Garcinia Cambogia supplement–
1. Take it in capsule form-
Garcinia Cambogia extract is sold as a weight-loss supplement in the form of capsules. However, some people consider taking it in the liquid form by boiling the dried Garcinia (kadampuli) fruit in water. You must note that capsules are formulated for slow release of the medicine in the body. This enables your body to keep burning the excess fat continuously with the regulated release of supplement into the body. Also, consuming it in liquid form can result in overdose and lead to serious repercussions as well.
2. Ensure the right dosage-
To reap the best weight loss benefits of the supplement, you must ensure to intake its right dose. Some older studies suggest taking 2800 mg of Garcinia Cambogia extract per day as a safe limit. However, recent studies reveal taking up to 1500 mg per day as the recommended dose. However, the dosage recommendation varies with each brand, and it is often the best to check the label for directions for use.
3. Take the pills at the right time–
A common mistake many people make while using the supplement is taking it at the wrong time. Garcinia Cambogia pills are formulated to be taken at least 30 minutes before meals. Taking the pills after meals not only lessens their efficacy but can lead to digestive problems as well. Also, many people ask if they can eat two capsules at once instead of taking one capsule each at different intervals. The clear answer is-No. To get the most out of the all-natural supplement, you are required to take one capsule, twice daily with a glass of lukewarm water. You can take one capsule at least 30 minutes before breakfast, and another can be taken before dinner.
4. Eat mindfully and stay active-
No matter how harsh it may sound, but simply slouching and popping Garcinia Cambogia pills alone may not result in weight loss. To get the desired results, you are required to ensure a healthy diet and increase your physical activity. By saying so, we didn't mean you to run a marathon. Just start with small steps such as jogging, gardening or cycling and increase your physical movements steadily.
5. Avoid oily or sugary foods–
To instigate quick and healthy weight loss, avoid eating foods that contain a high concentration of sugar or oil. Some of these foods include-junk food, aerated drinks, potatoes, pasta, sauces thickened with refined flour, mayonnaise, chocolates and candies.
If you too are planning to start taking Garcinia Cambogia supplement for weight management, following these tips can help you reap its best health benefits. Happy slimming, stay healthy!
Achieving a flat tummy is one of the most challenging fitness goals for many of us. We're sure, you might have tried numerous eating plans and liquid diet to burn belly fat, but they might have not worked for some obvious reasons. The little and no results might have led you to a conclusion that nothing can help you get a well-chiselled physique. However, it is not true! Certain herbal supplements can come to your rescue when it comes to achieving a slimmer waistline. Garcinia Cambogia is one such supplement that makes a wonderful fat-burner. Today, we're here to review whether it can help you achieve a perfect waistline. Before we start discussing its effectiveness, let's first know about it in detail.
What is Garcinia Cambogia?
Garcinia Cambogia is a small, pumpkin-shaped fleshy fruit that is native to south-western coasts of India and other Asian countries. Commonly known as Malabar tamarind or brindle berry, the fruit shares a folk culinary use and is being used to add a dash of tartness to curries and chutneys. At present, the extract of this fruit is being marketed as a natural fat-burner in the form of capsules. In the recent past, it was touted as 'the holy grail of weight loss' and become popular for its excellent fat-burn properties. Let's take a quick glance at what makes it a powerful fat-burner.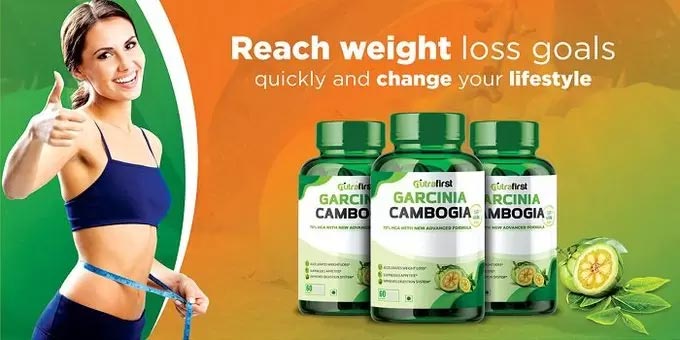 Garcinia Cambogia vs. belly fat-
Undoubtedly, the tummy workouts are one of the best ways to shed off those stubborn pockets of fats across the belly. But, gymming is not everyone's cup of tea. In such scenarios, the nutrition and fitness experts suggest taking Garcinia Cambogia capsules as a natural measure to cut the extra layers of fat. Its fat-burning properties are linked with the hydroxycitric acid present in its peel. This phytochemical is believed to instigate fat loss by inhibiting the action of citrate lyase enzyme that your body uses to convert carbohydrates into fat. Thus, there is no denial that Garcinia Cambogia is a fruit that fools your body sugars. Besides, it raises the levels of the brain chemical 'Serotonin,' which, in turn, uplifts your mood and helps avoid binge eating under emotional circumstances. Therefore, Garcinia Cambogia can help you shed a few extra pounds quickly and naturally.
What makes Garcinia Cambogia capsules so powerful?
Although Garcinia Cambogia extract or commonly known as HCA extract itself is potent enough to accelerate fat-burn, some manufacturers combine it with other thermogenic ingredients such as green coffee and guggul extracts. These natural ingredients are proven to set your body into the fat-burning mode. Besides, the antioxidants present in these capsules help remove toxins, aids in better absorption of nutrients and lowers the impact of oxidative stress on the body. These factors altogether make Garcinia Cambogia capsules one of the most sought after fat-burn supplements available in the market.
How to use Garcinia Cambogia pills?
Garcinia Cambogia pills contain a recommended dose of HCA extract. To achieve the best fat-loss results, you are required to take one capsule, twice daily with a glass of lukewarm water.
Who can take Garcinia Cambogia (HCA) capsules?
Garcinia Cambogia Weight Loss supplement is suitable for most men and women who are dealing with weight issues. If you're one of those looking for a natural remedy to get a flat belly, Garcinia Cambogia capsules make an ideal pick for you.
Word of caution-
Although Garcinia Cambogia supplement is considered safe for most healthy people, it may cause certain discomforting symptoms in a few cases. The supplement is not intended for use by people who are-
Pregnant or lactating
Taking medicines
Receiving treatment for an underlying illness
Allergic to any of its ingredients