Pregnancy is a mesmerizing experience for every woman. After all, what can be more exciting and joyful than watching a new life developing within you? Since pregnancy brings a myriad of changes in your diet, sleep and lifestyle, chances are high that you are missing out on nutrients that are crucial for you and the baby as well. In such cases, prenatal multivitamins can come to your rescue. However, you must consult a healthcare professional before starting a supplement to avoid any potential complication. Today, we are here with some interesting information on prenatal best multivitamins for women and things to consider while choosing one for you.
What is prenatal multivitamin?
Prenatal multivitamins are popular dietary supplements that fulfil nutritional gaps in pregnant mother's diet. These supplements contain a range of vitamins, minerals, omega-3 fatty acids and other essential nutrients that are crucial for a healthy pregnancy as well as for baby's growth.  Ideally, health and nutrition experts suggest taking prenatal vitamins while you are trying to conceive or breastfeeding, post-delivery. These supplements are available in the form of capsules, tablets, liquids, chewable and gummies.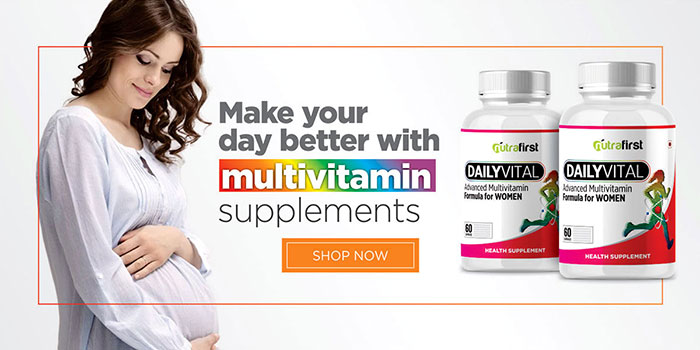 How to choose the best prenatal multivitamins?
At present, shelves of pharmacies and online shopping portals are flooded with a variety of prenatal vitamin, not all of them are beneficial for you. Here are points you can keep in mind while shopping pregnancy vitamins for you-
Check for these essential nutrients-
Pregnancy is a complex process and requires essential nutrients at every step. While you plan to shop a prenatal vitamin supplement, don't forget to ensure that it contains the following nutrients-
Folic acid–
Folic acid is the must-have ingredient of all prenatal vitamin supplements as it promotes the healthy development of the brain in the fetus during the first trimester. However, many prenatal vitamins contain a high amount of folic acid, which can put you at a greater risk of developing cardiovascular ailments. An ideal pre-pregnancy vitamin supplement must contain at least 400 mcg of folic acid.
Calcium and Vitamin D-
Calcium and vitamin D plays a vital role in the development of bones and teeth. Besides, Vitamin D supports the healthy development of eyes and skin in the fetus. There's some more! Calcium is believed to lower the risk of preeclampsia, a leading cause of maladies and deaths in pregnant women and newborn.
Vitamin A-
Vitamin A supports healthy cell growth, vision and other vital organs in the baby.
Vitamin B6-
Vitamin B6 makes an inevitable ingredient of every prenatal vitamin for obvious reasons. This organic compound is essential for cognitive development, glucose metabolism, and immune functions in early pregnancy. Besides, it may help reduce nausea during the early stages.
Iodine–
Iodine is a trace element that is required for the healthy development of the central nervous system, brain and skeletal system in the baby. Also, it helps prevent slow fetal growth, stillbirth and miscarriage.
Points to Ponder-
Prenatal vitamins may vary for each woman, depending on the stage of pregnancy, age, and other health conditions.
Nutrients present in these supplements may trigger certain side effects such as nausea, dizziness, headaches, constipation etc. in a few cases.
We recommend you to consult a healthcare professional before starting a prenatal vitamin (before or during pregnancy).
Where to buy best multivitamin for women in India?
Buy best multivitamin for women in India at the best price @ Nutrafirst and get it delivered at your home with free shipping.
Nowadays, multivitamin supplements have got a huge surge in the market for all the good reasons. Why not! After all, these tiny capsules are fortified with the plethora of essential vitamins and minerals which most of us tend to miss out due to various factors. Although these capsules make a quick fix for bridging the nutritional gaps, there are a lot of myths associated with them. Today, we are here to debunk the common myths associated with these multivitamin supplements. Before we start unveiling the list of associated myths, let's first know more about them.
What are multivitamins?
Multivitamins are one of the most popular supplements for men and women. This dietary supplement comprises a range of vitamins and minerals that are required by a human body to keep all the organs working properly. These supplements are available over-the-counter at pharmacy stores in the form of capsules, tablets, chews, gummies or even liquids. At present, many pharmaceutical companies have launched a range of multivitamin supplements that can be taken at a preferred time.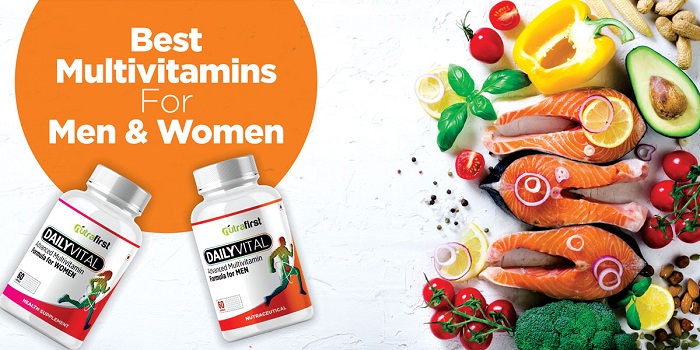 Myths and facts about multivitamin supplements-
MYTH- It doesn't matter which type you pick, all multivitamin supplements provide the same benefits.
FACT- Not really! You should understand that a woman's body differs from a man's body in numerous ways. Hence, both sexes have different nutritional requirements. At present, many pharmaceutical companies are coming up with a variety of best multivitamins for men and women. Also, the ingredients of these supplements may vary for each brand. Therefore, it is always the best to pick a multivitamin supplement that suits your body type.
MYTH- You don't need multivitamins if you take a healthy and varied diet.
FACT- No matter how careful you are about ensuring a healthy diet, chances are there that you might be missing on one or another crucial nutrient. However; this myth goes both ways. Also, you should note that these supplements not make a substitute for a healthy diet. If you are one of those people who over-depend on junk and oily foods and consider popping a multivitamin pill each morning to bridge nutritional gaps, you are probably wrong. You should understand that the multivitamin capsules fulfill only the nutritional deficiencies, that too when combined with a healthy diet and lifestyle.
MYTH- Morning or bedtime is the best time to take multivitamins.
FACT- A majority of people think that the best time to take a multivitamin is morning or night. However, the reality is far different. Nutrition experts suggest taking these pills with food. It is because; the nutrients present in the supplement bounce each other and help them doing all the good to your body. Also, some vitamins require fat for absorption and yield the best results when taken with healthy fats. Therefore, it is always the best to take multivitamin capsules at least 30 minutes after meals.
MYTH- Yellow urine is the sign of a health issue.
FACT-Yes! Yellow urine indeed is an indication of dehydration. However; you should consider all other factors. If you experience yellow urine while taking the multivitamin, it is an indication that your body is releasing excess salts and toxins from the body. What makes it appear yellow is the presence of Vitamin B2 or riboflavin. You can get rid of the colour by simply drinking plenty of water and healthy liquids.
MYTH- The label is the bible.
FACT- Crap! Not every multivitamin supplement is safe for use. Unfortunately, many multivitamin supplements from lesser known brands are not approved by the regulatory authorities such as the FDA. In fact, you might be getting less or more of what you actually require. Therefore, it is important for you to check that certification of the product before making the purchase. These are some of the common myths associated with multivitamin capsules. If you too are planning to start taking the multivitamin capsules, keep the following points in mind to reap their best benefits.