Pregnancy is a mesmerizing experience for every woman. After all, what can be more exciting and joyful than watching a new life developing within you? Since pregnancy brings a myriad of changes in your diet, sleep and lifestyle, chances are high that you are missing out on nutrients that are crucial for you and the baby as well. In such cases, prenatal multivitamins can come to your rescue. However, you must consult a healthcare professional before starting a supplement to avoid any potential complication. Today, we are here with some interesting information on prenatal best multivitamins for women and things to consider while choosing one for you.
What is prenatal multivitamin?
Prenatal multivitamins are popular dietary supplements that fulfil nutritional gaps in pregnant mother's diet. These supplements contain a range of vitamins, minerals, omega-3 fatty acids and other essential nutrients that are crucial for a healthy pregnancy as well as for baby's growth.  Ideally, health and nutrition experts suggest taking prenatal vitamins while you are trying to conceive or breastfeeding, post-delivery. These supplements are available in the form of capsules, tablets, liquids, chewable and gummies.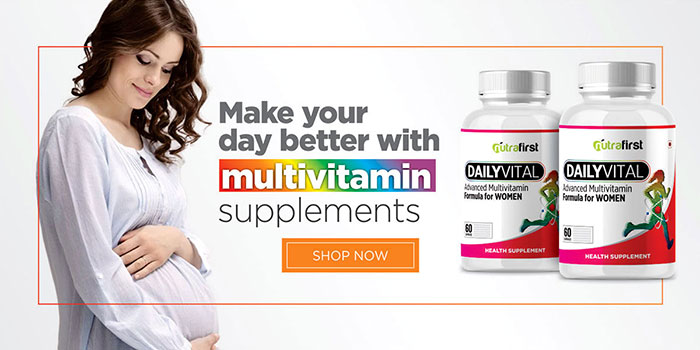 How to choose the best prenatal multivitamins?
At present, shelves of pharmacies and online shopping portals are flooded with a variety of prenatal vitamin, not all of them are beneficial for you. Here are points you can keep in mind while shopping pregnancy vitamins for you-
Check for these essential nutrients-
Pregnancy is a complex process and requires essential nutrients at every step. While you plan to shop a prenatal vitamin supplement, don't forget to ensure that it contains the following nutrients-
Folic acid–
Folic acid is the must-have ingredient of all prenatal vitamin supplements as it promotes the healthy development of the brain in the fetus during the first trimester. However, many prenatal vitamins contain a high amount of folic acid, which can put you at a greater risk of developing cardiovascular ailments. An ideal pre-pregnancy vitamin supplement must contain at least 400 mcg of folic acid.
Calcium and Vitamin D-
Calcium and vitamin D plays a vital role in the development of bones and teeth. Besides, Vitamin D supports the healthy development of eyes and skin in the fetus. There's some more! Calcium is believed to lower the risk of preeclampsia, a leading cause of maladies and deaths in pregnant women and newborn.
Vitamin A-
Vitamin A supports healthy cell growth, vision and other vital organs in the baby.
Vitamin B6-
Vitamin B6 makes an inevitable ingredient of every prenatal vitamin for obvious reasons. This organic compound is essential for cognitive development, glucose metabolism, and immune functions in early pregnancy. Besides, it may help reduce nausea during the early stages.
Iodine–
Iodine is a trace element that is required for the healthy development of the central nervous system, brain and skeletal system in the baby. Also, it helps prevent slow fetal growth, stillbirth and miscarriage.
Points to Ponder-
Prenatal vitamins may vary for each woman, depending on the stage of pregnancy, age, and other health conditions.
Nutrients present in these supplements may trigger certain side effects such as nausea, dizziness, headaches, constipation etc. in a few cases.
We recommend you to consult a healthcare professional before starting a prenatal vitamin (before or during pregnancy).
Where to buy best multivitamin for women in India?
Buy best multivitamin for women in India at the best price @ Nutrafirst and get it delivered at your home with free shipping.