Do you often like to indulge in coffees the whole day and can't resist your craving to gulp down a cup of cappuccino? If so, let us bring you a cup of freshly brewed information on how consuming the aromatic and refreshing drink the right way can help you go healthy. Believe us or not, but simply switching over from earthy, roasted coffee to green coffee makes a great way to get fitter. Let's understand!
Brown Coffee vs. Green Coffee Beans
Though most coffees consumed throughout the world are roasted or brown; green coffee makes a healthy alternative to a cup of regular coffee. For those who haven't heard of green coffee before, it is coffee that is raw, unprocessed, and unroasted. To make green coffee, ripened coffee cherries are handpicked from the organic orchards and deseeded to obtain tender, juicy kernels. Then, these seeds are sun-dried or put in machines to draw out the excess moisture, thus imparting them a crunch and light-green hue and justifying the name green coffee. The unroasted green coffee bean is highly nutritious and most healthcare experts tout green coffee as a natural fat-burner and tonic for overall wellness. So, that brings us to the key reasons to make unroasted coffee a part of your fitness regime: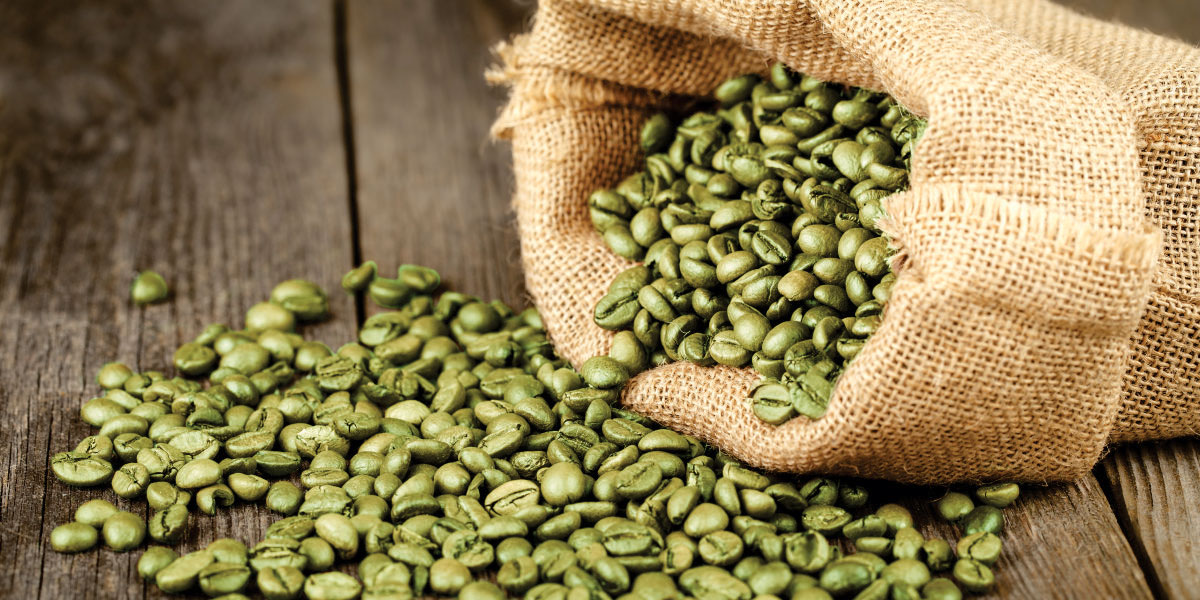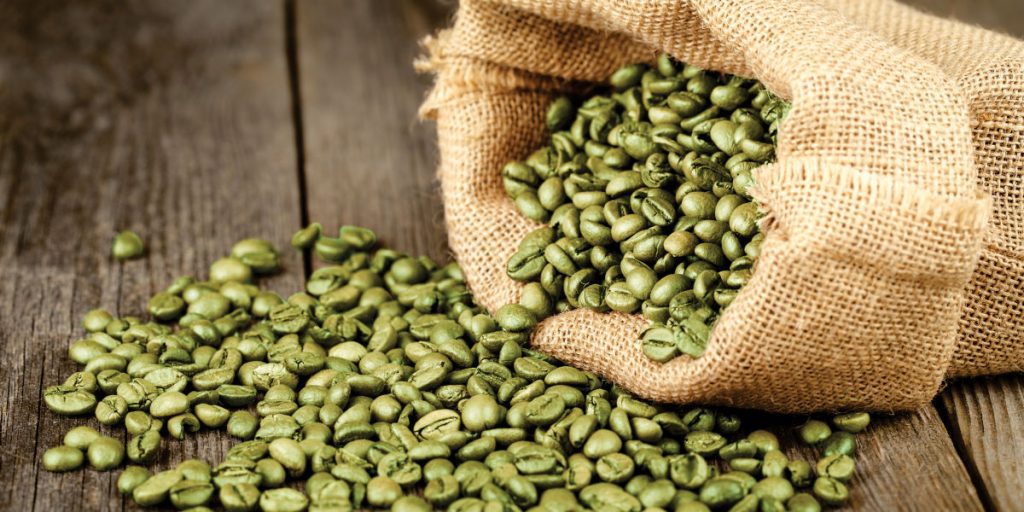 Weight Loss: Green coffee is revered in the field of ayurvedic medicine for its exceptional properties to trigger weight loss. It can be credited to the high levels of Chlorogenic acid and a moderate amount of caffeine present in it. These organic compounds bring your metabolic processes on track and help maintain a perfect body mass index (BMI). Chlorogenic acid in green coffee speeds up your body's fat-burning processes while caffeine energizes the body and enables you to perform better during workouts. Besides, the soluble fibers in pure and organic green coffee beans satiate hunger and keep calorie intake in check. If you are facing overweight issues and looking for natural remedies to slim down, include Green Coffee Capsules in your fitness regimes and feel the difference.
Body Detox: Green coffee bean extract comes fortified with polyphenols, antioxidants, vitamins, and minerals that pose rejuvenating action on body cells. Valuable nutrients in green coffee safeguard cells in the body against harmful free radicals and oxidative stress. Besides, diuretic compounds in green coffee aid toxin removal and ensure overall wellness.
Enhances Energy Levels: Just think of the time when you rush to grab a steaming hot cup of coffee to charge up post-lunch at the workplace. Well, most of us crave a cup of thick, strong cappuccino for that instant splash of energy it provides. But remember that consuming green coffee instead of brown one not only wakes you up but does many good things for your body. You must know that roasting coffee beans not only lowers the caffeine levels (the compound that lowers lethargy levels) but also the nutritive value of the kernels.
These are the top three reasons why making green coffee beans should be made a part of your fitness regime. If you're the one who often strives to find natural remedies that can help discover the best of your health, green coffee capsules makes a cherry-pick for you.
Green coffee bean extract is revered by most fitness experts for their amazing benefits. Undoubtedly, losing a few extra pounds is difficult than gaining it, and most people do not have enough time to follow strict diets and workout regimes. In such situations, they often try to look out for fat-burn ways that can help drop a size naturally. But little do they know that making slight changes in their coffee regimes can help them achieve a perfect body shape. Let's understand!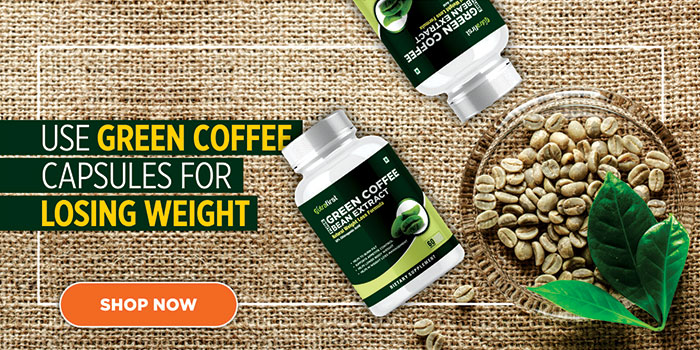 What is a green coffee bean?
Green coffee bean is referred to the unroasted seeds that are derived from ripened coffee cherries. These raw and unprocessed seeds contain a high concentration of vital phytochemicals like chlorogenic acid and caffeine, which are believed to be the factor behind its fat-burning properties. Moreover, many reputed brands are coming up with green coffee in the form of whole beans, powder, brews and infusion bags. But, the pungent and bitter taste of these unroasted seeds may not suit most taste buds, and they may even shun the idea of using it completely. For such reasons, many pharmaceutical companies have launched green coffee bean extract capsules as an alternative to a conventional cup of green coffee. These organic pills are tasteless and made easy to swallow.
Green coffee bean and weight loss-
Green coffee bean capsules are revered as one of the natural remedies to lose unwanted weight gain. It is because; pure green coffee bean extract comes packed with a high concentration of chlorogenic acid and a moderate dose of caffeine. These two compounds make wonderful metabolism booster and help speed up your body's fat-burning processes. Besides, regular use of these capsules improves your athletic endurance and enables you to perform better during workouts, without experiencing a dip in energy.
Other health benefits of green coffee capsules-
Although green coffee bean extract capsules are marketed as a herbal weight loss supplement, it can benefit your overall health in many other ways as well. Some of its impressive health benefits include-
Balanced blood glucose
Enhanced energy levels
Healthy and glowing skin
Lower stress
Healthy heart
How to use green coffee bean capsules?
To reap the best health benefits, you are recommended to take 1 capsule, twice daily (at least 30-40 minutes before meals) with a glass of lukewarm water. Also, ensure taking both these tablets separately at a different time interval.
Who can use green coffee bean capsules?
Green coffee extract capsules are highly beneficial for all those men and women struggling with weight issues. However, it is always best to consult a healthcare professional before starting any health supplement.
Which is the best brand to buy in India?
At present, you may find a wide range of green coffee supplement in pharmacy stores. However, you must pick a supplement from a trusted brand to reap the best health benefits. Nutrafirst is one of the reputed brands that strive to provide its customers with natural, safe and effective health supplement at a reasonable price. To buy the best green coffee bean capsule online, click here.
Losing weight is a daunting task and it's interesting to note that each person has his unique opinion and a list of remedies. However, most nutrition and healthcare experts conclude that well-regulated metabolism is one of the keys to trigger healthy weight loss and certain foods make a wonderful fat-burner. Green coffee bean extract capsules is one of them. At present, many pharmaceutical companies are marketing green coffee as a potent fat-burner in the form of capsules. Today, we will be reviewing the effectiveness of this organic supplement for weight loss. Read on!
What is green coffee bean extract?
Green coffee bean extract is the organic supplement derived from the coffee beans that are not yet roasted. This raw version of kernels is considered to be healthier as compared to roasted seeds. It is because; roasting process reduces the number of nutrients, thus the unroasted green coffee kernels contain a higher amount of chlorogenic acid and moderate caffeine content that makes it a wonderful fat-burner.
Green coffee as a pill: the need-
Green coffee comes in a variety of forms that include whole beans, green coffee powder, brews, infusion bags and many others. However; most people find its taste unsuitable for their taste buds and they may even stop using it. Keeping this aspect in mind, many pharmaceutical companies have come up with green coffee in the form of capsules, which can be used as per convenience.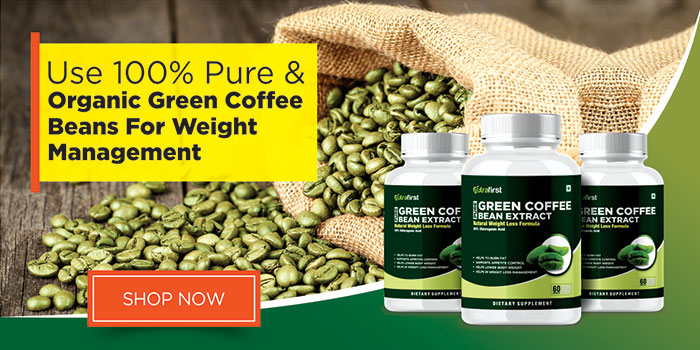 Green coffee vs. weight loss-
Burning stubborn pockets of fat can be extremely difficult but natural supplements like pure and organic green coffee bean can come to your rescue when it comes to losing weight quickly and healthily. These fat-burn properties of the supplement can be credited to its chlorogenic content that speeds up your body's metabolism and enables you to lose weight healthily and quickly. Also, the moderate presence of caffeine in these unroasted seeds provides an instant boost in energy and helps you stay active and focused all day long. Studies conclude that people who regularly consume green coffee capsule at least 30 minutes before workouts are found to perform better without experiencing energy dips.
Other health benefits of green coffee-
Although pure green coffee extract is primarily sold as a weight-loss supplement, it is not their sole benefit. Some of its other impressive benefits are–
Boosts immunity
Improves cardiovascular health
Suppresses hunger
Detoxify body
Enhances energy levels
How to use green coffee capsules-
Using green coffee capsules for weight loss is super-easy. To reap its best health benefits, you are required to take one pill, twice daily (at least 30 minutes before meals). Also, note that each pill should be taken separately before a meal and should not be clubbed together.
Which is the best brand to buy in India?
At present, you may find green coffee bean capsules from numerous brands; however, it is essential to check the label for safety as well as purity. Therefore, you must ensure that the supplement is certified by national regulatory authorities. Nutrafirst is one such brand that is committed to providing its customers with premium-quality, safe and effective green coffee capsules at the best price online.