Vitamins and minerals play a crucial role in maintaining overall wellness at different stages of life. Perimenopause is a stage where women experience different physical challenges due to the rapid shift in hormonal levels. Some of the common yet discomforting symptoms of menopause include vaginal dryness, hot flashes, insomnia, night sweat and mood swings. In such conditions, your body requires a whole different set of essential micronutrients to cope up with these rapidly occurring changes. At present, you may find several multivitamin supplements for both women and men. However, you must be aware of the ingredients a multivitamin must contain. Today, we are here with a list of vitamins and minerals that your menopausal vitamin supplement should have.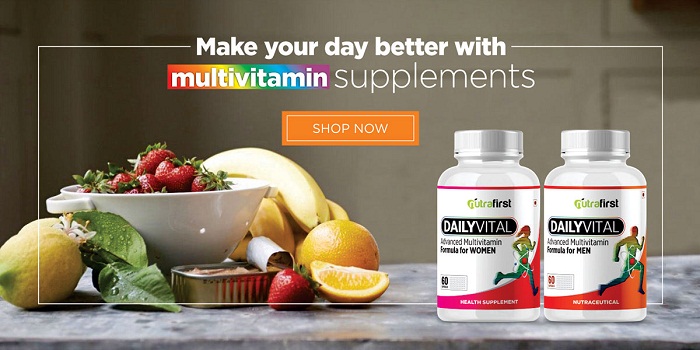 1. Vitamin E-
Vitamin E is the shining star in the multivitamins intended to ease with the symptoms of perimenopause and menopause. It is because; Vitamin E effectively reduces stress by suppressing the production of cortisol in your body. Besides, your body is at a higher risk of experiencing oxidative stress, which can further cause damage to cells and tissues. Vitamin E, in contrast, contains anti-inflammatory abilities and relieves stress by lowering the impact of oxidative stress.
2. Vitamin D-
Nowadays, most men and women are diagnosed with vitamin D deficiency. It is no surprise that the 'sunshine vitamin' holds immense importance in maintaining bone mineral density and helps reduce the risk of serious disorders such as osteoporosis. Also, to stay healthy, our bones undergo constant remodelling where new tissues replace the old bone tissues. However; during menopause, the renewal process gets skewed and your body absorbs more bone tissue then generating it. As a result, menopausal women are at a greater risk of bone-related maladies; hence, ensuring a proper intake of vitamin D and Calcium is crucial. As per recognized medical associations, women up to the age of 70 must get at least 600 international units of vitamin D every day.
3. Vitamin A-
Vitamin A is equally important for keeping the bones in good condition, improving vision, protecting soft tissues against physical damage and many more. However, too much of vitamin A is linked with an increase in the risk of bone fractures in menopausal women. Medical opinion about Vitamin A and menopause is mixed. Therefore, you should consult a doctor before taking vitamin A supplements.
4. Magnesium-
Magnesium is another powerful ingredient that can provide immense relief from menopausal symptoms. Women taking plenty of this organic mineral through food or multivitamin supplement reported a reduction in discomforting symptoms such as anxiety, mood swings, depression, cold flashes and many others. Besides, it helps in the improvement of bone mineral density and promotes cardiac health as well.
5. Vitamin B12-
Many women experience insomnia during menopause and healthcare professionals link it with gradually decreasing level of vitamin B12. As per the recommendations of international medical associations, women over the age of 50 require 2.4 micrograms of vitamin B12 every day.
These are some of the top nutrients you must ensure to relieve the discomfort during perimenopause or even menopause. We wish you good health! Thanks for reading.
When we talk about fulfilling nutritional gaps, most men and women focus on the macronutrients and often skip micronutrients. The micronutrients are the vitamins and minerals that your body usually gets from the food you eat. Without these compounds, your body can not regulate important functions such as metabolic processes, oxygen intake and recovery from wounds.  Athletes are more likely to suffer injuries, and they have specific requirements when it comes to micronutrients. Here, we're with a list of vitamins and minerals that make a wonderful addition to every athlete's fitness regime.  Let's start!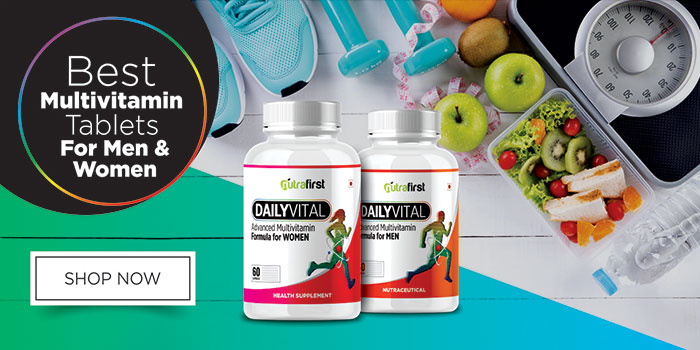 1. Calcium–
Calcium tops the list of multivitamins for athletes for obvious reasons. As a sportsperson, you're at a greater risk of suffering bone and muscle injury. A study by the Academy of Physical Medicine and Rehabilitation concluded that drinking a cup of skim milk every day can reduce the chances of stress fracture by 62 percent. Also, you may look for multivitamin capsules that contain a recommended dose of calcium along with vitamin D for better absorption.
2. Vitamin B-
Athletes need vitamin B in several forms such as B6, B12, thiamin, folate, and riboflavin every single day for a reason. It is because; all these vitamins are water-soluble and needs to be replaced in your body daily. Also, your body utilizes these micronutrients for the breakdown of carbohydrates and proteins into energy, which you need to uplift your athletic endurance.
3. Iron-
Fitness trainers reveal that athletes who practice for more than 6 hours a day are more likely to run out of their iron stores as compared to sedentary people. Iron helps carry a rich supply of oxygen to other body cells, and a deficiency of iron can make you lethargic and can lower your athletic endurance. Also, women lose more iron every month during menstruation and require more iron intake than men. So lovely ladies, don't forget to check the label for iron, next time you visit a pharmacy store to buy multivitamins.
4. Magnesium-
Well, this superstar in the league of multivitamins helps regulate over 300 enzymes that are crucial for the production of energy and bone marrow formation. Moreover, sportspersons require a rich amount of magnesium for muscle contractions and red cell production.
5. Vitamin C-
Do you often sneeze, cough or feel shortness of breath during workout sessions? Well, chances are there that you are running low on vitamin C. Let's brush up the lessons we all learnt in our school biology classes. Vitamin C, often found in citrus fruits is known for its immune-boosting properties. If you spend long hours practicing outdoors, it puts you at a greater risk of catching an infection like the common cold. On the other hand, ensuring a proper intake of Vitamin C can help protect from numerous infections and airborne microbes.
These are a few essential nutrients that can benefit the overall health of athletes. If you are a sports lover and often indulge in adventure activities, including these vitamins in your fitness regime can help you stay fit and active.
Pregnancy is a mesmerizing experience for every woman. After all, what can be more exciting and joyful than watching a new life developing within you? Since pregnancy brings a myriad of changes in your diet, sleep and lifestyle, chances are high that you are missing out on nutrients that are crucial for you and the baby as well. In such cases, prenatal multivitamins can come to your rescue. However, you must consult a healthcare professional before starting a supplement to avoid any potential complication. Today, we are here with some interesting information on prenatal best multivitamins for women and things to consider while choosing one for you.
What is prenatal multivitamin?
Prenatal multivitamins are popular dietary supplements that fulfil nutritional gaps in pregnant mother's diet. These supplements contain a range of vitamins, minerals, omega-3 fatty acids and other essential nutrients that are crucial for a healthy pregnancy as well as for baby's growth.  Ideally, health and nutrition experts suggest taking prenatal vitamins while you are trying to conceive or breastfeeding, post-delivery. These supplements are available in the form of capsules, tablets, liquids, chewable and gummies.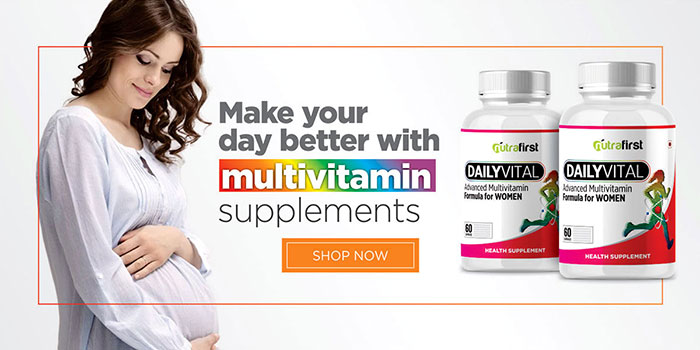 How to choose the best prenatal multivitamins?
At present, shelves of pharmacies and online shopping portals are flooded with a variety of prenatal vitamin, not all of them are beneficial for you. Here are points you can keep in mind while shopping pregnancy vitamins for you-
Check for these essential nutrients-
Pregnancy is a complex process and requires essential nutrients at every step. While you plan to shop a prenatal vitamin supplement, don't forget to ensure that it contains the following nutrients-
Folic acid–
Folic acid is the must-have ingredient of all prenatal vitamin supplements as it promotes the healthy development of the brain in the fetus during the first trimester. However, many prenatal vitamins contain a high amount of folic acid, which can put you at a greater risk of developing cardiovascular ailments. An ideal pre-pregnancy vitamin supplement must contain at least 400 mcg of folic acid.
Calcium and Vitamin D-
Calcium and vitamin D plays a vital role in the development of bones and teeth. Besides, Vitamin D supports the healthy development of eyes and skin in the fetus. There's some more! Calcium is believed to lower the risk of preeclampsia, a leading cause of maladies and deaths in pregnant women and newborn.
Vitamin A-
Vitamin A supports healthy cell growth, vision and other vital organs in the baby.
Vitamin B6-
Vitamin B6 makes an inevitable ingredient of every prenatal vitamin for obvious reasons. This organic compound is essential for cognitive development, glucose metabolism, and immune functions in early pregnancy. Besides, it may help reduce nausea during the early stages.
Iodine–
Iodine is a trace element that is required for the healthy development of the central nervous system, brain and skeletal system in the baby. Also, it helps prevent slow fetal growth, stillbirth and miscarriage.
Points to Ponder-
Prenatal vitamins may vary for each woman, depending on the stage of pregnancy, age, and other health conditions.
Nutrients present in these supplements may trigger certain side effects such as nausea, dizziness, headaches, constipation etc. in a few cases.
We recommend you to consult a healthcare professional before starting a prenatal vitamin (before or during pregnancy).
Where to buy best multivitamin for women in India?
Buy best multivitamin for women in India at the best price @ Nutrafirst and get it delivered at your home with free shipping.
Best Ways To Get Healthy Immune System Naturally
The state of being healthy is utmost important in today's hectic schedule and most of us tend to overlook this major health goal. Most of us take initiatives to create an optimal wellness plan but seem to fail amidst the onus of responsibility. Our internal body functions need to perform well in order to have an enhanced immune system. Negligence over health may cost hefty losses mentally, physically, and financially.
Health should be kept at the forefront despite the tasks and difficulties you sail through professionally and personally. When you are vulnerable to serious health problems, they can't easily be averted even if you want to because our body fails to adapt itself to normal condition instantly. Our immunity relies on the good performance of our health that signifies the strength within. If we make efforts to maintain our health, more chances are there to live a blissful healthy life.
A healthy lifestyle is what fortifies the immune system and enhances its efficiency. Cancer, mental issues, diabetes, depression, and many other health problems can be curbed if your immunity is boosted. Regular nourishment is essential for which proper diet plan plays a pivotal role. A good immunity system doesn't let the diseases infiltrate in the body and stop them from forming.
If we closely look into the details as to how good immunity system works, many more aspects need to be looked at apart from the meal plan. A combination of physical exercises, good environment, and a good diet keeps your immune system in a well-maintained condition, protecting your body from lethal diseases. Another way to keep the condition of your immune system strengthened is to use best multivitamins supplements that overcomes the normal health issues efficiently. Ayurveda is the most effective way to strengthen the immune system.
Ways you can follow to boost your immunity-
Boosting immunity leaves us ecstatic due to the ample benefits associated with it. However, performing daily health steps to improve immunity often seem impossible. The ability to build a good immunity system often seems elusive due to several reasons.
To let your body function well, the right balance and harmony of some activities are imperative on the health front. Several reports emphasize that lots need to be researched to find out the hidden intricacies of the immunity system. There is no scientific proof that lifestyle is beneficial for the good immune system but a good diet does provide you with an improved immune system.
However, to some extent lifestyle may be responsible to influence the immune system but giving a complete report due to this reason won't be right to say. Researchers are still discovering more facts about the effects of diet, age, psychological stress, and exercise on the immune system. You can adopt healthy-living strategies to keep the function of your immune system in good condition.
Choose a healthy lifestyle to strengthen the immune system-
It will be beneficial to adopt healthy ways for a good immune system. Taking care of general health is the best natural way for an effective immune system and wellness. Taking ayurvedic immunity booster is alternative for elevated immunity if you fail to devote enough time daily for your health.
These supplements are meticulously formulated for the improvement of the immune system. The immune system is the pillar of your overall health that needs to be in a good state to lead a strong and healthy life ahead. A good immune system is a result of great health care. Protection from an unhealthy environment is a must. The healthy living strategies that you can incorporate for good immune system are:-
Minimize your stress level
Wash your hands always before taking meal and cooking something; it is the best way to avoid infection
Regular physical activity
Take fruits and healthy fruits to maintain a healthy weight
Take a proper sleep
Don't indulge in smoking and alcohol
The numbers are countless when it comes to the unstable immune system. Best multivitamin tablets are the best for people who unwillingly fail to pay attention to their health. It rectifies the health deficiencies and boosts the immunity system. It keeps the function of each body part effectively turned on as long as it is inclusive in your daily plan. With every organ performing well in the body gives you surety for long-term good health and improved immunity.
Best Multivitamin Supplements For Men And Women For Optimal Health
If you feel exhausted, less energetic or suffering from various body ailments, then it is time, you should start taking multivitamin to avoid future health damage. Health should always be kept at the forefront no matter what. Best multivitamin Tablets for men and women can be found in the market. If you are thinking of incorporating multivitamin in your daily routine, then it is an idea worth giving a shot.
If things are complicating your head if multivitamins are the ones that you should start taking. Then, don't take any longer time. Go for it! Before using multivitamins, a certain kind of apprehension often takes over if there are any side effect or health problems of using multivitamins.
If you are here to find the answers to your questions pertaining to what best multivitamin supplements offer and what are its long-term benefits. Then, you are in the right place. Several questions must be troubling you, so, calm down, you will get all the answers.
What are the Benefits of multivitamins? Will it work for you?
Multivitamin comprises vitamins, minerals, and proteins so its benefits are obvious. It replenishes your body with everything that it requires to face the daily challenges and helps function body parts optimally.
People who are quite aware of the benefits of multivitamins prefer taking foods that have a certain amount of nutrients. However, many fall short of daily nutrients in their diet for which multivitamins supplements are imperative. It causes no fat loss or affects your health directly nor develops muscle mass instantly. But, somewhere it will definitely work to improve your health slowly and steadily.
Our body daily needs enough energy to do energy-draining tasks for which multivitamins are essential to have by your side as it contains vitamins and minerals. Multivitamin is a miracle to whittle down your body issues whether it is about removing fat, recovering from the illness, building muscle, improving cognitive level, and helping pump blood, improving sleep and alleviating getting sick.
Why multivitamin vitamin is necessary to take?
The need for multivitamins is must for the body. Every man, woman, and aged people should take it daily to feed the necessary nutrients to the body whether you are using it for work out or not. In order to let your body function well, you should consider taking multivitamins throughout a year combined with a rigid diet plan.
Many people claim that they have a fit body and don't require anything additional to support body function perform well. However, most of them often miss out on proper nutrition and reach nowhere close to a good fitness level.
We all live in a fast-paced life that spoils our overall lifestyle due to which we fail to take care of our body. Over-indulgence in eating and useless crap having no nutritional value gives nothing useful to our body. On the other side, eating foods that are high in nutrients not only give you blissful life but keeps you active all day every day for long years to come. Brushing aside proper nutrition can be attributed to a future health problem that can be detrimental. Even if you feel complete, your day should entail essential minerals and vitamins.
But some people keep a good track of their health and ensure their daily diets should incorporate vitamins and minerals. It is suggested that they should also take a multivitamin supplement to maintain sustainability.
Taking it serves as complete nutrition and guarantees to give your body the power and energy that it needs to run a day. Because there are days when you mistakenly forget to get enough nutrients the deficiency of which can be fulfilled by taking multivitamins Tablets.
Take multivitamins with enough quantity to be sure you are supplying your body with essential minerals and vitamins to keep the functioning at its best.
How to choose the best Multivitamin for Men and Women?
Every health seeker person has this question in mind. There is end number of multivitamin products in the market containing enough vitamin and minerals. However, not every product has the potential to meet your body requirement because they lack certain minerals and vitamins.
You need to be careful while choosing multivitamin capsules because some are designed for men, some are designed for women and some are designed for people who are active in their body performance but slightly needs extra strength. Every multivitamin has a category because people aged above 50 and 60 requires multivitamins that their body needs at that age.
So, every multivitamin is formulated keeping the age factor in mind and is designed with specific health benefits such as nervous system health, bone health, etc.
If chosen correctly, multivitamins can elevate your health and take it to the next level of betterment. You need to be comprehensive in your research to find the best multivitamin for you. Some important things to take into consideration are:
Check the amount of vitamins and minerals the multivitamin is containing. If it contains too much nutrition or minerals, then, it won't serve the purpose plus pay you off huge money on redundant selection. On the other hand, if it contains too less, then still the same applies to that as well.
How can you be sure that the product contains the claimed amount of multivitamins? You can find it out only through the lab test. As per many tests done in the lab, we came to know, not all prove to be of fine quality. In the name of brands, people are made fool of false and unauthentic products. Many popular brand names don't contain the significant amount of nutrients required to fulfil the need of your body. Therefore, always ensure that nutrients are the same as labelled on the ad pack. On the contrary, chemical, fillers and contamination are used that severely impair the health condition instead of good health results.
Be careful about your multivitamin choice. Some multivitamins contain unnecessary nutrients such as iron that most of the people avoid taking. Such nutrients are needed when age is around 50 or above.
There is a plethora of multivitamin product in the market that claims to give significant health benefit which ultimately proves nothing but bullshit. Also, their cost varies even after having the same ingredients. So, avoid spending a big amount.
Before choosing any multivitamin, take all these important things into account. Your health is vital, make sure to do all the further research and reach conclusion only when you find the product can do justice to your choice.