Multivitamins are the dietary supplements that have gained immense popularity amongst men and women for their efficacy to ensure overall well being. In recent times of helter-skelter, keeping a check on each diet for essential nutrients can be challenging for the go-getters. Besides, your body loses its ability to absorb health-promoting nutrients from food with growing age. And for this reason, nutrition and fitness experts recommend taking best multivitamin capsules as an insurance policy for your body.
However; many people often complain of getting little health benefits from these dietary supplements. Well, it may be either because of some medical condition or most probably; due to poor quality and in authenticity of the supplement. Today, we are here with some quick tips that can help you pick the right kind of multivitamin supplements. Let's start!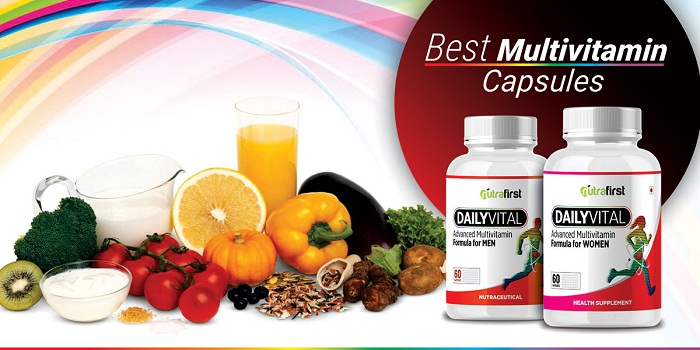 1. Ensure the supplement is certified-
At present, pharmacy stores and e-commerce portals are loaded with a wide range of best multivitamins for men and women. However; not each of them is effective and beneficial. You must know that many of them contain harsh chemicals or additives and may not be even verified. Therefore; every time you step out to a pharmacy store to buy a multivitamin, check the label to make sure that the product is certified by national regulatory authorities such as FSSAI, FDA, USP, GMP etc. and marked safe for consumption.
2. Check for appropriate RDA of ingredients-
Many multivitamin supplements available in the market today either contain excess or a little amount of ingredients than needed by the body every day. An overdose of essential micronutrients such as A, D, E and K can buildup in your body and can even become toxic. For this reason, you must check that the supplement has 100 percent of the daily recommended value for each ingredient.
3. Pick one that suits your age and gender-
It is no surprise that your body requirements vary depending on age and sex. For instance, a woman needs more iron, while a middle-aged man requires more calcium or DHA. It is often the best to consult a physician to know the right kind of multivitamin for you, depending on age and gender.
4. Check for essential micronutrients-
Your body requires a cocktail of micronutrients to keep working at its best. Here are some of the common yet essential ingredients your multivitamin supplements must have–
Thiamin, riboflavin, and niacin
B6 and B12
Folic acid, pantothenic acid, and biotin
Calcium, magnesium, selenium, and zinc
Iodine, borate, and molybdenum
Vitamins A (including beta carotene), C, E, and K
Vitamin D2 or D3
Calcium,
Iron,
Magnesium, and potassium
5. It does not contain an allergen-
Certain carrier or even sole ingredients like Niacin in high amounts can cause skin irritation and allergies. We're sure; you wouldn't want to catch an allergy from a supplement that is intended to ensure overall wellbeing. Thus, you must carefully read the labels for special instructions or allergens before buying.
Where to buy best multivitamins capsules in India?
Now, don't wait any more and waste your money immediately buy best multivitamin capsules in India at the best discounted price and avail free shipping at your home.
Pregnancy is a mesmerizing experience for every woman. After all, what can be more exciting and joyful than watching a new life developing within you? Since pregnancy brings a myriad of changes in your diet, sleep and lifestyle, chances are high that you are missing out on nutrients that are crucial for you and the baby as well. In such cases, prenatal multivitamins can come to your rescue. However, you must consult a healthcare professional before starting a supplement to avoid any potential complication. Today, we are here with some interesting information on prenatal best multivitamins for women and things to consider while choosing one for you.
What is prenatal multivitamin?
Prenatal multivitamins are popular dietary supplements that fulfil nutritional gaps in pregnant mother's diet. These supplements contain a range of vitamins, minerals, omega-3 fatty acids and other essential nutrients that are crucial for a healthy pregnancy as well as for baby's growth.  Ideally, health and nutrition experts suggest taking prenatal vitamins while you are trying to conceive or breastfeeding, post-delivery. These supplements are available in the form of capsules, tablets, liquids, chewable and gummies.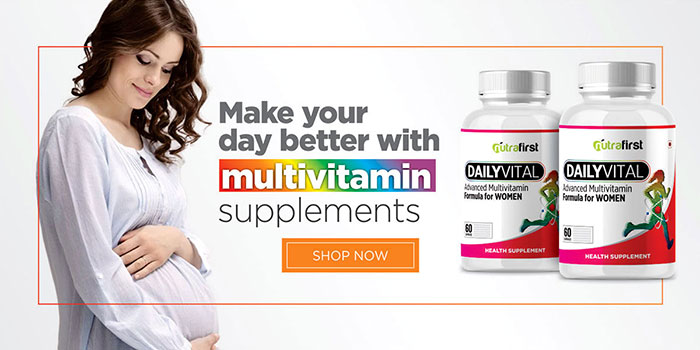 How to choose the best prenatal multivitamins?
At present, shelves of pharmacies and online shopping portals are flooded with a variety of prenatal vitamin, not all of them are beneficial for you. Here are points you can keep in mind while shopping pregnancy vitamins for you-
Check for these essential nutrients-
Pregnancy is a complex process and requires essential nutrients at every step. While you plan to shop a prenatal vitamin supplement, don't forget to ensure that it contains the following nutrients-
Folic acid–
Folic acid is the must-have ingredient of all prenatal vitamin supplements as it promotes the healthy development of the brain in the fetus during the first trimester. However, many prenatal vitamins contain a high amount of folic acid, which can put you at a greater risk of developing cardiovascular ailments. An ideal pre-pregnancy vitamin supplement must contain at least 400 mcg of folic acid.
Calcium and Vitamin D-
Calcium and vitamin D plays a vital role in the development of bones and teeth. Besides, Vitamin D supports the healthy development of eyes and skin in the fetus. There's some more! Calcium is believed to lower the risk of preeclampsia, a leading cause of maladies and deaths in pregnant women and newborn.
Vitamin A-
Vitamin A supports healthy cell growth, vision and other vital organs in the baby.
Vitamin B6-
Vitamin B6 makes an inevitable ingredient of every prenatal vitamin for obvious reasons. This organic compound is essential for cognitive development, glucose metabolism, and immune functions in early pregnancy. Besides, it may help reduce nausea during the early stages.
Iodine–
Iodine is a trace element that is required for the healthy development of the central nervous system, brain and skeletal system in the baby. Also, it helps prevent slow fetal growth, stillbirth and miscarriage.
Points to Ponder-
Prenatal vitamins may vary for each woman, depending on the stage of pregnancy, age, and other health conditions.
Nutrients present in these supplements may trigger certain side effects such as nausea, dizziness, headaches, constipation etc. in a few cases.
We recommend you to consult a healthcare professional before starting a prenatal vitamin (before or during pregnancy).
Where to buy best multivitamin for women in India?
Buy best multivitamin for women in India at the best price @ Nutrafirst and get it delivered at your home with free shipping.