Stopping hair loss is a challenging task, and to prevent the strands from falling out, we use numerous hair care products. But, many of these products may come loaded with chemicals that may affect the health of your hairs negatively. However; hair care experts conclude using herbal restorative supplements as one of the best ways to achieve healthy, long and strong hair. Today, we will be reviewing one herbal hair oil for men and women that is admired and trusted by reputed hair care experts for its effectiveness. Read on!
Nutrafirst hair regain oil-
Nutrafirst hair regain oil is a herbal supplement that comes enriched with powerful ingredients such as Bhringraj, Ashwagandha, Lajwanti, Coconut milk, Tulsi extract, Carrot seed oil and many others. These medical-grade botanical extracts make a wonderful source of essential micronutrients that nourish the follicles from deep within and stimulate healthy hair growth. Also, the multivitamin complex in this formula works at the cellular level to boost the appearance, texture and overall health of your locks. Here is a list of benefits you can get by using this organic hair oil regularly-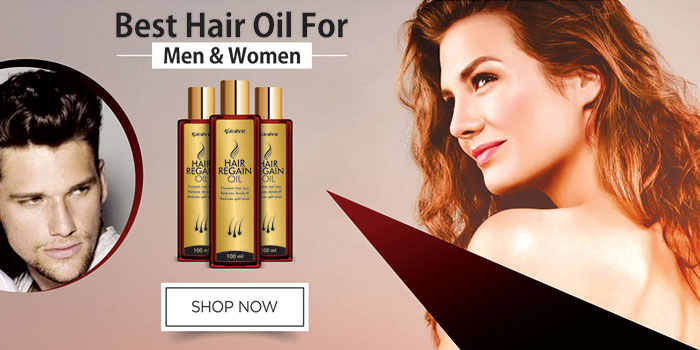 1. Prevent hair fall-
Nowadays, men and women of all ages are affected by hair fall and thinning tresses along with other problems. Hair care experts conclude stress as one of the major causes of hair fall amongst most people. This restorative treatment contains natural adaptogens such as Ashwagandha and that soothes the mind and boosts the supply of oxygen-rich blood in the scalp. This increase in pure blood in the scalp strengthens the follicles from within and prevents the strands from falling out.
2. Curb dandruff and stimulate hair growth-
Dandruff often occurs as a result of a lack of moisture or microbial growth on the scalp. Hair regain oil contains rich sources of vitamins and minerals that seep deep into the scalp to provide much-needed hydration and curb dandruff and dry and flaky scalp. Also, these micro-nutrients wake up dormant follicles and promote quick and faster hair growth.
3. Makes hair smooth and shiny-
Thinning hairs take a toll on your outer appearance as well as self-confidence. Pure herbal extracts of Ashwagandha, Coconut milk and Bhringraj that make an age-old remedy to make the tresses smooth, voluminous and glossy. The active phytochemicals present in these extracts fill the grooves in the hair strands and improve its texture. Also, these herbs diligently work to prevent premature greying and helps keep hair black and healthy.
How to use hair regain oil?
Using hair gain oil is just a walk in the park. To reap its best benefits, you can take a generous amount of oil on your palm. Rub both hands together to spread it evenly. Thereafter, massage the scalp in a circular motion using the fingertips. Leave preferably overnight and wash off next morning using regular shampoo.
Where can I buy best hair oil in India?
You can buy hair regain oil at the best price online. Avail free shipping, best discounts and easy convenient method of payment at your home.
Hair loss is a formidable situation and end number of men and women is facing it nowadays. What makes hair fall worrisome is the plethora of adulterated hair products, causing the hair to fall out more than usual. It is an illusion to get diverted to bewitching product labels that fail to give any base for the prevention of hair fall.
A number of chemicals are blended to make hair loss supplements look convincing for the buyers. However, when you come across noticing the results till then, it is too late. Even remaining hairs are not enough that you can think of giving treatment to. When it comes to pampering your hair, just by consuming supplements won't give you the results that you are expecting.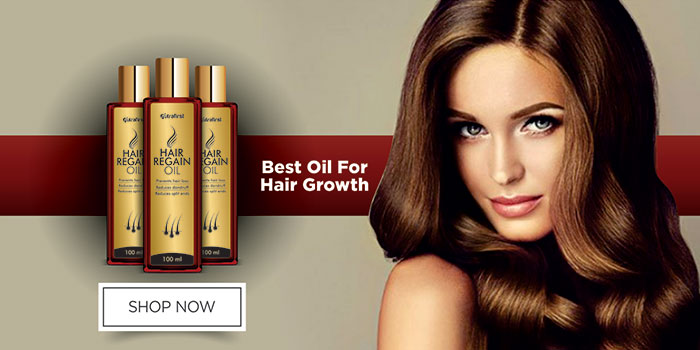 Give your hair something that it deserves. A natural remedy along with quality-filled oil which is brimming with essential nutrients, minerals, and proteins makes hair shinier, longer, and stronger. Choose our natural hair oil (hair regain oil) which is the best way to get long, thick, and healthy hair as its high-quality ingredients promote healthy hair growth. Hair needs proper nourishment before you think of splurging on good hair.
Let alone bouncy and stronger hair, the wrong choice in oil may end up giving you nothing but flat bald scalp that will do nothing but shine in the scorching heat. Before you lose your confidence and anyone makes you feel embarrassed, try out our best remedy for hair fall. Get natural growth for hair and use a natural oil to revitalize hair tissues, remove dandruff from the scalp, fight excessive hair fall, and tames frizz.
Nutrafirst hair regain oil effectively boosts the growth of the hair while giving it ultimate smoothness. Along with natural hair oil, you have to keep an eye on your eating plans and food items for the continuous supply of nutrition in the body.
The voluminous hair accentuates your personality and style, it doesn't matter if you are dressed well, wearing scuffed or grimy shoes but good hair makes it all. So, ponder a lot before deciding a product for hair growth. Spending too much on redundant hair fall supplements or oils can be cumbersome on the financial front with no close result of hair growth.
The excessive hair loss can be troublesome in various ways, from dealing with embarrassment, losing confidence, building depression, to affecting health. Hair fall comes with a plethora of problems, causing a decline in the pace of your life.
The problem is formidable especially for women; it is their long curls that make them look beautiful and attractive. There are certain remedies to control hair fall which can be helpful if diagnosed on time.
The natural and effective tips to control hair fall-
Rinse hair with shampoo- It is not that the shampoo that your friend is using is suitable for your scalp also; you need to understand the requirement of your scalp and then choose the right shampoo. Rinse your scalp with shampoo that creates lather and removes dirt and dandruff while reducing the excess hair fall. Some shampoos quality is not good and brimming with chemicals that lead to excessive hair fall. In addition to this, over washing also damages the quality of the hair and speed up the process of hair fall.
Always make sure that the shampoo is free from fillers and chemicals that include silicone, sodium chloride, synthetic fragrances, parabens, formaldehyde, and dimethicone. The mixture of chemicals in the shampoo can be attributed to the brittle hair that makes hair prone to breakage.
Diet and exercise- Nutrition is vital for good hair. If your body fails to get nutrients, your hairs will never get the proper nourishment they need. The bountiful of iron and protein is essential for the consistent growth of hair that you will get by eating a balanced diet in conjunction with regular exercises.
Conditioner- Choosing a good conditioner is essential for your hair locks that often get detangled. The conditioner seals the cuticles and repairs the damaged hair. It is effective in locking nutrients in and vanishes pollutants stuck in the hair. This strengthens the hair shaft and curbs split ends, breakage, and excessive hair loss.
Regular oiling- Oiling being the underlying part of the hair health promotes better blood circulation while fighting against the tissue. Nutrafirst hair regain oil nourishes hair roots and facilitates blood flow and lymphatic.
Regular massage on the scalp makes the hair treatment more effective and worth putting your money into. This is the most important part that shouldn't be shrugged off and needs to be paid attention to. Apply Nutrafirst hair regain oil on the scalp, remove dandruff and stop dandruff from forming.
All these tips are natural and effective to control hair from falling and keep the condition of your hair good if your daily routine entails all these steps.
Do you remember the times when your grandmother used to douse your hair in essential oils? You screamed and cried for the sticky feeling and the nerdy look it imparts. But, oiling your hair regularly with pure and organic oils makes the best hair care regime of all times. At present, many men and women are dealing with a range of hair-related problems such as hair fall and thinning, split ends, dandruff and many others. In such situations, you may want to know which hair oil makes the best supplement for your hairs. Here, we are with a list of herbal hair regrowth oils that make a wonderful potion for your hair. Read on!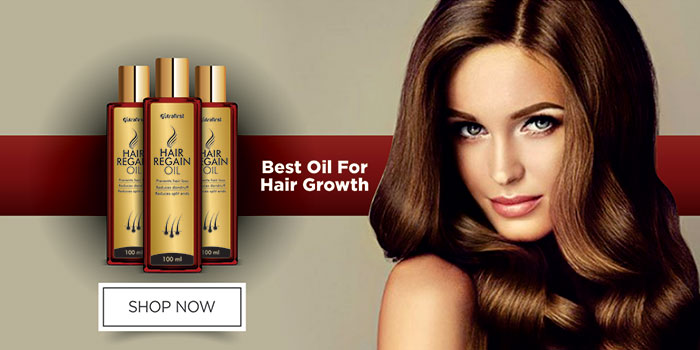 1. Bhringraj oil-
Bhringraj or commonly known as 'false daisy' has been used as an active hair care ingredient since ancient times. It contains a rich concentration of anti-microbial agents that diligently fights against bacterial and fungal infections on the scalp and prevents dandruff. Also, this herbal oil possesses anti-inflammatory properties and makes an amazing remedy for psoriasis and flaky scalp.
2. Olive oil-
Olive oil comes power-packed with a range of monosaturated fatty acids and vitamin E. This golden-coloured elixir seeps deep into the scalp and nourishes the hair follicles from within. Also, it locks in the moisture in the hair strands and makes it silky and smooth. Besides, the organic compounds present in this herbal oil help prevent split ends and boost hair growth.
3. Coconut milk-
If you consider that coconut milk can only make delicacies more flavourful; think once more. Haircare experts conclude that it is known for all the magnanimous nutrients it contains. This organic liquid forms a rich source of vitamins C, E, B1, B3, B5 and B6 as well as iron, selenium, sodium, calcium, magnesium and phosphorus that not only strengthens the hair follicles but help the strands retain moisture and makes them more manageable. Also, rinsing your hair with coconut milk regularly improves their texture and help prevent split ends.
4. Chamomile oil-
We're sure; you have already heard the tales about stress-busting effects of chamomile tea. Now, it is time to turn your focus towards chamomile oil and all the good it can do to your unruly hairs. It boosts the proportion of collagen in the hair, which makes it one of the best remedies for longer, thicker and lustrous hairs. Also, vitamin E and C content of this herbal nectar protect your hair from all the damaged caused by sun rays and harsh climatic conditions.
5. Neem oil-
Who isn't aware of the sweeter health benefits of this bitter herb? Well, Neem oil makes an inevitable component of herbal hair care regimes since ages. This pungent-smelling oil comes loaded with a variety of anti-microbial agents that help prevent infections on the scalp and prevents dandruff. Also, the bioflavonoids present in these oils strengthen the root from within and help prevent hair fall as well as premature greying of hairs.
These are a few essential oils that make superb hair care elixirs. If you are the one who always craves for strong, shiny and long hairs, including any of these ingredients in your hair care regime can bring you amazing results.