Hair is probably one of those beauty assets that make you feel more charming and confident. However; in modern times, most of us are affected by a range of hair-related problems due to several reasons. Some common ones include vitamin deficiencies, hormonal imbalances, stress, and harsh environmental conditions etc. Also, as a desperate attempt to achieve thick, strong and lustrous hair, you may rely on expensive shampoos and serums. However; these chemical-laden products can do more harm than good. Eager to know which is the best way to nourish your dull and lifeless tresses? Well, the cool answer is – Oiling!
Why oiling your hair is important?
Our hair is the last to receive essential nutrients from the food we eat and the first to donate these organic compounds to different tissues and organs. On the other hand, oiling them with natural oils feed them with the much-needed nutrients and makes a powerful tool to promote thick, long and healthy hair growth.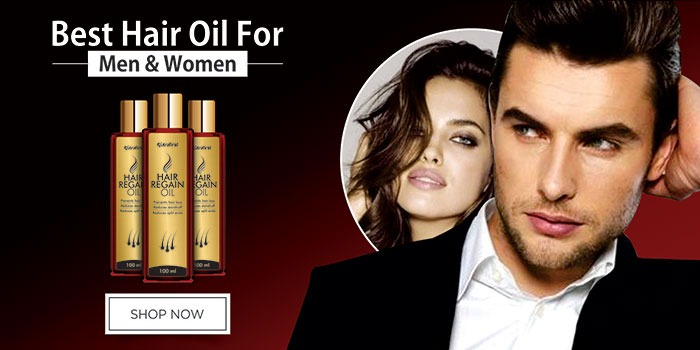 Best benefits of oiling your hairs-
There are several benefits of oiling the hair with essential oils. Here are some of the most impressive ones-
1. Prevents Dandruff-
Dandruff occurs as a result of dryness or bacterial infection on the scalp, wherein, dried chunks of dead skin appear as flakes. This accumulation of dead skin around follicles causes hair breakage. Oiling, in contrast, moisturizes the scalp and prevents dandruff.
2. Stimulates hair growth-
When you pour essential nutrients into the scalp, it results in healthy hair growth. It provides the follicles with valuable micronutrients that nourish them from deep within. Also, constant massage helps improve blood circulation and reenergize dormant hair follicles.
3. Locks-in hair protein-
Our hair is made up of proteins that may get damaged due to use of harsh shampoos, environmental conditions, and heat treatments. Oiling coats the hair strands and fills any pores in them. Since most herbal oils contain vitamin E, they help lock-in the protein and protect them from any damage.
4. Relaxes mind and muscles-
Stress is one of the prime causes of hair fall and other related issues. Massaging the scalp with warm oil increases the blood circulation and relieves stress. Also, it relaxes the muscles and helps reduce aches and pains.
Which is the best hair oil available in India?
Nowadays, you can find a wide variety of essential oils in supermarkets and pharmacy stores. Some of the common ones include Almond oil, Coconut oil, Bhringraj oil, Oilive oil, Amla oil, and many more. But, you may find it difficult to include all of these ingredients in your hair care regimens and for this reason, many companies are coming up a cocktail of essential oils in the form of hair care supplements. However, many of them may contain chemical fillers and impurities, which may put negative impacts on your hair. Yet, certain reputed brands like Nutrafirst has launched hair regain oil that comes fortified with the goodness of rare Himalayan herbs. Also, it is 100% natural and contains no harmful chemicals and synthetic fillers.