As a woman, you may fear the word fat, especially while posing in front of a camera or a mirror in a changing room. However; certain fats such as polyunsaturated fats form a crucial micronutrient that regulates several vital processes in the body. Unfortunately, most women miss out on Omega-3 fatty acids, a type of essential fats in the diet, which, in turn, can lead to numerous health issues. It's no surprise that keeping a check on each diet for essential nutrients can be a challenge; however, incorporating Salmon (Omega-3) Fish oil capsules in your fitness regimes can help you get closer to optimal health. Here we are with a few good reasons for women to start taking salmon fish oil capsules. Read on!
Salmon fish oil capsules: introduction and health benefits
Salmon fish oil capsules are a popular dietary supplement contains the organic oil derived from the fatty fish of the same name. Other sources of pure fish oil include sardines, tuna, mackerel etc. This golden-yellow liquid contains a high concentration of Docosahexaenoic acid (DHA) and Eicosapentaenoic acid (EPA) that benefits your body in more than one ways. Let's take a sneak peek at some of the most impressive health benefits of Salmon fish oil capsules.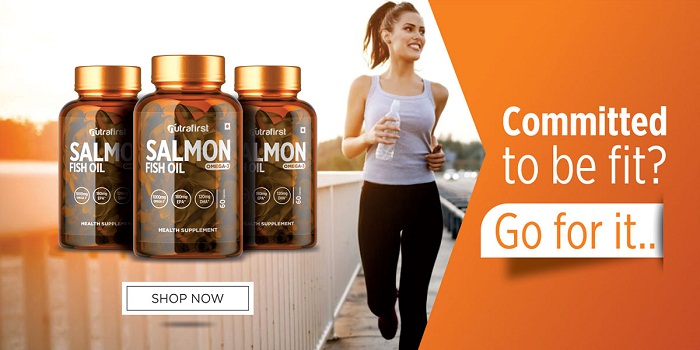 Advantages of Salmon fish oil capsules-
1. It helps relieve menstrual pain-
Many women undergo severe to mild abdominal pain during menstruation. This condition is medically known as 'dysmenorrhea.' It often occurs as a result of strong uterine contractions due to the action of prostaglandins (a hormone associated with pain and inflammation). Healthcare experts reveal that taking salmon fish oil Omega 3 capsules regularly can help offbeat some period blues. It can be credited to the anti-inflammatory agents present in these all-natural pills.
2. It helps alleviates rheumatoid arthritis-
Rheumatoid arthritis is an autoimmune disorder that is characterized by painful joints and inflammation in the muscles. You should know that women tend to be a greater risk of developing this health condition as compared to men. Numerous studies on rheumatoid arthritis (RA) and fish oil reveal that the anti-inflammatory agents help lower inflammation and provide symptomatic relief. However; you are advised to seek medical advice before starting any dietary supplement, especially if taking medicines or receiving a treatment.
3. It helps lower the risk of osteoporosis-
Women are more likely to experience a fluctuation in bone mineral density as compared to other men. This loss in the bone mineral can even lead to serious repercussions such as osteoporosis. Omega-3 fish oil capsules, in contrast, helps in the absorption of minerals and lowers the risk of the osteoporosis; however, supplementing with calcium is believed to enhance the effectiveness of these pills.
4. It lowers stress and uplifts mood-
Recent studies on Omega-3 fatty acid reveal that these organic supplements help lower cortisol production and calm the mind. Also, researchers conclude that regular use of these pills may reduce mild depression; however, deeper studies are required in this context.
These are some of the surprising ways Salmon fish oil capsules can help improve the overall health. If you too are looking for a supplement to get fit and active, buy Salmon fish oil capsules online and feel the difference.