Beautiful under-eyes are something that makes one of the most impressive features of your body. However, in modern times, most men and women get affected by excessive hyperpigmentation and problems such as wrinkles, crow eyes, and many others. We all know that under-eye skin is thinner than the skin on the rest of the face and requires special attention and pampering to keep it in good shape. These signs of aging and damage not only ruin the tone of your overall appearance but can take a toll on your self-confidence as well. In such cases, using Nutrafirst under-eye cream can provide you with the best results and enables you to cherish the joys of having youthful under-eyes.
Under eye cream-
Under-eye cream is an advanced formula that comes enriched with the power of natural botanical extracts that are potent enough to repair damage-prone skin under your eyes. Also, the hyperpigmentation around the eyes delays the formation of crow's feet and saggy eye bags. Indeed, this herbal supplement makes a wonderful cocktail of Almond oil, Sandal oil, Wheat germ oil, Lemongrass oil, Soy Protein, Olive oil, Aloe Vera that are known to promote young, clear and beautiful under-eyes skin.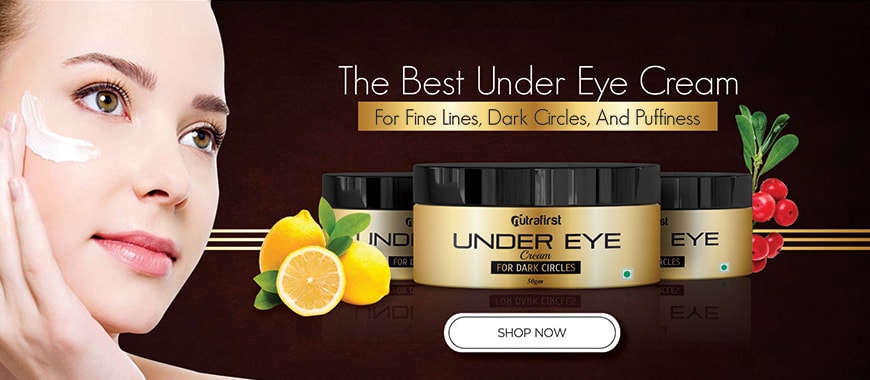 Beauty benefits of under-eye cream-
Under eye cream is infused with the goodness of nature and has the following advantages for your under-eye skin-
1. Reduces dark circles-
Dark circles around the eyes can be really annoying and you may want to find the potent remedy to get rid of this problem fast. Dark circles appear as a result of damage done to the skin by overexposure to gadgets, nutritional deficiencies, over-application of makeup, lack of sleep, and many others. This under-eye cream carries s almond oil, olive oil, and sandalwood oil as active ingredients and these essential oils penetrate the layer of skin and actively work to reduce the extent of pigmentation around your eyes. Also, the exfoliating agents in this under-eye cream are helpful in removing the layers of skin cells and evens out skin tone around the eyes.
2. Defies premature aging-
The damage to under-eye skin can occur in a number of forms such as dark circles, wrinkles, fine lines, and saggy skin as well. This organic under-eye cream comprises of soy protein and lemongrass that effectively work to maintain the elasticity of the skin and delays the signs of premature aging such as wrinkles, crow's feet, and fine lines around the eyes. Besides, the bioactive compounds present in this ayurvedic cream reverses the damage by rejuvenating the cells and transform your under-eye skin.
3. Reduces puffiness and eye bags-
Who would like to live with that puffiness and saggy eye bags beneath the eyes? The wheat germ oil makes a wonderful source of powerful anti-inflammatory agents that helps curb annoying puffiness and under-eye bags. Also, it helps maintain the elasticity of the skin and provides you with the desired results.
4. Removes eye fatigue–
In recent times, most men and women spend a significant chunk of time staring at the computer screen, TV sets, or smartphones, which emit blue light.
Such overexposure to this blue light irritates your eyes and puts a negative impact in the form of irritation, fatigue, and pain.  It not only causes a great deal of discomfort but makes one of the prime causes of dark circles and wrinkles on your under-eye skin as well. Aloe vera is the prime soothing ingredient in this herbal under-eye cream and it diligently works to soothe dull, tired, and irritated eyes. Besides, under eye cream lightens dark circles and removes eye fatigue as well. 
How to use under-eye cream?
Using this non-greasy cream is super easy. To reap the best benefits, take a pea-sized amount of the cream and make dots on the eye counter area. Massage in a circular motion until fully absorbed. You are recommended to use this best under-eye cream twice daily.
Where can I buy under eye cream?
You can buy anti-dark circle cream online in India @ Nutrafirst and avail free home delivery with best COD facilities.