Nowadays, most of us get a little time to keep a check on the diets for essential vitamins and minerals. Also, your body loses an ability to absorb numerous valuable nutrients with growing age or under certain medical conditions. For such reasons, many pharmaceutical companies have come up with a wide range of multivitamin supplements for men and women that can help you compensate for the loss of valuable nutrients. Here, we are with an interesting piece of information on signs that indicate you are running low on crucial vitamins and minerals. Before we start rolling the list of these symptoms, let's first know about multivitamins.
What are multivitamins?
Multivitamins are one of the most consumed dietary supplements in the world. These health-promoting medicines contain essential micronutrients derived from natural sources and acts as an insurance policy for the body. At present, you can find multivitamins in the form of capsules, powders, chewies, gummies, and liquids. However, you must understand that as the anatomy of men differs from women, so does the multivitamins. Also, you need to check that the product is certified by reputed regulatory authorities and are marked safe for use. Moreover, it is often the best to choose natural or ayurvedic formulations over chemically synthesized multis.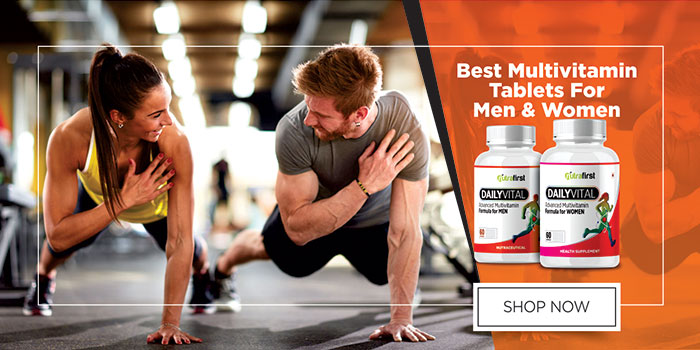 Indications that you need multivitamin-
Here are a few signs that indicate you might need multivitamin supplements–
1. Brittle nails and hair-
Brittle nails and hair may occur due to a variety of reasons; Biotin deficiency may be one of them. Biotin is a water-soluble vitamin that falls in the family of B vitamins. Since it is water-soluble, your body loses it through urine, and it needs to be replaced every day through diet. Besides, this essential micronutrient play numerous vital processes such as fat metabolism and energy production, thus, you may need an additional dose of this vitamin exogenously.
2. Mouth ulcers-
Mouth ulcers, commonly known as cankers are often a sign of iron or vitamin B deficiency. As per a study, people with canker sores are found to be likely as twice to be deficient in Iron. Also, another small study suggests that around 28% of people with lesions in the mouth were found to be lacking in riboflavin or thiamine.
3. Bleeding gums-
Sometimes, applying excessive force while brushing may cause your gums to bleed; however, a deficiency of Vitamin C may also be blamed. This nutrient is highly required by your body to heal wounds and boost immunity, and for this reason, it needs to be replaced every day. However; vitamin C deficiency is rare in people who consume fruits and vegetables rich in this nutrient, you may need to take a multivitamin if diagnosed with extremely low levels of this vitamin.
4. Poor vision in low light-
Nutritional deficiencies may be harsh on your eyes as well. A deficiency of vitamin A often leads to night blindness which is characterized by difficulty seeing at night or under low light conditions. This is because; vitamin A is crucial for the production of rhodopsin, a pigment in the retina that helps promotes clear vision even during the dark.
5. Scaly patches and dandruff-
Seborrheic dermatitis is a skin condition that affects oil-producing glands in your body. It is characterized by the appearance of dry skin flakes on scalp, eyebrows, ears, eyelids, and chest, and may be caused due to a deficiency of zinc, niacin, riboflavin, and pyridoxine. Nutrition experts recommend including these organic compounds into your fitness regime to cure the problem.
These are a few common conditions that signify that your body is running out of its nutritional stores and it's time to refill them through diet or supplements. If you too are experiencing any of these symptoms, taking best multivitamin capsules may help you get fit and active all over again.