In modern times, specialized dietary or health supplements have gained tremendous hype due to all good reasons. Biotin capsules make one such formulation that is widely recommended for people who are looking for the natural methods to improve the health of their skin, hair and nails. Although it is primarily marketed as a natural beauty enhancer, this ayurvedic medicine can benefit your overall health in numerous ways. Also, a deficiency of this organic compound may lead to serious repercussions. Today, we are here with a piece of interesting information on signs that indicate biotin deficiency and reasons to include it in your fitness regimes. But, before we roll out the list, let's first know about it.
Biotin and its importance-
Biotin is a water-soluble B vitamin. It plays a crucial role in regulating several important processes in the body such as fat metabolism and converting food into energy. Since our bodies are not designed to synthesize it at their own, we get most of the required Biotin through the food we eat. Also, this water-soluble vitamin gets eliminated by the kidneys, thus creates a need to refill it either through the food or supplement.  Although biotin deficiencies are rare; if diagnosed with one, your healthcare professional may prescribe you with a required dose of biotin through natural supplements. Here are a few symptoms that indicate you may be suffering from biotin deficiency-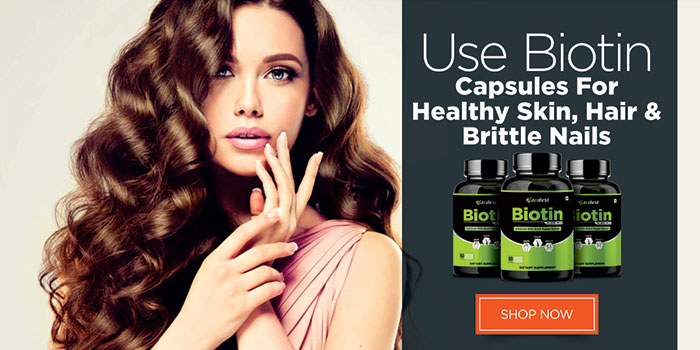 1. High blood glucose-
Biotin is required for the regulation of glucose in the blood. If you are diagnosed with significantly high levels of blood glucose, it may indicate a deficiency. In such cases, this organic compound helps lower the number of HbA (-1C), which indicates a lesser negative impact of elevated blood sugar on the hemoglobin protein on in the red blood cells.
2. Dull and brittle hair-
If you are having dry, coarse or brittle hair and are losing more hair strands than ever, your body could be running out of its biotin stores. As per the researches, supplementing with biotin can result in thick, strong and healthy hair growth.
3. Peeling and brittle nails-
Peeling or chipping nails not only looks unpleasant but can cause immense pain as well. Biotin is a vital infrastructural element of our nails, hair and skin, and a deficiency of this vitamin can cause your nails to go weak and peel off. Researchers conclude that Biotin aids in the production of keratin protein that provides hardness to the nails.
4. Allergies and infections-
Although it sounds weird; biotin deficiency may give rise to certain allergies. Also, researchers have concluded that if found with a low level of Biotin, your immune system may overreact to the irritants, which can make the allergies even worse.
5. Inflammation and skin rashes-
Biotin deficiency is one of the leading causes of skin rashes. When you get skin rash, the tissues and cells in the skin get inflamed, and we have already discussed that inflammation can make your immune system to overreact.
6. Fatigue and energy slumps-
If you often experience energy slumps and tiredness, Biotin deficiency may be one of the causes. Biotin Tablets helps the body cells utilize blood sugar for energy, and it is also required by the powerhouses of the cells, mitochondria to keep working at their best.
Which is the best brand to buy in India?
While we recommend taking Biotin supplement for all good reasons, many people may not like this idea as most biotin pills contain animal-based ingredients. However, certain reputed brands like Nutrafirst strives to provide their customers with the premium-quality and plant-based biotin supplements. Also, these pills contain 100 % natural (botanical) and pure ingredients that make it one of the best health supplement.