When you're trying to grow your hair long and thick, the process can take forever. This is especially true for people having curly, frizzy, and damage-prone hair like that of mine. Hair experts reveal that human hair grows about six inches each year on average. That's annoying to know when you're already suffering a snail-paced hair growth. But that doesn't mean that you can't cherish the joys of flaunting fuller mane as models do in the advertorials. Here, we're listing some secret ways that can help you transform your pixie do into Rapunzel-like hairs. Let's discover! Trimming to the Rescue: Well, it's true! Getting regular hair trims every eight to ten weeks instigates quick hair growth. It is because, when you get regular trims, it cuts off split ends and damaged hair, thus enabling the tresses to breathe and grow speedily. So, if you too are suffering split ends, book an appointment with your favourite hairdresser and get it trimmed. 
Relaxing Oil Massages: Remember the way your granny dunked her hair into herbal oils to grow them long, thick, and black? Hair oiling or 'champi' in Hindi is probably the best way to nourish and replenish your tresses with essential vitamins and minerals. Hair oiling makes a comprehensive solution to common hair problems like hair fall, dandruff, split ends, premature greying, and many others. It is often best to choose oil that comes infused with herbs such as Brahmi, Bhringraj, Ashwagandha, Shankhapushpi, Olive, etc. Check out Hair Regain Oil that makes a blend of 10 powerful herbs that are widely known to boost hair health.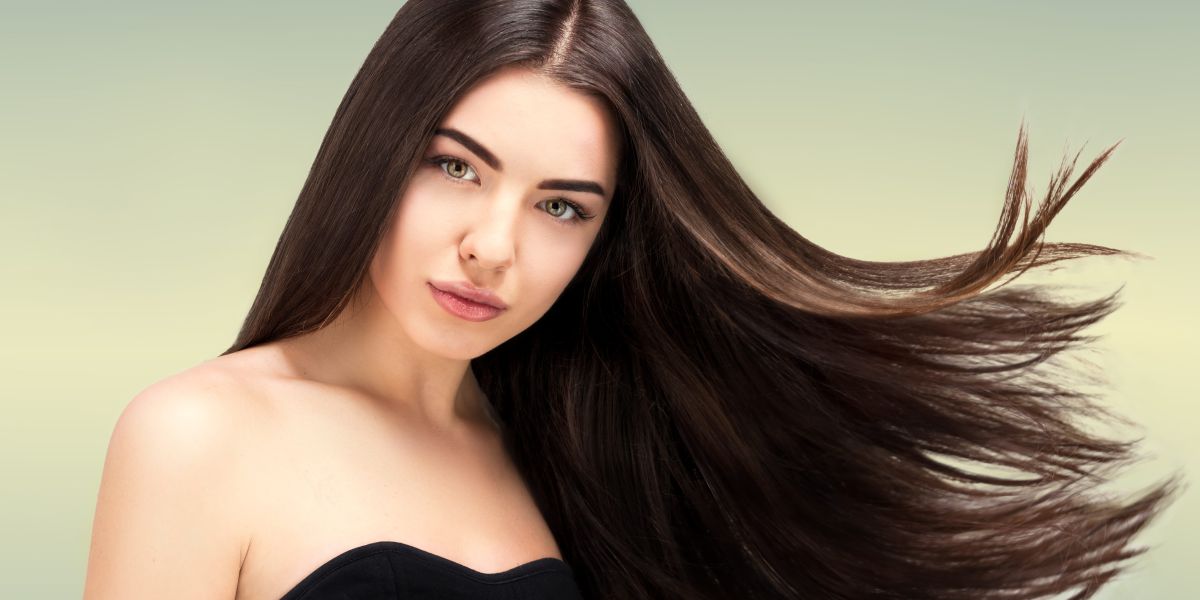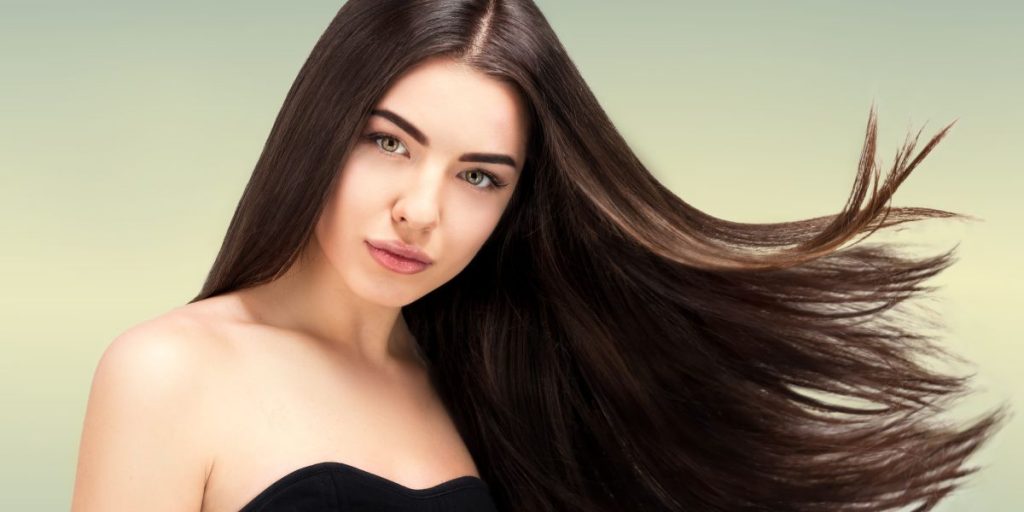 Be Friends with Conditioner: Have you ever noticed your hair to be a lot thinner at the ends compared to the hair strands at the roots? It is because; lower lengths of your hair do not receive enough nutrition, making them likely to get damaged. Conditioning the hair after every wash helps seal the cuticle at the ends and prevents hair from breaking. 
Ruling out Stress: Stress has a deep impact on your physical and mental health. Nowadays, most people are dealing with stress-induced hair fall and slow hair growth. Ruling out stress by luxuriating in the pleasure of meditation or an evening stroll with your best buddies makes a natural way to ward off stress, hair problems, and stimulate quick hair growth.
Eating Nutritious Diet: Apart from overexposure to chemical and heat treatments, nutritional deficiencies are the next to blame for excessive hair fall and slow growth. Adding up a variety of fruits, veggies, and whole grains makes a wonderful step to pamper your tresses with much-needed nutrition they need to grow strong. 
These are a few natural ways that can help you grow hair faster, thicker and fuller. Try one or more of them and get ready to flaunt lustrous, healthy locks.
Achieving thick, long, and shiny hair is something that tops the list of everyone's beauty goals. It is because; good hair leaves a good impression on anyone you meet. Indeed, it is one such part of your body that can set the tone of your overall appearance. In recent times, most people get affected by a range of problems such as hair fall, split ends, thinning hair, premature greying, and many others. In such situations, you may want to find out the best remedies that can help you achieve a fuller mane naturally. At present, you may find the shelves of supermarkets and pharmacy stores stacked with a range of shampoos and conditioners that claim to curb these annoying problems. However, they may not work in the same manner as their claim and most of them are brimming with harsh chemicals that may do more harm to your hair than good.
Fortunately, certain herbal restorative supplements such as hair regain capsules makes one of the best solutions to curb these annoying problems and improve the overall health of your tresses. Here is a list of the best benefits of hair regain capsules and what makes them potent hair restorative supplements. Read on!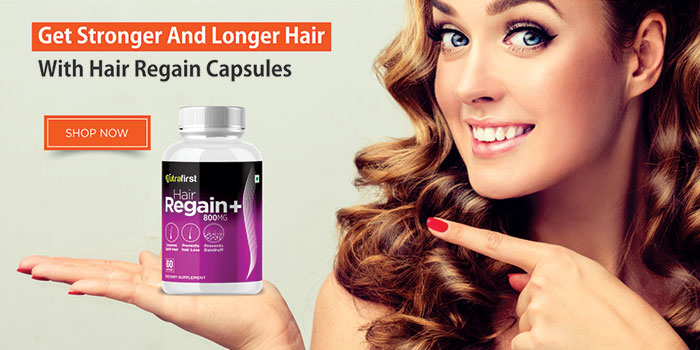 Hair regain plus capsules-
Hair regain plus capsules make a herbal restorative treatment that comes enriched with the goodness of rare Himalayan herbs. It is carefully formulated by industry experts after years of extensive research. Some of its active ingredients include- Bhringraj, Yashthimadhu, Brahmi, Hibiscus, Shankhapushpi, and Ashwagandha. These herbs are known for their amazing medicinal values and have been used as an age-old remedy for treating problems such as hair fall, thinning hair, and many others. Let's take a look at some impressive ways it can benefit your crowning glory.
Haircare benefits of hair regain capsules-
1. Stops hair fall-
At present, hair fall and thinning are a few common problems that have affected men and women across the globe. Although vitamin deficiencies and environmental pollution are considered the prime cause of such problems, many haircare experts conclude stress as one of the leading factors that cause hair loss in the younger generation. It is because; excessive stress increases the production of cortisol in your body. This shift in hormones can damage the functioning and regulation of hair follicles, which, in turn, leads to hair loss or thinning hairs.
Hair regain capsules come enriched with natural adaptogens such as Ashwagandha and Shankhapushpi. These herbs make wonderful stress relievers and diligently reduce stress, calm the mind, and improve the supply of oxygen-rich blood in the scalp. Also, these herbs contain essential micronutrients that seep into the scalp to nourish the follicles prevent the strands from falling out. It is highly beneficial for people experiencing massive hair fall. 
2. Prevents dandruff and stimulate hair growth-
Dandruff is another annoying problem that is characterized by the formation of white and dry flakes on the scalp. The medical term for dandruff is seborrheic dermatitis. This condition is not only discomforting but can leave you in embarrassment as well. These hair regain plus capsules contains Yasthimadhu and Brahmi as active ingredients. These botanicals are admired in the beauty world for their moisturizing properties. The phytonutrients in this formula moisturize the scalp and prevent the formation of dandruff. Apart from that, the vitamins and minerals in this formula help energize the dormant follicles and help revive hair growth.
3. Improves hair texture –
Dull, dry, and brittle hair can be extremely difficult to manage as well as ruins the tone of your overall appearance. This ayurvedic supplement contains Hibiscus, which is admired for its hydrating nature. The active ingredient provides much-needed hydration to the strands and imparts them an amazing sheen. Apart from that, it fills in the grooves in the hair strands and makes their texture smooth and silky.
How to use hair regain pills?
To achieve thick, strong, and glossy hairs naturally, you are advised to take 1 Hair gain capsule twice daily with a glass of lukewarm water. Also, you must ensure to take both the capsules individually and at least 30 minutes before meals.
Where can I buy hair regain capsules at the best price?
You can buy hair regain capsules online at the best price and get free delivery at your home with COD facilities.
Getting long, healthy, and shiny hair is something every man and woman craves for. In recent times, hair-related problems are not uncommon. And for this reason, many cosmetic companies are launching a different range of expensive products including shampoos, conditioners, serum and many more, which claim to improve the hair health as well as boost hair growth. However, most of these chemical-laden products can do much harm to your body than good. Contrary to that, natural hair growth products and supplements make a wonderful way to boost hair growth as well as grow them smooth, strong and shiny. Let's understand some common yet effective methods to boost hair growth and improving their overall health.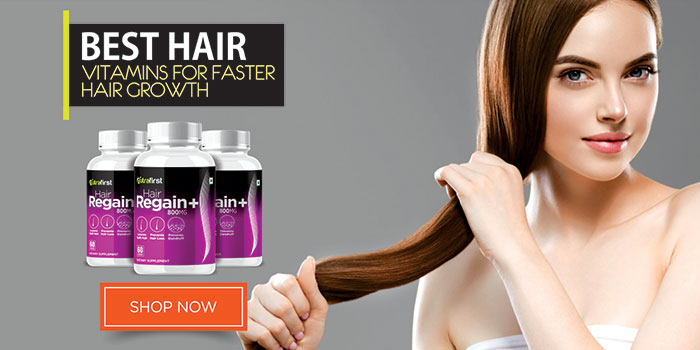 1. Herbal hair supplements-
Contrary to cosmetic hair care products, herbal hair supplements can come to your rescue when it comes to triggering healthy hair growth. Certain restorative treatments like Nutrafirst hair regain capsules are admired by most hair care experts for their unique abilities to nourish the follicles from deep within and stimulate faster hair growth. Also, the pure botanical extracts of rare herbs diligently work at the cellular level to improve texture, strength and shine of the hair strands. Besides, using this hair restorative supplement is super easy and convenient. To treat your locks with ultimate care, you are recommended to take one pill, twice daily with a glass of lukewarm water.
2. Massaging the scalp-
Oiling your hair with best hair regrowth oil regularly makes an age-old remedy to stimulate healthy and fast hair growth naturally. Massaging the scalp with essential oils not only provides much-needed nourishment to the follicles but improves the supply of oxygen-rich blood in the scalp. This enhancement in the quantity of oxygen in the scalp often results in a boost in the hair growth naturally.
3. Trim hair ends regularly-
Trimming the ends regularly to boost hair growth may seem contradictory; however, it may help your hair grow quickly. It is because; split ends towards the end of the hair strands often leads to the distribution of nutrients into two unhealthy strands. Also, it results in the entanglement of strands, which can lead to breakage and brittle hair. Therefore, trimming the hair naturally often results in thick, lustrous and better hair growth.
4. Use herbal hair masks-
Herbal hair masks form another convenient yet effective ways to pour essential nutrients into the strands. To reap the best hair growth results, you can apply herbal hair mask twice a month to make the tresses strong, smooth and black. Also, these hair masks help remove impurities from the hair strands and help prevent them from losing moisture and becoming thin.
5. Don't wear tight hairstyles every day-
Although lesser-known, but tight hairstyles make one of the most common causes of hair breakage. As per studies, people who often wear tight hairstyles such as corn braids, high ponytails, or tight buns are at a greater risk of experiencing hair loss as compared to others. Therefore, hair experts suggest wearing loose hairstyles to impart less stress on the hair follicles to promote healthy hair growth.
These are 5 natural tips to boost hair growth quickly and naturally. If you too are dealing with dull and lifeless hairs and looking to speed up growth, follow any of these tips and feel the difference.
Do you often struggle with dry, brittle and unruly hair each morning? Well, these problems not only make your crowning glory unmanageable but can lead to serious hair fall as well. In such conditions, you may end up spending a fortune in cosmetic hair care products that claim to improve the health of your not-so-pampered tresses. However; you must know that most of these products may come loaded with harsh chemicals that may actually worsen the condition than improving. On the other hand, ayurvedic hair care supplements can come to your rescue as a friend and help you achieve healthy, smooth and lustrous hair naturally and quickly. Today, we are going to review the best benefits of hair regain capsules by a reputed brand, Nutrafirst. Let's begin!
Nutrafirst hair regain capsules–
Nutrafirst hair regain capsules form a herbal hair care formula. These organic pills are enriched with the medical-grade botanical extracts of rare Himalayan herbs that are proven to curb a variety of hair-related problems. Its advanced formula seeps deep into the scalp, strengthens the follicles and promotes healthy hair growth. Let's take a glance at the ways these organic capsules can improve the overall health of your tresses.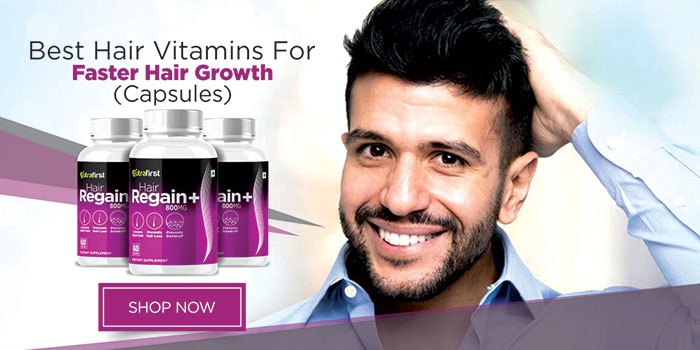 Health benefits of hair regain capsules-
This organic hair care supplement contains extracts and oils of herbs that hold immense importance in Ayurveda, the ancient medicinal system. It contains Bhringraj, Yashtimadhu, Ashwagandha, Shankhapushpi and Hibiscus as active ingredients. These herbs have been used as a wonderful hair care remedy since ages, and are admired by renowned beauty and hair care experts.
1. Prevents hair fall-
Are you one of those experiencing massive hair fall and often repeat give me my hairs back prayers each morning? If so, these all-natural pills make a perfect companion for you. These pills contain natural stress relieves such as ashwagandha and shankhapushpi, which provides a cooling effect on the scalp and calms the mind. Also, these herbs storehouse a wide range of vitamins and minerals that provide much-needed nourishment to the follicles and effectively curbs hair fall.
2. Curbs split ends and premature greying-
These hair care capsules are power-packed with yashthimadhu, bhringraj and mandukparni. All these ingredients are known for their excellent ability to prevent split ends that form a prime cause of breakage and hair thinning.
3. Makes hair smooth and silky-
Brittle, dry and coarse hair not only looks unpleasant but can give you some blues while styling them. Hair regain capsules contain hibiscus extract which is known for its hydrating properties. It moisturizes the hair naturally and makes them smooth, shiny and silky.
How to take hair regain capsule?
To reap the best benefits of this ayurvedic supplement, you are recommended to take 1 hair regain plus capsule, twice daily at least 30 minutes before meals with a glass of lukewarm water.
Where can I buy hair regain capsules?
Now, buy hair regain capsules online at the best price in India and avail free shipping at your home on best hair care products.
Achieving soft, smooth and silky hairs is something that tops the beauty goals of most men and women. However, in the recent times of modernity, stress, poor nutrition and harsh climatic conditions, our crowning glory has got accustomed to damage and hair loss. In such cases, many people often spend a fortune in buying expensive hair care products as a desperate attempt to reverse the damage. However; these chemical-laden products can make the condition even worst. Don't worry! Surely, Ayurveda has herbal yet effective treatments to offer. Today, we're here with a list of natural supplements that can help you reach your beauty goals fast. Read on!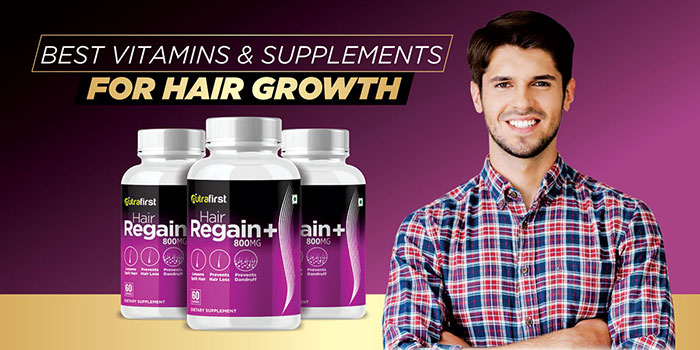 Bhringraj-
Bhringraj or 'false daisy' has gained tremendous popularity in the world of beauty for all its healing properties. The herb from the family of sunflower contains a range of essential nutrients such as Iron, Vitamin E, magnesium, polypeptides, steroids calcium, vitamin D that help ward off several hair-related problems. These phytochemicals are known to strengthen the follicles from within and diligently curb hair fall.
Yashthimadhu-
Yashthimadhu, also known as Licorice or mulethi is common kitchen ingredient in every Indian household. Also, several studies suggested including licorice based products in hair care regimes as an excellent solution to numerous problems. It forms a natural moisturizer and heals the dry, flaky scalp. Also, this powerful herb helps prevent dandruff and reverses hair damage.
Ashwagandha-
Stress is one of the leading causes of hair loss in most people. Ashwagandha is admired throughout the globe as a natural stress-reliever, and many hair care experts swear by its efficacy when it comes to reducing hair fall. The cooling effects of this herb soothe the scalp and ensure a rich supply of oxygen to the follicles. This, in turn, prevents hair fall and make the tresses thick and long.
Brahmi-
Brahmi is a herb known for its miraculous properties to curb premature greying of hairs. Also, its hydrating nature provides much-needed moisture to the hair strands and makes them appear smooth and glossy.
Shankhapushpi-
Also known as a powerful brain tonic, the use of Shankhapushpi (Gotu kola) in hair products is not new. It is another adaptogenic ingredient that diligently lowers stress and its effects on the health of your hairs. If you are experiencing stress-related hair loss, including shankhapushpi in your hair care regimes can help.
How to use-
You can use these herbs in numerous ways right from consuming them as a capsule, using them as a herbal hair mask or massaging the scalp with their oil.  However, finding authentic and pure herbs can be a difficult challenge for you. In such scenarios, using a herbal supplement that contains these herbs as an active ingredient is the best way to reap their optimal hair care benefits. Nutrafirst hair regain capsule (best hair vitamins for faster hair growth) is a premium product in the league.
Where can I buy hair regain capsules?
You can buy authentic, safe and pure hair regain capsules in India best price with free shipping.
Best hair loss treatments for longer, thicker and lustrous hairs
Hair loss is a common condition that has affected people of all ages, gender and ethnicities across the globe. Hair is considered one of the most noticeable parts of your appearance, and nothing can be more frustrating than losing your crowning glory with each passing day. Some of the common causes of hair loss include- stressful work routine, poor diet, unhealthy eating, hormonal imbalance and many others. If you too are one of those affected with the hair loss, chances are there that you spend long hours browsing the internet for best hair loss treatments for men and women. At present, the pharmacy stores and online shopping portals are flooded with numerous natural healthy hair loss vitamins that claim to stimulate healthy hair growth. However, not all of them are effective enough to bring you the best results and meet your expectations. Today, we are here with a list of best medication for hair fall that are effective, natural and safe to use. Read on!
1. Multivitamin capsules-
A few of us may be aware of the fact that vitamin deficiencies are one of the leading causes of hair fall in men and women. In such cases, ensuring a proper intake of vitamins helps in prevention of hair fall. Nutrafirst multivitamin capsules are packed with a variety of vitamins such as Vitamin A, niacinamide, Vitamin B, Vitamin C, Vitamin D, Vitamin E, Folic acid, biotin and many more. It is one of the most convenient hair loss treatments for those who pay a little attention to their diet.
2. Nutrafirst hair-regain plus capsules-
Nutrafirst hair regain capsules are another effective treatment for hair loss. Each capsule of the product comes packed with the extracts of herbs found in the Himalayan range. The herbal hair loss treatment hydrates hair roots and works best to keep your hair soft, silky and shiny. It is highly beneficial for those suffering from excessive hair fall, dry and brittle hairs. Besides, it activates the dormant hair follicles and stimulates new hair growth. The supplement is easy to use and can be taken twice a day at a preferred time.
3. Nutrafirst Biotin-
Biotin is one of the several vitamins that make one of the best hair loss treatments. It is an organic compound that is believed to do wonders when it comes to treating hair loss. Biotin is a water-soluble vitamin b-7 which does not have any effect on the conversion of testosterone to DHT. At present, many biotin supplements sold as hair loss treatment comes from animal sources, which makes them unsuitable for vegetarians. However, Nutrafirst biotin contains herbal or plant-based biotin, which makes it one of the best hair loss treatments even for all vegetarians suffering from hair loss. Besides hair loss, biotin B-7 capsules is believed to benefit your nail and skin health as well.
If you are experiencing massive hair loss and are looking for the best hair loss treatments, these natural supplements make the best choice for you. Pick any of these products and curb hair loss naturally.